Build Your Business: Management

---
7 Important Questions to Ask Yourself Heading into 2021
2020 will definitely be a year we'll remember, with a worldwide pandemic and ripple-effect it had on industries across the country. With a record number of nearly half of Americans out of work and 1 million small businesses shutting their doors for good due to COVID-19, this hasn't been a typical year.
No doubt, the way you conducted business looked way different, from furloughing or laying off employees, to enacting social distancing procedures for employees and clients, to losing revenue in some sectors, but finding it again in others. In fact, lots of decorators experienced strong third quarters and are more optimistic about Q4.
As a decorating business owner, you need to review what your shop did well in 2020 and what you could have done better. It's always a challenge to forecast what changes you should make to grow your business in the new year. Now, it's even more important to review how your company is responding—both proactively and reactively—to the current climate.
Here are seven questions to ask your team, when you're reviewing the past year.
1. How have you responded to the work-from-home (or WFH) trend?
Approximately, 65 million American workers—and presumably some in your own shop—have worked remotely for the better part of a year, and experts predict that trend will continue. In fact, 99% of people would choose to work remotely, at least part-time, for the rest of their careers, according to Buffer. And LinkedIn reports that 72% of talent pros agree that work flexibility, which includes remote options, will be very important to recruiting and finding great hires.
Review how the WFH trend transformed the way you, your staff and customers interact. How have you made changes to help? For example, do you hop on video calls with your staff and clients to make things happen faster? And don't forget that many of us went from laughing at pet and kid video call photobombs to extreme Zoom fatigue. So how have you streamlined employee meetings and sales calls to cut down on the time you're staring at a screen?
In addition, do you send your clients virtual resources to help them make decisions? Have you set up cyber systems and software so all your employees can access client accounts, artwork and order information from anywhere?
Since this is a big area, it makes sense to crowdsource information from your employees and clients to ensure you're meeting their needs and working as efficiently and stress-free as possible. In general, you should periodically ask your clients what you can do better, whether it's sending surveys or calling them to ask how they'd rate your service (and of course, requesting testimonials).
2. How have you transitioned from in-person to virtual selling?
We've watched the wave of retail stores closing locations during 2020, including American Eagle Outfitters, The Children's Place, Coldwater Creek, Express, H&M, J. Crew, Lord & Taylor, Lucky Brand Dungarees and Nordstrom. Translation: Online showrooms are now a must, rather than a maybe.
Similar to the WFH trend, buyers have gotten used to browsing and shopping online. While local customers may still want to visit your showroom, think about how you can serve an online (read:  national) client base as well. How can they view the various apparel styles and decoration methods you offer on your site?
Tip: Don't forget that your short-listed apparel suppliers are there to help you create a virtual browsing space, with high-res product photos, videos and catalogs. Also, talk to your suppliers about how to create a great unboxing experience for your clients, when you're sending them samples. They can help out with pairing together some complementary apparel and accessories for these sample kits, at a price point that works best for you.
3. Do you have a robust e-commerce platform?
A good rule of thumb: A client should be able to visit your site, select available products, upload their artwork, view virtual mockups and then pay online, all without needing to talk to a rep. (However, an actual human should be available via instant messenger, email or phone if a buyer does need real-time help.) If this isn't the case, there are industry-specific e-commerce vendors you can explore: InkSoft, Printavo, OrderMyGear, DecoNetwork and Spirit Sale. Ultimately, you should map your tech processes to your customer needs.
Taking this one step further, are you offering online stores as a service to your clients? One thing many decorators did was to participate in the "Here for Good" movement using online pop-up shops, which sold logoed T-shirts to help raise money for local businesses. You could easily take that concept and do something similar for your local companies, schools, teams and organizations, as a way to help them fundraise or bring in some extra income. Not only will this help you expand your client base, but will also make sure that all of their decoration needs get funneled through your business.
4. How have you responded to staffing fluctuations?
Lots of decorators had to make some hard decisions this year, some of which included the need to reduce their staff, whether by position elimination or furlough. Is that you as well? If you haven't done a top-down team review, now is the time: Is there anyone who isn't pulling their weight? Are there any new roles you can fill right now, especially with many qualified candidates now available in job pool? This is also a good time to cross-train your team, so you can respond faster if another lockdown occurs. Finally, do you outsource any of your decoration or artwork processes to other providers? Would this help alleviate any staffing concerns?
5. How have you shifted your communications plan?
Earlier this year, many companies scrambled to formulate what their responses to COVID-19 would be and then had to quickly get that info out to their employees, customers and the general public. Because of this, you've probably revamped your communication plans and channels, or maybe set up more frequent scheduled meetings between managers and staff. How will that communications plan look going into 2021?
Because you've taken those extra steps to inform people of how your business has adapted to life during COVID-19, it's now time to let everyone know how you stand out from the competition. Consider that buyers look to you for reassurance and new ideas to help their businesses grow, so more frequent communication on social media via posts and videos, for example, will help you increase and grow that bond. This is the place to also look at your marketing efforts: Does your messaging focus on how you're helping to solve customers' problems or how they'll feel after hiring you? Are you getting your staff involved in these marketing initiatives? That's the kind of content that will show them why you're the right person for their job.
6. What industries do you serve? What changes have you made?
Depending on the industries you serve, this year might look like a revenue roller coaster—especially if you work primarily in hard-hit markets like travel, sports, live music, transportation or hospitality. Have you been able to add new services for these markets? For example:
● WFH employee and school student kits
● Corporate gifts for employees or VIP customers
● Swag packs for virtual event attendees
● Branded merch for online events.
Take a look at the markets you serve and whether you've seen a dip in revenue from them, even if you've found new services to pitch. Are there other industries making a comeback, like agriculture, financial services or consumer beverages, that you can tap into?
7. How does your business plan reflect your goals for the next year?
Finally, be honest: When was the last time you looked at your business plan? Do you even have a business plan? Your goal should be to review your plan at least quarterly to make sure your goals still make good business sense as you head into 2021.
James Andres is content manager for S&S Activewear. For more information or to comment on this article, email James at jandres@ssactivewear.com.
More Build Your Business
---
Keeping us clothed is a $1.5 trillion industry that consumes a lot of resources and casts a large environmental footprint.
FULL STORY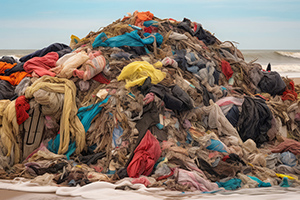 If you're busy, does that mean you're making money? Or are you so focused on getting work—any work—you're no longer paying attention to your bottom line?
FULL STORY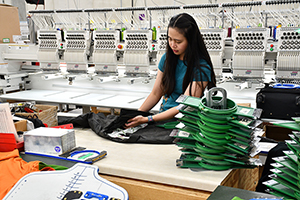 Taking out a loan or leasing to increase production capacity can help grow your embroidery, screen-printing or heat-pressing business, but do your homework first.
FULL STORY