Build Your Business: Management

---
Breakthrough Moments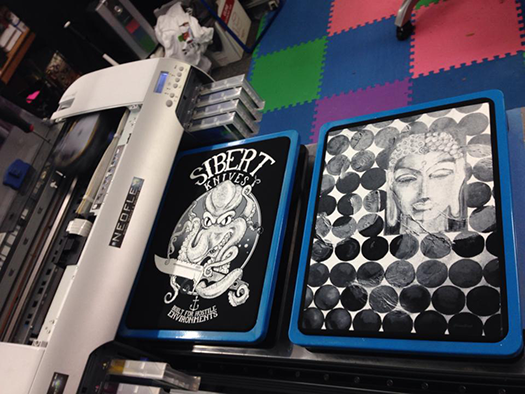 Breakthrough Custom Clothing primarily does direct-to-garment production on Neoflex DTG printers. Most of the company's orders encompass one-off custom prints.
---
In 2007 Gerald Cantalupo Jr., owner of New Jersey-based Breakthrough Custom Clothing, had a major breakthrough of his own.
A college student at the time, he lost a sibling in a car accident. The resulting wake-up call that, "Hey, life is short," was heard loud and clear. Cantalupo decided to pursue his true passion: clothing and custom designs.
"I didn't want to just sit around and go through life, but [I wanted] to live life," Cantalupo says. "So I ordered my first heat press and started to create my own clothing line from my bedroom. As I headed out to festivals and shows during the months I was off from college, local business owners I knew started to ask me to print their work apparel. So I made some extra cash while in school."
Little by little, Cantalupo built his business through referrals from clients, and people who saw his work and liked what he was doing. Though he enjoyed the work, Cantalupo didn't feel ready to move into a full-time operation until 2011, when he decided to take a leap of faith like every entrepreneur and small business owner.
"I purchased a direct-to-garment (DTG) machine, the All-American Neoflex," he says. "I converted my entire bedroom into my print area and slept on the couch. For the first two months, I tested apparel to make sure I was good at what I was about to sell to clients."
His patience and persistence paid off as business increased, along with his creativity. He was able to offer a variety of interesting designs, one-off prints and work shirts for local clients.
Cantalupo next entered a national contest hosted by T-shirtforums.com, DTG Battle Royale, which was based solely on DTG prints. All competitors had to print the same design and were judged on five factors. Cantalupo won the competition, and boy, did people notice.   
"After that, I added drop-shipping to my arsenal," he says. "Custom clothing stores online kept contacting us and I couldn't keep up. Friends and family were helping bag, label and ship, while I printed and talked with customers."
AWARDS ADD PRESTIGE
Once Cantalupo's bedroom was filled with shirts and printing equipment, and his living room similarly filled with boxes and his garage with inventory, such conditions necessitated moving his business to the next phase by purchasing a storefront. He secured a location in a strip mall, did some renovations and started by offering only DTG-printed apparel. Another contest win in 2013 — first place in the Direct-to-Garment Digital Apparel Decoration category in the 35th annual Impressions Awards — provided a brand boost as the new storefront opened.
Cantalupo immediately added four Neoflex machines and an additional pretreater to his arsenal, and in 2014 tucked another Impressions Awards win and a bronze award from Specialty Graphics Imaging Association (SGIA) into his company's pocket.
Today, Cantalupo, who also is the production manager of Breakthrough Custom Clothing, has the company running like a well-oiled machine. He also employs an accountant, design specialist, online marketer and packaging/shipping personnel. The shop's design flows smoothly from the artwork area and all points in between (garment setup, printing, curing), to the folding and packaging areas.
Cantalupo's original All-American Neoflex still is the company's go-to machine for production, since certain settings have been dialed in perfectly. Along with the other Neoflex DTG machines, several Hotronix and Gemini heat presses, and a Viper XPT-6000 pretreatment machine, have been added to the production department.
In addition to DTG printing, Breakthrough Custom Clothing offers screen printing and multimedia decorating. It also is is delving into ultraviolet LED printing with Mankind Digital equipment and Firebird inks, but has not yet offered it to the public or other printers. Once Cantalupo is happy with the quality he can offer, this will be a new product niche for the company.
"We always look forward to new areas," he says. "In New Jersey, we have a lot of small businesses and contractors, and we help out screen printers by taking on their small orders or multicolored, medium orders. We also have done the DTG printing for them, while they screen print on the opposite side. Seasonally, Breakthrough does DTG printing for men's softball, college intramurals, summer camps and charity walks."
While most of the company's orders encompass one-off custom prints, Cantalupo can fill orders of up to 600 pieces with DTG printing. Orders for fewer than 100 pieces typically ship in three to five business days. One-off orders in a standard, stock color ship within two days.
Cantalupo says Breakthrough Custom Clothing receives some business through its website, but it mostly originates from word-of-mouth referrals and ad listings. He also says he believes in the power of social media and has ensured the company has a presence on Facebook, Twitter, Pinterest and Instagram.
STAYING IN THE BLACK
Maximizing profits in DTG printing results from maintaining a smooth production flow, Cantalupo says. "Everyone knows that DTG isn't as fast as screen printing on larger orders once the printing starts," he says. "While DTG is quicker during setup, the 'print' part isn't as fast. This can hurt on large orders, since screen-printing cost goes down exponentially as you order more, but DTG costs per good always stay the same. So we assure our production flow and costs of goods are flawless."
On certain days, the Breakthrough team calculates the number of shirts being produced each hour. Those numbers are evaluated and, if necessary, adjustments are made. The company's goal is to have all of its Neoflex machines in constant use. Cantalupo also likes for the next-needed artwork to be processed and ready, with the garments pretreated and also ready to print while the previous job is progressing.
"Cost of goods can be a factor because we want to make sure we are not wasting materials and are keeping costs down for our clients," Cantalupo says. "We use the best products on the market, which allows us to use less of it, such as our Firebird pretreatment, inks and cleaning solution. We can add half the amount of pretreatment, compared to some other brands, and get top-quality prints with solid whites."
Like most print shops, Breakthrough faces the age-old challenge of educating clients. "The majority of clients still do not know what DTG is," he says. "We need to educate them on the process, especially if they call in. We are not able to just show them a sample. This takes time and doesn't always lead to a sale, so we have started sending out emails to educate them."
Cantalupo's plans for the company's future include another move to a larger location that will accommodate higher production, with amenities like video and conference rooms, as well as a full showroom. The company also will create a new website, where clients can advertise their own brands. UV LED printing will continue to be developed as a decoration method, and the company also will continue to help non-profit organizations via donated printing.
Jennifer A. Morrell is an award-winning writer who has written for a number of national consumer and trade publications. For more information or to comment on this article, email Jennifer at jennmorrell@hotmail.com.
---
Breakthrough Custom Clothing At A Glance
Company Name: Breakthrough Custom Clothing
Address: 294 W. Water St., Toms River, NJ 08753
Founded: 2011
No. of Employees: 5 full-time
Decorating Methods Offered: Direct-to-garment printing, screen printing
Company Website: breakthroughcustomclothing.com 
More Build Your Business
---
Keeping us clothed is a $1.5 trillion industry that consumes a lot of resources and casts a large environmental footprint.
FULL STORY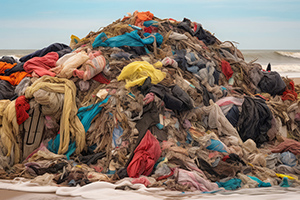 If you're busy, does that mean you're making money? Or are you so focused on getting work—any work—you're no longer paying attention to your bottom line?
FULL STORY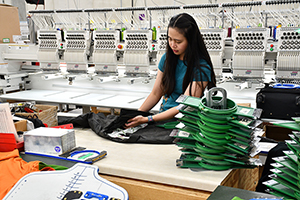 Taking out a loan or leasing to increase production capacity can help grow your embroidery, screen-printing or heat-pressing business, but do your homework first.
FULL STORY