Build Your Business: Management

---
Building a Reputation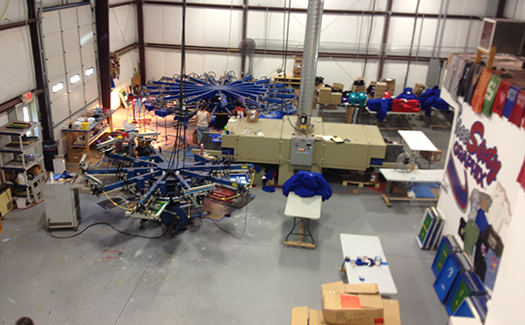 ThreeSixty Graphix uses an original eight-color/10-station M&R Sportsman automatic screen printing press, as well as an original exposure unit. Recently, the company invested in a 16-color/18-station Mustang automatic press and a Ray Paul gas dryer.
---
Four years ago, Rusty Norris found himself at a pivotal point in life: He'd lost his job of 14 years and was standing at a crossroad trying to determine his next move.
As fate would have it, Norris drove cross-country with a friend, Jamie Sinclair, who had a screen printing press sitting idle in the back room of his accounting office. Sinclair previously had used the press for a few personal jobs. The two friends soon found themselves brainstorming the potential of a profitable printing business if someone were operating the press full time.
That's the day Sinclair joined Norris as co-owner of ThreeSixty Graphix.
The company's first official location was in that 500-square-foot back room at Sinclair's accounting office. Norris operated from the modest location for 10 months before the business was moved a few miles away to its current location in Concord, N.C. Everything Norris knows about printing — and it's a lot — was self-taught. Attention to detail and old-fashioned trial and error have built strong experience.
Although Norris has attended industry trade shows in the past to grow his knowledge, his production manager, David Redman, has given the company a sturdy backbone. Redman brought 20 years of experience to ThreeSixty Graphix, ramping up production quality and daily volume.
Today, the company operates from a 5,000-square-foot, climate-controlled facility, employing 10 people. Most of that space is used for production, and Norris says the company is quickly outgrowing the location.
ThreeSixty Graphix prints for small and local clients, as well as larger, national customers — including colleges, the NFL, NBA, MLB and NASCAR. Norris says the company mainly does contract work, but also has retail customers.
 
"We believe in providing the same quality work, no matter how big or small the customer may be," Norris says. But the company's printing capacity of 600 pieces per hour, per machine, is nothing to sneeze at.
NUTS AND BOLTS
ThreeSixty Graphix currently uses an original eight-color/10-station M&R Sportsman automatic screen printing press, as well as an original exposure unit. During the last year, the company invested in a 16-color/18-station Mustang automatic press and a Ray Paul gas dryer.
The company offers an array of services, including screen printing, PMS color matching and film printing. Norris says the decision to output its own film has helped lower costs and saved an outsourcing step. ThreeSixty Graphix prints designs using glitter, metallic, foil and high-density ink. Although the company offered embroidery once upon a time, the decision was made to stick solely to screen printing. Translation: Doing one thing and doing it well works for Norris and his staff.
While every business owner seems to be looking for the magic key to growth and survival, Norris believes in a straightforward method.
"We provide quality work delivered on time, and we are always honest with the customer," he says. "We don't mislead our customers by promising work we can't deliver. And we do whatever it takes to get the job done. For example, when we were first getting started, we worked 24 hours a day for six straight days to deliver a large order."
OVERCOMING OBSTACLES
Small businesses can face daily uphill climbs to reach the level of operating profitably. Norris says that mindfully keeping prices competitive, while still enabling profitability, may be his biggest challenge. As any small-business owner can attest, trying to find purchasing power also remains a challenge. Add to that the common quandary of keeping year-round orders coming in, and you've got a puzzle that, to some, may be too daunting to figure out.
"At certain times during the year, [the amount of business we get] can be feast or famine, which makes scheduling a little tricky," he says. "For that reason, it can be easy to overpromise, which is something we strive very hard not to do. We are constantly trying to develop relationships in the industry with suppliers who are willing to take a risk on our small business and give us competitive prices on the supplies we need."
To meet the challenges of operating a small decorated apparel firm in today's competitive economy, Norris and his team stay informed of the going rates for screen printing services. And high-quality work ensures that even if ThreeSixty Graphix doesn't offer the lowest price, customers will know they are paying for the best quality.
Setting your business apart from its competitors takes time and effort. Norris says the company strives to treat all of its customers the same: with honesty and attention to detail.
 
"I don't know if that necessarily sets us apart," he says, "but it is the reputation we strive to build. Every shirt we print is extremely important because people will judge us by what they see on that shirt."
ThreeSixty Graphix addresses green initiatives by reusing as many supplies as possible. Another avenue to green practices is emphasizing the use of environmentally safe inks that are phthalate-free, which is safer for the end user.
Part of surviving in today's economy is being fortunate enough to be in the right place at the right time. For that reason, ThreeSixty Graphix doesn't turn away orders that Norris knows it can deliver.
"Our customers know they can count on us to get their products printed and delivered on time — even last-minute orders that sometimes cause us to change our plans," Norris says. "But we have built a reputation of being a company that people can count on, and that is what we plan to continue."
Norris says he would like to move the company to a bigger facility in the near future — one that is four to five times the size of its current digs — and add one or two more machines. He also says he would like to stock more blanks for customers and no longer outsource folding, bagging and tagging, so his staff will grow in size.
"Right now, we are taking it one day at a time, still growing the business," Norris says. "Our goal is to stay in this for the long haul."
Jennifer A. Morrell is an award-winning writer who has written for a number of national consumer and trade publications. For more information or to comment on this article, email Jennifer at jennmorrell@hotmail.com. 
---
ThreeSixty Graphix At A Glance
Company Name: ThreeSixty Graphix
Address: 2606 South Ridge Ave.
  Concord, NC 28025
Founded: 2009
No. of Employees: 10
Decorating Methods Offered: Screen printing,
  PMS color matching, film printing
Company Website: threesixtygraphix.com
More Build Your Business
---
Keeping us clothed is a $1.5 trillion industry that consumes a lot of resources and casts a large environmental footprint.
FULL STORY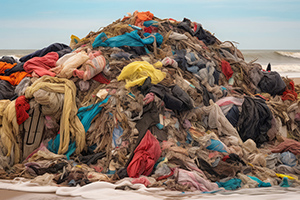 If you're busy, does that mean you're making money? Or are you so focused on getting work—any work—you're no longer paying attention to your bottom line?
FULL STORY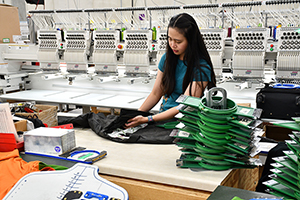 Taking out a loan or leasing to increase production capacity can help grow your embroidery, screen-printing or heat-pressing business, but do your homework first.
FULL STORY