Build Your Business: Management

---
Speed Up Your Orders, Maintain Costs with DTF Transfers
DTF transfers provide numerous benefits, especially when it comes to order expediency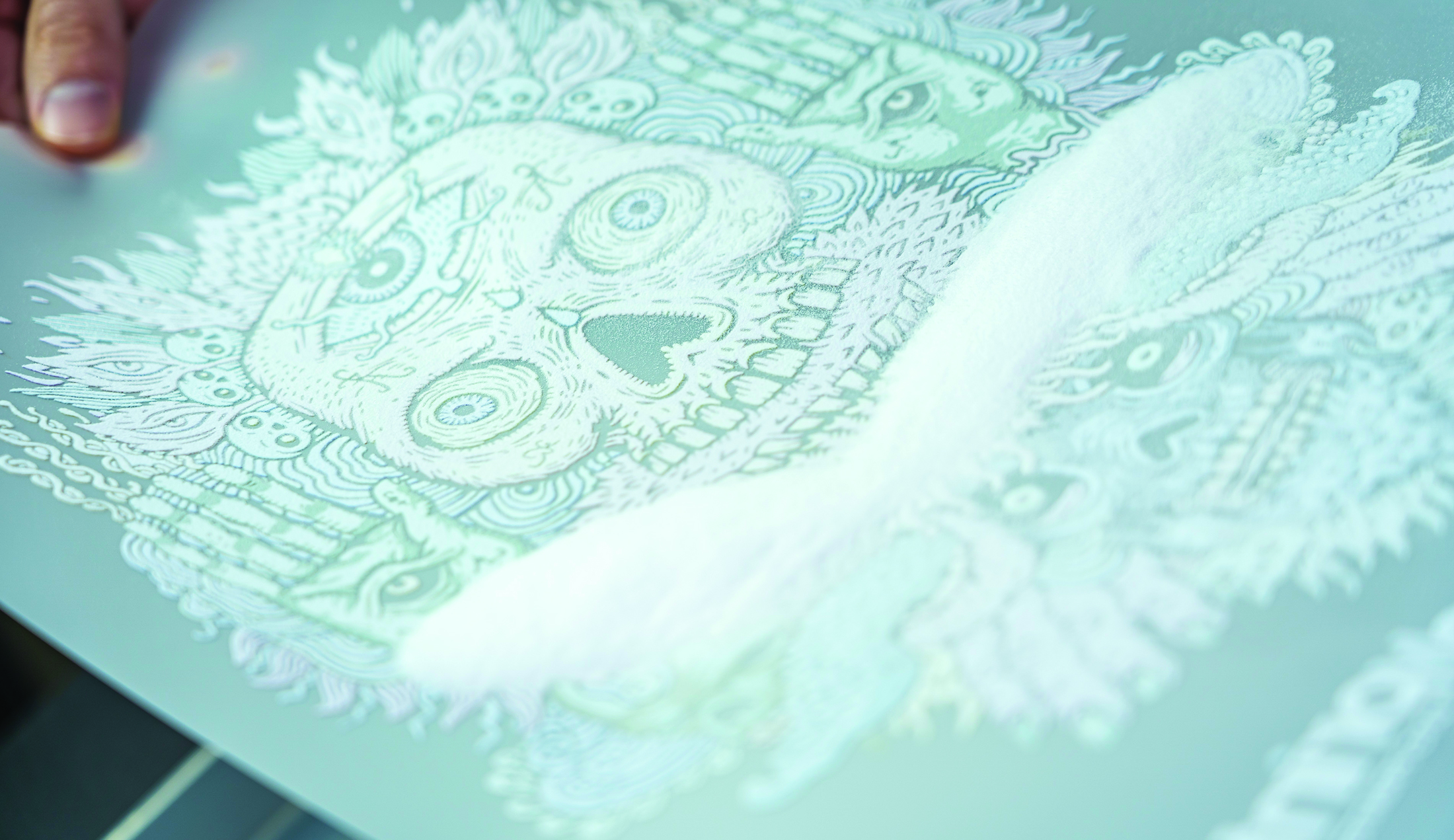 An example of powder adhesive being added to a Direct-to-Film (DTF) transfer before it is heat-pressed onto a piece of apparel.
---
Filling orders on time has always been a priority for shops, and right now, that's become an even more significant challenge thanks to labor and supply chain shortages. You can't control delayed shipments of supplies, like blank T-shirts, ink and embroidery thread. But you can use your talents as a decorator and offer your customers new and innovative services that benefit both of you in these tough times.
We're talking specifically about direct-to-film (DTF) transfers. These transfers offer a simple solution for short orders and clients that need a fast turnaround. Plus, they're versatile enough that you can use them on numerous fabric blends and substrates. You can also contract out the services from other print houses.
A Quick Rundown
DTF transfer printing involves first printing onto a PET film with a DTF printer. After that, the decorator applies the transfer to a product like a hat, tote bag, T-shirt or sports jersey. The transfer is applied by using the combination of an adhesive powder and heat.
Unlike some decoration methods, like direct-to-garment (DTG), you don't need to pretreat garments for DTF transfers. This helps reduce the number of steps required to finish the printed apparel or product.
Is DTF a Fit for My Shop?
If you're a high-volume shop screen printing shirts and hats, it's probably not as feasible when a customer drops in for those small-scale orders of 10-12 prints.
You certainly don't want to turn customers away. Still, it's not always as profitable to set up and print that order for family reunion T-shirts as it would be for the corporate client who wants 150 shirts for the company's next company event. DTF transfers offer a simple solution for those one-off orders, so you can still take care of your smaller-volume customers without it being a hindrance to your bottom line and labor costs.
Suppose you're in the crafting business in marketplaces like Etsy. In that case, DTF transfers are an economical way to run special-edition, printed goods to your store.You can also test out different designs without having to run a large quantity to make sure the product will sell. Think about how many "prototype" designs you could experiment with to test the waters and show your customers your range of talents!
Considering Outsourcing
If your business only does small-run print jobs and only has the occasional large-scale job, then DTF transfers may not be something you want to bring in-house. Instead, you can order DTF transfers from companies like Supacolor. You can upload your artwork and have printed transfers shipped through this outsourcing service instead of investing in the equipment and technology right away.
Benefits of Using DTF Transfers
We talked about how DTF technology can be a great solution when looking for a decoration method to meet tight turnaround times and small quantity orders.
Well, that's not all! Here are some other reasons why these transfers can benefit both you and your customer:
Smoother Learning Curve. Once you've gotten a handle on printer operation, the overall decoration process with DTF transfer isn't as complicated as some disciplines. This means if you're a small staff, you can divide and conquer more easily. For example, if you're in charge of running the DTF printer, you can assign other employees to cut and press transfers, which doesn't require as much training. Plus, if you and your employees are already trained on processes like heat transfer vinyl and sublimation, you'll find similarities in the process, making it an even smoother transition.
It's durable. The prints with DTF transfers hold up well even after multiple washes on fabrics like polyester, cotton, cotton/poly blends and tri-blends. Outside of washing, the prints hold up to extra wear as well. The prints typically don't crack or peel, which means you won't see fabric fibers pushing through the print if the garment or substrate is pulled.
Easier maintenance. Printers don't have to work in a tight space with larger DTF systems, making routine maintenance less challenging. Most DTF systems also use OEM print heads, so it's not a proprietary technology in which it's hard to find replacement parts.
More product offerings. DTF transfers work with cotton, 100-percent polyester and cotton/poly blends, making them a versatile transfer for apparel. They're also an excellent option for dozens of other product types, like textured crowlers, water bottles and hats.
No color restrictions. DTF transfers work well with both light and dark-colored garments, making them perfect for sportswear and athleisure. Speaking of color, you can also use the transfers for vibrant, multicolor designs not available on traditional heat transfers.
How does it work?
So, we've told you why DTF transfers are a great way to offer more services to your customers without adding staff, but what about the actual printing process?
There are a few key steps involved in transferring the image from the printer to the finished product:
Create/prepare the artwork. You'll want to use an RIP software program with DTF transfer capability and get the ICC profile from the ink manufacturer. This will ensure that the color quality is optimized for the final product.
Print the image. After the art is created, the image is printed onto the PET film. You'll need a DTF printer to print the films. Several models on the market range from smaller desktop models to larger industrial printers for widths up to 24 inches. If you're more technologically inclined, it's also possible to modify some DTG printers into a DTF printer.
Add adhesive powder. Once the film comes off the printer, the user sprinkles a heat-melt powder over the transfer. This method is done either by hand with a shaker or automated with a machine.
Apply heat. With the powder on the film's surface, the user transfers the film to a heat press. Unlike a traditional heat transfer, this step is different. Instead of closing the press fully, the top platen must hover over the powder and the transfer instead of clamping down. The time and temperature will vary depending on the manufacturer, so you'll want to check with your supplier.
Remove transfer. With this transfer process, some manufacturers, like Polyprint, recommend a cold-peel process (waiting until the film adhered to the shirt has cooled down) to peel the film off the fabric.
While they won't solve all your problems, DTF transfers can be another service to keep in your arsenal, so you don't have to turn customers away. Plus, if they know they can come to you for vibrant, multicolor prints that you turned around in a short amount of time, you're more likely to see referral customers from those clients.
Mike Clark is the senior copywriter for InkSoft.
More Build Your Business
---
Keeping us clothed is a $1.5 trillion industry that consumes a lot of resources and casts a large environmental footprint.
FULL STORY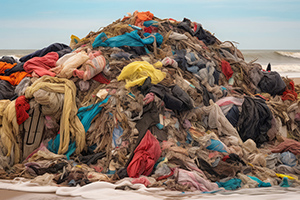 If you're busy, does that mean you're making money? Or are you so focused on getting work—any work—you're no longer paying attention to your bottom line?
FULL STORY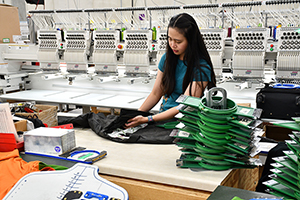 Taking out a loan or leasing to increase production capacity can help grow your embroidery, screen-printing or heat-pressing business, but do your homework first.
FULL STORY