Build Your Business: Management

---
Location, Location, Location
There are many components of a successful business successful: quality products, reliable employees, great customer service and making sure the location of your business fits the type of services you want to offer.
There are several options for finding what location is right for your business. You can work from home, or look for a freestanding building, strip mall or a large shopping mall. If you have a business that does not depend on walk-in customers, then a warehouse can be a good option too.
There are pros and cons to every option. All types of locations require things like the proper licenses, utilities, insurance, employees, parking, signage, a place to accept deliveries and typically renovations to fit your needs. You also will need a tax ID number.
Working from Home
Working from home is great if you have will power. Learning to close that bedroom door and walk away from a room full of unfinished orders can be very difficult. You may find yourself stopping to do a few dishes or start dinner. A friend drops by to chat and before you know it it's time to pick the kids up from school and you haven't done a thing.
There are a lot of things to check out before making the commitment to a home-based business. You need to get the proper licenses for you town, county and state. That means you also need to see if your home is zoned for the type of business you want to open. If you are in a subdivision or small development, having a delivery truck stopping by every day could be a no-no for your neighbors. This means finding another location for your deliveries, which is an added cost you may not be able to afford. Homeowners associations will have to be notified and give their approval before you can get started.
Beyond homeowners insurance, you'll need to make sure you are covered if a customer falls or gets hurt on your property. If there are outside activity areas such as a pool, swings, a trampoline or your kids' bikes lying around, then you need coverage in case someone goes into that area and gets injured.
Having a separate phone line also is important. At quitting time, turn the ringer off and let the answering machine get it.
Some residential areas will not allow business signs even if they allow home businesses. Other location may have restrictions or specific rules as to content, colors, size and location of signs. It's not as easy as printing off a piece of paper and hanging it on your door. You may even be required to have a separate entrance for the business area.
Mall Locations
Strip malls are a great place for small businesses. Check to see what other businesses are in the mall area you are considering. Businesses like cafés, beauty/barber shops, laundromats, bakeries and places that do printing services draw foot traffic and that means people that need your services will pass by your business every day. Most strip malls do not have regulations on the days or hours you must be open, unlike a large shopping mall with large anchor stores that require you to be open seven days a week from early morning to late in the evening, and sometimes even holidays.
For any type of mall location, it's important to make sure there is adequate parking with proper lighting, trash removal and, depending on the part of the country, snow removal of sidewalks and parking areas.
There are other things to think about for any mall store: Will you be required to participate in sidewalk sales, give-a-ways, contests? Are there required fees besides rent? Will you have to pay extra for advertising that the mall does in newspapers or magazines? You may even be asked to pay property taxes, extra insurance, part of the landscaping and a number of other things that can pile on the expenses.
The rent for a large mall space will be the most expensive. Make sure you have enough work to cover the extra cost of this option. You will need more employees and inventory for a space this size.

The Warehouse Option
If you have established customers and just need space to do your work, then a warehouse district might be right for you. Most areas like this are off the beaten path and have no potential customers that will just pass by and stop in. The rent is lower than places that provide exposure, but the space will be just that: space.
If you're renting, it's important to ask about what happens if you break the lease, as there may be large fees involved. Before you open any business, whether home-based or in another location, you should make sure you have at least enough money to keep you going for six months.
Wherever you decide to locate, do your homework and make sure you have everything you need in place for your business to be successful.

Connie R. Smith has been in the embroidery industry for more than 30 years and has been an industry speaker and consultant. She also is an award-winning digitizer. For more information or to comment on this article, email Connie at lickatstitch@yahoo.com.

More Build Your Business
---
Keeping us clothed is a $1.5 trillion industry that consumes a lot of resources and casts a large environmental footprint.
FULL STORY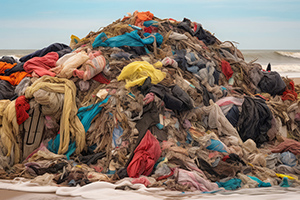 If you're busy, does that mean you're making money? Or are you so focused on getting work—any work—you're no longer paying attention to your bottom line?
FULL STORY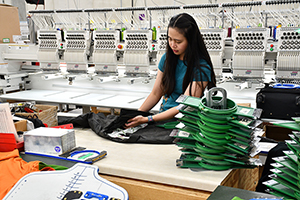 Taking out a loan or leasing to increase production capacity can help grow your embroidery, screen-printing or heat-pressing business, but do your homework first.
FULL STORY