Build Your Business: Management

---
New Year, New Solutions
Solve your day-to-day challenges in 2020 with a comprehensive business-management plan.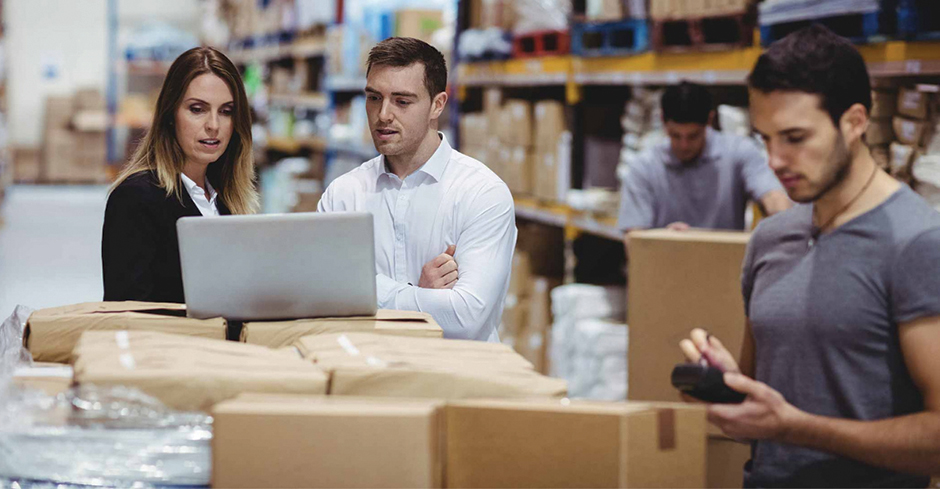 A good WMS solution ensures job-picking accuracy by reducing duplicate picks and keeping jobs separate among multiple stock pickers.
---
Are everyday business challenges limiting your company's potential? Are you searching for the best way to tackle demands head on in a competitive industry?
With the beginning of a new year, move forward with a fresh start to improve on past ways of doing business. An industry-specific, enterprise resource planning (ERP) solution with functionality designed to meet apparel decorators' unique requirements helps to manage day-to-day business challenges and set your company on the right path.
Inventory and Receiving
There are several common industry challenges that ERP can help solve in 2020. Whether your company is trying to eliminate inventory and purchase blanks in a timely manner against sales orders; has a 60,000-square-foot warehouse; or just wants to add more efficiency to the order-production and fulfillment process, leveraging an ERP's integrated warehouse-management system (WMS) can be a game changer.
A robust WMS solution uses barcodes and hand-held scanners to efficiently track, locate and process inventory transactions, facilitating a shorter turnaround time for customers. When combined with ERP software, the solution monitors inventory movement, receipt of materials; and documents production, picking and shipping within one or multiple warehouse locations in real time.
The WMS solution ensures job-picking accuracy by reducing duplicate picks and keeping jobs separate among multiple stock pickers. It also creates urgent stock-picking notifications to address mill defects or misprints encountered in the production process.
In addition, a WMS facilitates regular cycle counts, providing a streamlined process for accurate inventory reporting. With visibility into real-time inventory levels and automated processes for receiving goods, your company maintains optimal inventory levels while providing quick turn times — saving valuable time and money.
Order Tracking
Order-tracking functionality within an ERP solution provides a detailed level of visibility and management of production steps, resources and status updates from start to finish. This helps identify areas of improvement. Timestamp features accurately record how much time is spent on each step of the process to document quantities produced, update status changes, track employee incentives (i.e. run rate per hour) and capture errors.
Tracking these critical steps and integrating the data into web portals allows customers to gain the appropriate visibility into their order status. By streamlining and automating the entire order-fulfilment process, from online artwork approval to receipt of blank goods to final shipping confirmation, customer service can be improved.
Having a system that provides operators everything they need to produce a job on a convenient visual display is a great way to gain efficiencies and eliminate paper. This includes information to ensure they can set up, run and tear down jobs with all the necessary details, such as colorways and other specifics for runners to set up the next job and keep production moving.
The ERP's integrated production center functionality collects real-time information on progress, time spent on jobs, and number of items produced. It then shares this information across all departments to ensure job-completion efficiency. Instant notifications regarding defects and misprints provide alerts to initiate urgent stock picks, ensuring orders are not delayed while still shipping in full. With the ability to electronically file notes about production runs, information easily can be accessed for use for future jobs with the same artwork.
E-Commerce & EDI Integration
With the constant change of e-commerce platforms, it is imperative for an ERP solution to integrate with today's systems while meeting the emerging needs of tomorrow. There are advantages to using a solution with open application program interfaces (API) that allow the use of existing IT resources and those that permit plugging into a vendor for the shopping cart of choice.
An API is a set of functions and procedures allowing the creation of applications that access the features or data of an operating system, application or other service. An integrated system reduces labor costs and the need for redundant and manual data-entry processes. This visibility and data sharing between an ERP and an e-commerce platform provides many advantages, including displaying accurate product availability from suppliers to assist with quick turnaround time and limiting backorders for customer orders.
In today's competitive marketplace, many of your customers or vendors may require electronic data interchange (EDI) integration as a condition for doing business, making it necessary to have a configurable tool that meets their standards and requirements. While costs may be a challenge for many businesses, automating manual processes to eliminate dual data entry no longer is optional in today's integrated environment.
It is important to work with an ERP partner that supports an integrated EDI solution, as it delivers significant efficiencies for many key business transactions. Data collected within an ERP solution is transmitted seamlessly, with necessary documents exchanged between your company and its business partners through the EDI connector.
Ineffective Customer Communication
In the art-approval process, many businesses face the challenge of hosting an art library that is maintained separately from the approval process, creating a disconnect that can lead to miscommunication. A web portal within an integrated ERP system reduces duplicate work and adds visibility, creating a timely art-approval process in which customers can review artwork at their convenience, with approvals and denials automatically updated in the system.
Client portals also assist with the challenge of ensuring all necessary parties are reviewing the most current artwork. Real-time updates inherent in an ERP solution validate that the customer and the art department are looking at the same graphic, eliminating unintended communication issues and mistakes in the approval process.
Another common problem for many companies is dealing with order or artwork changes after work orders are printed. In many cases, updated information gets lost in the shuffle, causing misprints and missed deadlines. An ERP solution can produce a change request that alerts all teams involved in production to identify the most updated information necessary to complete the job. A solution that provides this change notification can make a big difference in order accuracy and customer satisfaction.
A customer portal provides an opportunity for automated communication with clients, potentially limiting the extra staffing and time necessary to maintain the workday and on-call customer service staff required to respond to phone calls and emails. In addition, other account information, such as order confirmations, statements and invoices, is available for viewing, as well as the ability for customers to make payments and reprint documents directly from the portal. An ERP solution's integrated information and visibility creates self-reliant, more informed and happier customers.
As your company begins the new year, addressing and tackling your day-to-day business challenges allows you to start 2020 with a competitive edge in a demanding industry. Implement an industry-specific ERP software solution that efficiently overcomes inaccurate inventory and unorganized receiving; disparate order tracking; lack of e-commerce and EDI integrations; and ineffective customer communication. As a result, you will have the features and functionality needed to meet the marketplace's unique requirements now and into the future.
Adam Brister is the director of Impress and FlexPack, and oversees the division by focusing on ensuring technology solutions meet current and future market demands. For more information or to comment on this article, email Adam at Adam.Brister@osas.com.
Online Help
For decorators receiving e-commerce orders and on-demand printing and fulfillment, accurate inventory counts are required to meet shipping deadlines. A warehouse-management system (WMS) makes receiving goods a breeze by eliminating manual data entry with the ability to scan PO receipts, automate inventory updates, and instantly identify when jobs can be prepped and staged for production.
More Build Your Business
---
Keeping us clothed is a $1.5 trillion industry that consumes a lot of resources and casts a large environmental footprint.
FULL STORY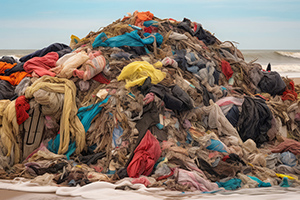 If you're busy, does that mean you're making money? Or are you so focused on getting work—any work—you're no longer paying attention to your bottom line?
FULL STORY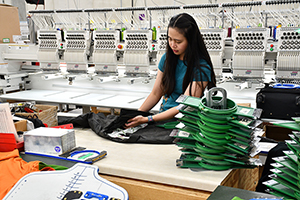 Taking out a loan or leasing to increase production capacity can help grow your embroidery, screen-printing or heat-pressing business, but do your homework first.
FULL STORY