Build Your Business: Management

---
Signs of the Times
Rapid growth is occurring in these three areas of the sign, graphics and visual-communications industry.
Vehicle wraps can be used in vehicle branding or to create an impact statement. This growing field takes skill in application and careful material selection.
---
Are you considering jumping into the sign, graphics and visual communications industry? Despite the obvious natural tie-ins — and customers — stepping into a new line of business can bring big opportunities, along with significant questions.
Whether any of these high-growth opportunities make sense for your company's expansion is up to you. However, you must realize your customers see these products in use — even if they don't know what they're called — and they may ask for your input.
Before investing in the equipment to launch a new line, it's wise to get as much information as possible about these areas.
Wide-Format Printing
According to International Sign Association (ISA) research, wide-format printing is a growing market. A recent report, "Looking for BIG Opportunities in Graphic Communications and Specialty Printing," shows that some 68% of survey respondents indicated their wide-format print volumes were growing. They also expect that growth to continue at about 31% per year.
Survey respondents also said the greatest profits came through printing banners, vehicle graphics and signs. In these three categories, more than half of respondents characterized them as highly profitable. But wide-format printing also has challenges. Almost 80% of survey respondents indicated customers expect a faster turnaround on jobs in this niche, while print customers want to see the impact of campaigns and will change prints more frequently.
Wide-format printing is a relatively new process that has grown rapidly since its inception. The first wide-format inkjet printer was produced in the mid-1990s and, from there, the field has expanded to larger media sizes; the ability to print on various substrates; ink technologies, such as eco-solvent, ultraviolet (UV) and latex-based inks; and the rapid adoption and improvement on the piezo-electric print head.
The printing process is computer controlled, with the image being designed on a computer and turned into a digital file. The file is then processed by a raster image processor (RIP) for accurate output on the desired media. If needed, it then goes to a laminator and is applied or installed to create the final product.
Wide-format printing produces full-color images on media that is at least 36 inches wide. Ink is fired through multiple print heads — each consisting of hundreds of nozzles — onto a substrate or media. These printers typically use piezo-inkjet heads, which work well with solvent-based, UV-cured or aqueous-based inks.
The last stage before installation is finishing, which includes laminating. This protects prints, adds durability and protects them from weathering. Laminates are available in a variety of finishes and textures, from matte and semi-gloss to gloss. Finishing is an important part of any print job, as the type of finish will affect overall cost.
Lamination can be hot or cold. The latter, which is the most popular in our industry, is pressure sensitive and typically requires time for the inks to outgas before the process commences. Hot lamination is considered an encapsulation method and is sealed by the heat from the laminator's pressure rollers.
Vehicle Wrapping and Vinyls
Vinyl wrapping — for decorative or branding reasons — is a rapidly growing segment of the visual-communications industry. According to ISA's "Navigating the Visual Communications Space," 59% of wide-format printers tapped this area as the fastest-growing segment of their business. While the techniques of skillfully applying a wrap are vital, material selection also plays an important role.
Selecting the correct wrapping material determines longevity, durability and performance. One of the most important factors for selecting the correct material is identifying the types of elements with which the material likely will come into contact so that it can withstand those conditions. Materials include the types of film used, adhesive and processing/handling.
There are two main types of vinyl film used in the sign, graphics and visual-communications industry: cast and calendered. The basic ingredients are the same in each product, but the manufacturing process makes them different.
Cast film is the industry premium. It's thin, durable and more flexible, allowing it to stretch easily and conform to surfaces. When heat is applied, there's less shrinkage and it maintains its color. It is considered ideal for long-term applications, including vehicle wraps and fleet graphics.
Calendered film is thicker and offers more shrinkage when exposed to heat. But it's easier to handle and more economical. It's ideal for short- to medium-term applications, such as window and floor graphics, wall murals and signs.
Adhesive systems primarily focus on the strength required for removal from a substrate. They are classified based on application (removable and permanent) and composition (water-based and solvent-based).
Understanding adhesive types is critical for correctly using them in any application. Knowing the composition of the adhesive is just as critical. There are two primary types of adhesive compositions: water and solvent, with either being the diluting agent.
Digital-Signage Systems
There was confusion about what to call the digital-signage industry in its early days: place-based advertising, screen networks, digital out-of-home, etc. With the industry's proliferation and growth, the definition now is broad and widely used. Digital signage is used to display various types of multimedia content in a variety of settings.
Typically printed on paper, signs convey all kinds of information: advertising, wayfinding, news and more. If paper is replaced by television screens that are networked and electronically connected to a central server while displaying digital information, new creative and business possibilities can emerge.
Benefits include content that can be targeted to the specific audiences, animated and updated in real time. Additionally, the content's playback can be influenced by things like artificial intelligence, other digital devices or data analytics. This is the essence of digital signage: disrupting traditional paper signage to drive engagement.
It all starts with two basic questions: What is the business or communications opportunity you've identified? What is the ideal outcome of deploying the new digital-signage network? If the answers aren't initially clear, build consensus and alignment before proceeding. These and other goals of a proposed network will provide a framework for more effective planning and an easier deployment and operational strategy when they are agreed upon and properly resourced, both with people and capital.
Goals change based on the signage type and overall content strategy. Whether it's selling more products, informing guests or educating employees, some goals could be very simple — promoting daily specials and increasing sales, for example. Such goals are easy to track: Did sales of the advertised products increase?
Others can be challenging to measure, especially when it involves simply involves informing an audience. For example, if your goal is to inform employees about an upcoming healthcare meeting, measurement may not be needed. Simply ensuring the announcement graphic is posted on schedule achieves the goal. Analytics tools can be as simple as tracking sales improvements, or as complex as camera systems tracking the length of time viewers watch a screen.
There are two broad digital-signage categories: informational and advertising. Informational screens include digital bulletin boards, menus, wayfinding, donor walls, event listings, traffic screens and news/weather/sports displays. Advertising screens include digital posters and billboards, video walls and experiential/interactive screens.
Understanding digital signage can make a big difference when choosing technology like content-management software (CMS). Some CMS options may include tracking features, an important consideration if the sign's primary goal is advertising. Content management can create repeat business, but content is evolving with more complex, data-driven applications instead of simple slide shows.
Content also is evolving, with programming and audio-visual technology available that automates messaging and improves relevance. Programmers use data from various sources and predictive analytics to ensure the message is relevant to the viewer, place and situation. For example, if weather data predicts rain, umbrella ads can be automatically displayed.
The sign, graphics and visual-communications industry is expanding into plenty of new, high-growth avenues. If you want to explore more, the information is available to help you maximize these opportunities.
Sandy Smith writes for the International Sign Association (ISA), the on-premise sign, graphics and visual-communications industry's leading association. Learn more about ISA at signs.org or signsexpo.org.
Get Up to Speed
Need to learn more about the sign, graphics and digital-communications industry? Online learning from the International Sign Association (ISA) can provide everything from introductory overviews to in-depth and highly technical skills.
More than 70 online-learning courses are available in digital signage, vehicle wrapping, printing and general business principles. Learn more at signs.org/online.
More Build Your Business
---
Keeping us clothed is a $1.5 trillion industry that consumes a lot of resources and casts a large environmental footprint.
FULL STORY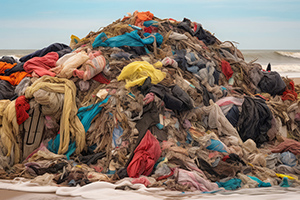 If you're busy, does that mean you're making money? Or are you so focused on getting work—any work—you're no longer paying attention to your bottom line?
FULL STORY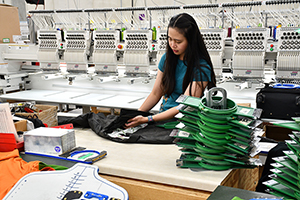 Taking out a loan or leasing to increase production capacity can help grow your embroidery, screen-printing or heat-pressing business, but do your homework first.
FULL STORY