Build Your Business: Management

---
Small Shop, Big Bark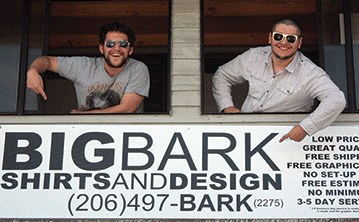 BigBark recently added a 36-inch vinyl cutter and 42-inch inkjet printer, expanding the shop's capabilities to include signage. Its first "job" was a banner for the outside of the facility, which generated phone calls the first day it was visible.
---
When Mili Mulic and Brad VanSteenvoort decided to start a screen printing business together, their combined capital came to a whopping $350. Opening their doors in July 2011, the fledgling Seattle-based company was housed in VanSteenvoort's parents' garage.
Aside from the obvious space limitations a garage presents, Mulic admits there were other challenges. "We used to cure shirts with hair dryers and irons, which caused the house to lose power," he says. But within a few months, the duo rented 1,000 square feet of space in an industrial park in Seattle.
The shop's name, BigBark Shirts & Design, hints at the determination and drive behind the company. "We model our business after [the] Corgi," Mulic says. "A Corgi is a small dog, but when it barks, you might think it was a big dog. We want to have a small company with a few
employees that helps other small guys out with their big visions."
Mulic and VanSteenvoort started the business after attending nearby Highline Community College in Des Moines, Wash. Mulic was the school's art director, while VanSteenvoort worked as a waiter at a nearby restaurant before they teamed up to launch BigBark.
"Brad is phenomenal at customer service, working with numbers and is very detail oriented," Mulic says. "There is no better partner I could have chosen to start this business with."
THE BIGBARK MODEL
In 2012, BigBark added a part-time employee, Courtney Knight, who functions as the office manager. VanSteenvoort handles most of the day-to-day print production and bookkeeping, while Mulic is the art director and handles prepress functions. Both partners do customer service and support. In a pinch, the pair has plenty of friends to help during onsite printing at events or if there's an especially big order to fulfill in a short time frame.
Mulic, through his connections at Highline Community College, also has set up an internship program. Interns work for an average of three months with no pay, but receive between five and 10 college credits. They are required to work three six- to eight-hour shifts a week. BigBark offers internships for graphic design and print production.
Mulic teaches interns how to design for T-shirts and create separations, handle prepress tasks and customer service. VanSteenvoort teaches all aspects of print production. Mulic hopes to eventually add a marketing/advertising intern to increase the shop's promotional efforts.
Because the shop has yet to purchase a conveyor dryer, the interns have come in handy when shirts need to be cured, as this is done using a flash cure unit or a heat press.
TALKING SHOP & SALES
BigBark's production capacity includes a manual six-color/six-station press, a one-color/one-station tabletop press and a flash cure unit. Other equipment includes an Epson inkjet printer for producing digital transfers, a second Epson printer for producing sublimation transfers, a 15″ x 15″ heat press, a 9″ x 12″ swing-away heat press, and a hat and mug heat press. A 36-inch vinyl cutter recently was added, as well as a 42-inch inkjet printer. This broadens the shop's capabilities into products such as lettering and numbering for team uniforms, stickers and window decals, banners and other signage.
From the start, one of the company's biggest niches has been colleges. With their numerous academic departments and clubs, orders from one shirt to dozens come in on a steady basis. The industrial park also has been a regular source of customers, Mulic says. Frequently, these businesses simply need T-shirts that are used as uniforms.
 
With the shop's digital transfer capabilities, its minimum required order is one shirt, and big orders usually are about 100 pieces.
GOING MOBILE
Another early source of sales came from on-site printing. BigBark set up shop at several car shows, as well as striking deals with local bands to sell shirts at concerts. The idea to start doing mobile printing came about when the company was approached by a local band to print shirts.
"[The band] didn't want to worry about ordering too many shirts, and that's when the light bulb went off," Mulic says. "What if we printed to order at the show? That way, we only print a sold shirt.
"That first band decided against it, but we ended up putting together a package that we've had bands go for," he adds. "We have a checklist of what we offer. The band picks a design, and the shirt style and color. We recommend they purchase a minimum of 50 shirts for $350. That's a one-color print on a white shirt. Then, they can upgrade with a better quality shirt or a dark shirt if they want."
 
The band also decides how much to charge for the shirt. Extra inventory is on hand if the original 50-shirt quota sells out. Leftover shirts can easily be used for another order because they weren't printed.
"We also collect the money," Mulic says, "and then settle up at the end of the show. Let them worry about putting on the show of their lives. We do the rest."
BigBark also took its mobile operation to a vintage car show. After producing shirts for the show, Mulic made arrangements for BigBark to have a booth there.
"The organizers allowed us to use the show design to create a coloring book-type outline, which we screen printed in black ink onto white shirts," Mulic says. "We had fabric markers on a table for the kids to use, or they could purchase fabric markers to take home. Our idea was customers would see a bunch of kids having fun coloring the shirts, and it would attract more business. It worked great; we sold a bunch of shirts."
For the adults, VanSteenvoort walked the show floor with an iPad offering to take pictures of people standing next to a vintage car, which were then uploaded to Dropbox. After downloading the
images, Mulic created inkjet transfers and the shirts would be ready and waiting when customers stopped by the booth to pick them up. On-the-spot payment
was completed using the iPad and the Square app.
Other merchandise offered included mouse pads, keychains and sublimated license plate frames. "We even had people sending us photos from their phones," Mulic recalls. "There wasn't a strong signal there so it was taking longer, but people still got it the same day and they were happy with that."
One key to being successful at events, notes Mulic, is to put everything on wheels. The one-color/one-station tabletop press has been bolted onto a rolling cart that has storage space underneath to hold blank shirts.
Mulic estimates that about 60% of the company's orders are for one color and the other 40% are four-color process. While the pair prefers the one-color jobs, Mulic notes that VanSteenvoort continues to improve on his techniques with impressive results.
 
One of the company's newest ventures is a preprint line designed by Osiel Gomez, a former intern and the company's current part-time designer. The line includes three designs, which will be marketed on Facebook and through 
the company's website, as well as to local retailers.
One of the designs shows a skeleton's chest with two hearts beating on either side. The line will be artsy with a tongue-in-cheek twist.
Mulic estimates BigBark's sales have increased roughly 300% from the first year. Based on strong sales of the past few months, the shop can finally afford a conveyor dryer, which is at the top of its wish list.
According to Mulic, the key to BigBark's success lies in providing quality results and a level of customer service that has resulted in repeat customers.
"The greatest thing that has happened in our second year is that all of our
customers we got in our first year have come back," Mulic says. "Business has grown to the point that every day, we get a repeat order."
Deborah Sexton, the former editor of Impressions, has been writing about the decorated apparel industry for nearly 30 years. For more information or to comment on this article, email Deborah at dsexton@
sbcglobal.net.
---
BigBark Shirts & Design At A Glance
Company Name: BigBark Shirts & Design
Address: 233 South Holden Street
   Seattle, WA 98108
Founded: 2011
No. of Employees: 4 (2 full-time, 2 part-time)
Decorating Methods Offered: Screen printing 
(in-shop and on-site), digital transfers, 
sublimation transfers, stickers, window decals, banners and signage
Company Website: bigbark-online.com; 
facebook.com/bigbarkshirtsanddesign
 
More Build Your Business
---
Keeping us clothed is a $1.5 trillion industry that consumes a lot of resources and casts a large environmental footprint.
FULL STORY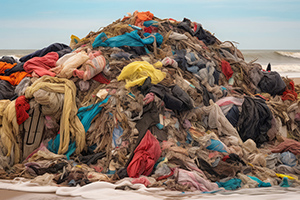 If you're busy, does that mean you're making money? Or are you so focused on getting work—any work—you're no longer paying attention to your bottom line?
FULL STORY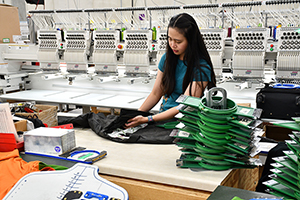 Taking out a loan or leasing to increase production capacity can help grow your embroidery, screen-printing or heat-pressing business, but do your homework first.
FULL STORY