Build Your Business: Management

---
Social-Media Hacks to Score Sales
If your business isn't engaging online, you're missing out on stellar brand-building and sales opportunities.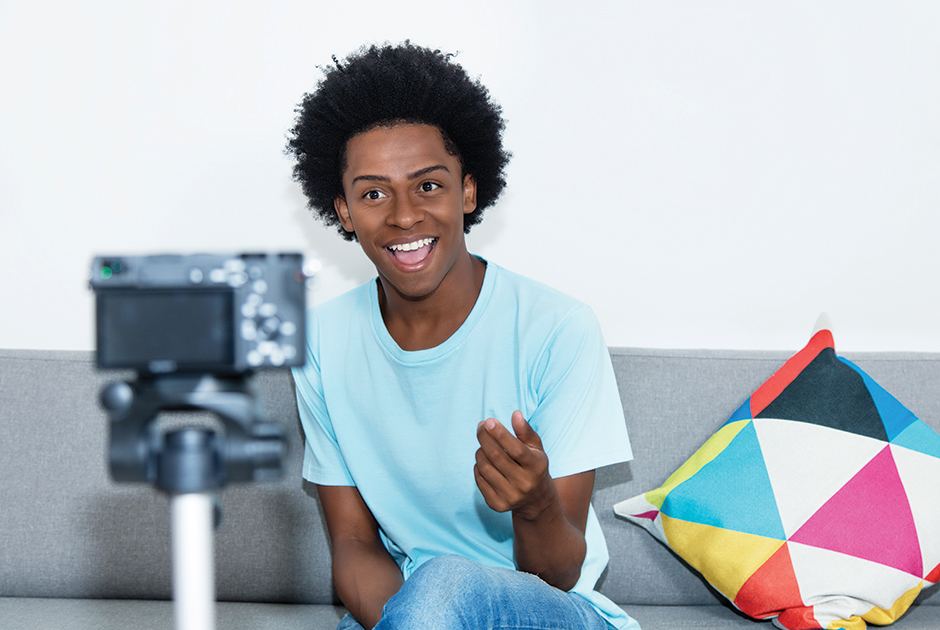 ---
Lee Romano Sequeira, co-owner of Durham, North Carolina-based Sparkle Plenty Designs, offered a "take-the-shirt-off-our-back" campaign on social media to get the word out about her wares. She sent a free, custom rhinestone T-shirt to distributors to use as a display or sales tool, simply asking them to pick up the shipping costs.
"When people see the quality of our rhinestones, they say, 'I never knew one free T-shirt can get me so many sales,'" she says. "Just about everyone is on social media — it's the easiest form of communication with your audience and it allows you to answer a question quickly."
With about 3 billion people active on social media worldwide, industry companies need to be where their customers hang out. In fact, 59% of Americans think social media has made it easier to get questions answered and issues resolved, according to Lyfe Marketing, making them even more loyal. Yet, interacting with prospects and customers via this channel primarily must be about providing useful information first instead of selling. Smart Insights found that 86% of consumers prefer an authentic and honest brand personality on social networks.
To build a loyal following of people who trust and repeatedly buy from you, try these five smart social strategies that will spur sales.
1. Use creative contests and campaigns to generate engagement. "There's a reason why everyone's doing contests and giveaways — because they work," says Danica Norton, owner of Vancouver, British Columbia-based DCNA, a platform for marketers.
"When you're running a contest, make sure the prize is unique or desirable enough to be prize-worthy and easily shipped to the winner." For example, create amazing artwork and print it on 100 T-shirts, or offer a substantial discount on three future orders. Norton recommends adding contest bonuses like "tag friends for extra draws" or "share for a prize add-on if you win" to add value to the giveaway and increase your exposure.
Distributors and decorators have a fantastic opportunity to run photo-based contests because logoed products have a highly visual component. "A great way to get your followers to interact with your social-media accounts is to ask them to post a picture of the product at an industry trade show or in a unique setting and tag you," says Deniero Bartolini, CEO of Toronto-based Gold Rush Social. "Your simple contest copy can direct people to post a picture of your decorated apparel, tag your business and add a hashtag for a chance to win a prize."
Video contests also are huge. According to the Content Marketing Institute, people are 10 times more likely to engage, share or comment on video content, so it can create a lot of brand exposure for you, including generated email leads, more likes and increased web traffic.
Other easy contest ideas include asking people to vote on your new logo or T-shirt design, then posting the results in a photo or video format. Ask people to comment for a chance to win, which will get your followers involved and create more engagement with your posts. Ask your followers to submit T-shirt design ideas — say, for an event, charity or for their own personal use — and open voting to the public to identify the most popular tees.
"Print the most popular design for free and offer a discount to all other short-listed submissions," says Thibaud Clement, CEO and co-founder of Los Angeles-based Loomly. "That encourages each person who submitted a design to ask their own network to support them and you can generate sales through the discount mechanism from all other submissions."
This type of contest can be implemented with a solution like Wishpond, he says.
For special campaigns, decorated-apparel industry veteran and business expert Mark Coudray recommends creating a series of short videos aimed at your target market.
"If you work with schools, target people who work in the PTA, or with sports teams or clubs," he says. "Explain how they could use decorated apparel or logoed products to get more supporters or generate more money for their institutions or groups."
2. Build a community by sharing insights with a defined target audience. While you'll advertise special offers to your audience, focus on answering their questions via replies or content marketing. Questions should get one-on-one replies; if your audience is chatting about a particular issue or problem, provide content solving that problem.
"Share what you know to establish yourself as an authority in your niche," says Destinee Wright, creative director at Charlottesville, Virginia-based Destinee Marketing LLC. "The goal is a value-first approach that builds trust and earns lifelong customers."
Bartolini suggests using Instagram stories, Facebook posts or tweets to create polls to spur people to ask questions. "Once you've got a list of topics, create useful written content to share with your followers," he says. "Use a site like Canva to create shareable infographics. You can also make short videos or use Facebook Live."
Create a content calendar and batch your social-media efforts by using apps such as Planoly or Hootsuite. "That way, you have a bird's-eye view of your activity and you don't have to worry about posting by hand every day," Bartolini says.
While attending this year's F8, the annual Facebook developer conference, Clement learned that "Groups" is a top priority for the revamped Facebook platform, FB5. "Groups will be at the center of the experience, as central as friends," he says. "This is a significant opportunity for businesses to engage in an authentic, informal way with more than 400 million people who currently are members of groups that are meaningful to them, by providing useful content and emerging as subject-matter experts."
Alternatively, businesses also can create their own Facebook Groups and link them to their existing Facebook pages, which will — at least in the short term — offer better reach.
3. Use product images and videos smartly. According to MySMN, a digital marketing agency, 20% of people will read text on a page, but 80% of people will watch a video. After watching a video, 64% of users are more likely to buy a product online, according to Forbes.
In light of this trend, many social platforms have evolved their algorithms, preferring video content over other formats. Similar to gravitating toward videos, people expect social posts to have some kind of visual-first component. According to HubSpot, an inbound marketing and sales software developer, people recall 65% of the visual content they see almost three days later.
If your content doesn't look appealing as people are scrolling, they won't pause to engage with your posts. To keep your followers engaged, you must hop on the photo and video train — whether it's product shots, demonstrating how a product works, showing how to screen print a shirt, documenting your trip to an industry trade show, etc.
"Social's a highly effective way to promote our services and to showcase examples of our work, which reflect current product trends," says Scott Slade, president of Hicksville, New York-based supplier Chocolate Inn/Lanco, which posts photos and videos to Instagram, Facebook and LinkedIn twice weekly. "We know the key product uses by time of year and categories, so we build an annual marketing calendar that we assess monthly and execute against."
Lanco's social calendar gets broken down by platform and occasion, so that the marketing promotes the right products at the right times. "It's imperative that you understand which seasons your products are most in demand," Wright says. "Plan your content around your seasons and be authentic with this."
4. Talk about the results that your decorated apparel scores for clients. When it comes to promoting your business on social media, the golden rule is pretty simple, Clement says: "Twenty percent of what you say can be geared toward actually selling your product and services," he says. "The remaining 80% should be either helpful, entertaining or inspirational, with no direct sales intent."
Coudray coaches his clients to focus social content on the results they get for their customers. "People say, 'We just gave them branded shirts,'" he says. "I tell them, 'Dig deeper. What role did your decorated apparel play in that campaign or contest, or how did it unite the community?'"
He's a big proponent of finding your niche by really understanding your audience's behaviors and expectations. "The more you work in an area, the more you understand its needs and the opportunities," Coudray says. "Pro athletes don't play a different sport each season. They become extraordinary on their particular playing field."
Then, he advises, aim to make every shirt design something that may become a wearer's favorite. Expand your view into lateral areas: promotional products, signage and more, so you become the go-to marketing agency for your niche.
Customer testimonials and user-generated content also can act as major influencers for your business, promoting your products and services in the best possible light. When prospects get that social proof of your customers' positive experiences and results, they feel they're making a more informed decision.
Bartolini also recommends creating story highlights on your Instagram account and sorting your stories that way. If you create a "Happy Clients" story highlight, you can add the stories and turn it into a small portfolio.
You also can feature the results your decorated apparel and goods can score for your clients in a case study. "This can be as simple as a post or series of posts on social media, or as involved as a dedicated landing page," Clement says. "Another approach can consist of creating a white paper about a customer story and making it downloadable from your website upon submission of a simple contact form.
5. Use Instagram and hashtags to connect with a broader swath of buyers. When the team at Lynchburg, Virginia-based supplier Emperor Promos started showing cannabis accessories it carries on Instagram, there was a big uptick in interest.
"We've seen a huge rise in direct messages from distributors asking about pricing," says Steve Peters, COO, Emperor Promos. "Plus, we've received orders from these new clients. Our strategy? We limit our content to showing off products that aren't available in the industry or new variations of our specialty products."
Instagram has more than 1 billion active monthly users who spend an average of 53 minutes on the app, according to Oberlo. "Instagram is a visual platform that's great for brands and products," Wright says. "I tell my clients to think of Instagram as their brand's personal art gallery or magazine. Look at your analytics, trends and what your competition is posting, and use this information to inform what you're putting out there."
Each major social-media channel uses hashtags, which help prospects and customers find your brand, products and services quickly. App tools like Ritetag, Hashtag and Best-Hashtag make it easy for you to research which hashtags will resonate most with your target audience.
You also can look at the hashtags your competitors and influential people in your industry use. Keep them short and memorable, and capitalize each word. Initially, use hashtags that are linked to between 20,000 and 200,000 posts so you'll get found more easily.
By using Instagram's search function, you can type a keyword that's relevant to your brand and then select the "Tags" tab. You'll see a list of all the hashtags associated with that keyword, along with posts tagged with these hashtags. Some hashtags will have lots of posts; others will have less. Also consider related hashtags: On any hashtags page, you can review "related hashtags." Above the "Top" and "Recent" tabs you'll see a list of related, niche hashtags that you can assess by swiping left.
Use Instagram Insights to view your followers' demographics and the posts that generate the most engagement. "After a few posts, you will have a clear understanding of what type of content works best," Bartolini says. "Then, curate your feed based on the feedback you received. That way, your engagement increases and your page gets more exposure."
Ultimately, it's very important to engage on social media so your customers can see your business' capabilities and the quality they can expect. "This is very important for decision makers to evaluate your business in the increasingly competitive marketplace of promotional products," Peters says. "If you aren't able to show your specialty, you cannot be competitive in this industry — even if you've been competitive in the past."
Nicole Rollender is chief storyteller at New Jersey-based Strand Writing Services. For more information or to comment on this article, connect with her at strandwritingservices.com.
3 Social-Media Pro Tips
Steal these three tips from industry veterans about how they use social media to connect with prospects and customers:
1. Create a Facebook Business page. "That way, you can tell prospects at a glance what you do and why you do it," says Lee Romano Sequeira of Sparkle Plenty Designs. "You can list your contact info and website address, and post product images, behind-the-scenes photos, what you're working on and more."
2. Focus your efforts on Instagram. "The social site's great for showing off your content and seeing results from your efforts immediately in terms of likes," says Steve Peters of Emperor Promos. "Keep your information and posts relevant and uniform. This is very important if you want to keep your following."
3. Create a robust content program. "As we work closely with top distributors, as a supplier in the category, we like to showcase successful programs; challenging art executions; case studies; fresh ideas; new products and decoration techniques; trends and new concepts; and successful kitting strategies to cross-promote our products," says Scott Slade of Lanco.
More Build Your Business
---
Keeping us clothed is a $1.5 trillion industry that consumes a lot of resources and casts a large environmental footprint.
FULL STORY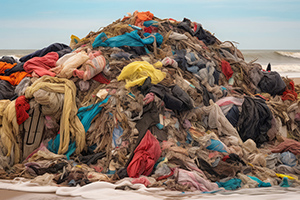 If you're busy, does that mean you're making money? Or are you so focused on getting work—any work—you're no longer paying attention to your bottom line?
FULL STORY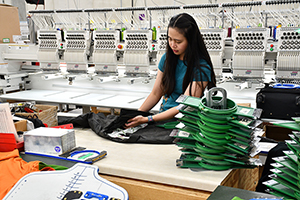 Taking out a loan or leasing to increase production capacity can help grow your embroidery, screen-printing or heat-pressing business, but do your homework first.
FULL STORY