Build Your Business: Management

---
Take a Note from Levi's on Offering Your Customers Quality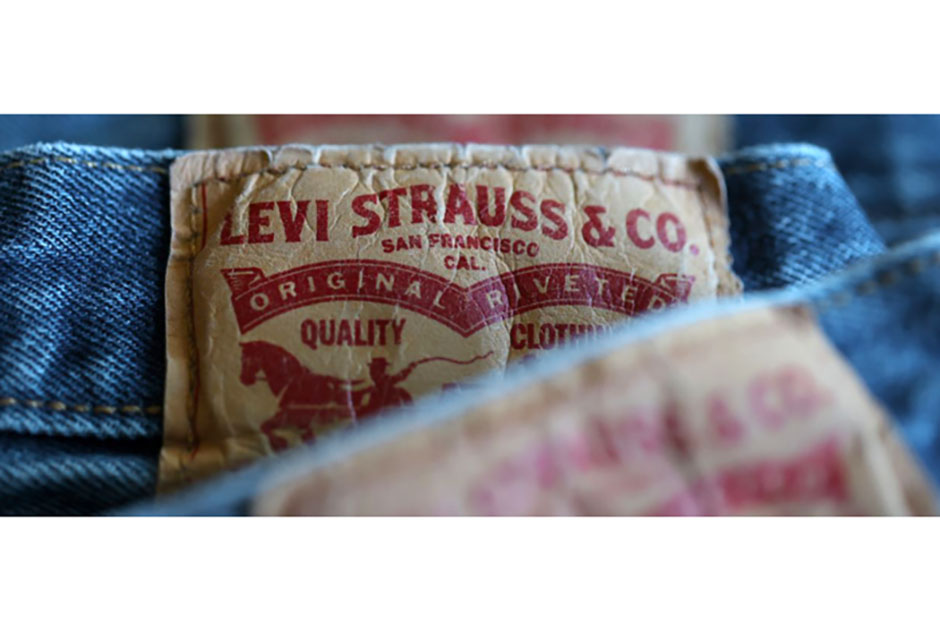 ---
When customers stop by your shop for a job, what's your tendency to recommend products? The product that fits their budget the best? Maybe it's a brand you know you can get a great deal on from the distributor.
Or, do you try to offer your customers something that represents value and longevity? If you focus on other elements than just the price tag, you're offering customers more value.
Levi's "Buy Better, Wear Longer" Campaign
In 2021, Levi's launched its "Buy Better, Wear Longer" ad campaign. It's primarily aimed at younger generations. They tapped multiple influencers like actor Jaden Smith, 18-year-old activist Melati Wijsen, and soccer player Marcus Rashford.
The campaign focuses on raising awareness about the environmental impacts of apparel manufacturing and consumer consumption. Levi's brand president Jen Sey also said that Levi's denim should be "worn for generations, not seasons."
Sey added that the campaign encourages customers to "be more intentional about their apparel choices: to wear each item longer, for example, to buy secondhand, or to use our in-store Tailor Shops to extend the life of their garments."
The company invests in technologies and materials like organic cotton, cottonized hemp, and sustainable manufacturing. You might already know that it takes a lot of water to produce a standard cotton T-shirt. Try 715 gallons' worth! Levi's said it developed a process called Water<Less technology. The method cuts back on the amount of water used in manufacturing its apparel.
Focusing on Experiences Instead of Selling
Having a sustainability message is super-trendy right now. You could argue that Levi's is just paying lip service. Still, it's not just about cool YouTubers promoting long-lasting clothes. The company's vice president of Product Innovation, Paul Dillinger, talked about how the campaign is about the whole experience of enjoying your apparel.
"You experience the difference when you have jeans that have been through it all with you, or when you go thrifting for secondhand jeans," Dillinger said. "A pair of Levi's holds up better and holds its value longer," Dillinger said. "It's both a physical and an emotional durability that we strive to offer consumers by investing in quality and designing for lasting value."
Basically, Levi's is driving home the idea that spending money with companies that invest in refining and improving their products makes sense.
Is there anything in common with how you run your shop and how a global manufacturer sells its products? Yes! Read on to learn why.
Offering Customers Quality
As a printer, quality is one of your top priorities. But maybe you haven't been thinking about it on all fronts. Sure, you use high-quality screen-printing inks and run quality checks on shirts before they hit the boxes to ship out. Where else are you providing value?
Think back to what we talked about at the beginning of this blog. When you have a customer approach you for a job, what's your usual approach to offering them your services? Without getting into names and manufacturers, you can probably think of a few shirt companies that offer higher-quality garments off the top of your head. They aren't as cheap as some of the other bulk apparel manufacturers. Still, the construction is better, the stitching is sturdier, and the fits are more flattering. Sometimes the fabric blend is softer or more comfortable than your go-to company that offers a massive deal on 500 blank shirts.
We know what you're thinking, "my customer is on a budget, so I am not going to push something that they can't afford and aren't interested in."
Well, what if you thought of it less like selling your customer a product and more like what Mr. Dillinger from Levi's said— an "experience." Something that stands the test of time.
Long-Lasting Products Still Mean Repeat Business
There's another part of providing your customers long-lasting, sustainable products that might make you hesitant as a business owner. If you offer them something that doesn't need to be replaced right away, they won't need to return to you, and you won't have any repeat business from that customer.
Not true!
There are a couple of big reasons why focusing on high-quality goods can benefit your shop:
It tells a story. The raw goods you print on, be it a hat, T-shirt, or tote bag, come with some product info from the manufacturer on how it's made and what the company's goals are. If you're able to filter some of that language into why you're recommending that product to your customers, you'll be promoting an authentic story instead of just going for the upsell.
For example: "We recommend these tote bags because an American company makes them in North Carolina who QA's their stitching before the bags leave the factory. Plus, they use recycled fabrics, so they're not creating any extra waste."
It opens your door to new customers. Some of your long-time customers might take some work to understand the value of high-quality, sustainable goods. But there's a whole set of customers very interested in this category. A recent study by NYU Stern's Center for Sustainable Business found that 50% of consumer-packaged goods growth from 2013-2018 came from sustainable products. If you make it known that you strive to provide customers with high-quality apparel and garments, you're apt to attract some of these shoppers.
It's not a billboard if it's in the trash. We've all heard countless times how a printed T-shirt is a "walking billboard" for any sort of message, company, or campaign. But, if you're printing on a shirt that'll only last 6-8 months, it's not an effective promoter of your shop and its services.
Think about how many throwaway shirts people get at corporate events, 5Ks, or charity fundraisers. Now, if they had a shirt they loved because it fit well and had nicer fabric, they'd wear it a lot longer. And then there would be a greater chance of someone saying, "Hey, that shirt looks great. Where did you get it printed?"
It makes you stand out from your competitors. We're not suggesting having a hyper-political message at your shop. But, let people know you offer quality products that last and use goods focused on making the world a better place. You'll stir up some interest. Having core values is more enticing to buyers than the generic "we focus on the customer" cliché.
Getting Started
Adding sustainable and higher-quality products to your offerings doesn't have to be an overnight move. It also doesn't mean you have to phase out all your more budget-priced options since, let's face it, sometimes that's the only option for some customers. Instead, think of it as a gradual adjustment. Talk to your distributors about what kind of options they offer when you're thinking of stepping up the quality of your products. Some companies even have a separate category for sustainable goods on their websites.
Make sure you talk to your customers, too. Maybe the local brewery you print beanies for wants something more sustainable to fit their business's latest move to reduce water consumption. Or, the regional credit union you embroider polos for wants to start outfitting their clerks with a nicer option that reflects their recent involvement in community cleanups. Try a simple email survey to your customers too.
Take a page from the Levi's campaign and focus on experiences over selling. Then, it all comes back to providing the best options for your customers instead of getting them to buy something.
Mike Clark serves as a copywriter for InkSoft and also freelances as well. He's written for newspapers, online publications, and print magazines and has covered decorated apparel industry topics for the last six years.
More Build Your Business
---
Keeping us clothed is a $1.5 trillion industry that consumes a lot of resources and casts a large environmental footprint.
FULL STORY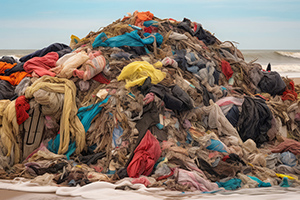 If you're busy, does that mean you're making money? Or are you so focused on getting work—any work—you're no longer paying attention to your bottom line?
FULL STORY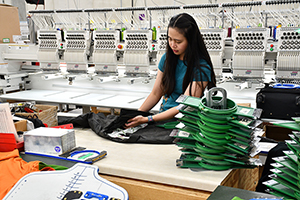 Taking out a loan or leasing to increase production capacity can help grow your embroidery, screen-printing or heat-pressing business, but do your homework first.
FULL STORY