Build Your Business: Management

---
Turning a Specialty Into Success
Scott Thackston has more than 22 years of experience in the textile signage industry. For the past 16 years, he has been with Aprons Etc., a promotional products supplier that offers everything from chef's wear and apparel to display table covers and banners. He was named company president in 2011.
"We started out doing retail years and years ago and then moved into promotional products, doing aprons, smocks and vests," he says, "and from that we actually morphed into [offering] more fabric event-marketing products, such as event marketing display table covers — which is our No. 1-selling product — fabric banners and backdrops."
Impressions recently spoke to Thackston about niche markets and how apparel decorators can use them to gain new customers and grow their businesses.
Impressions: What got Aprons Etc. interested in niche markets?
Scott Thackston: When we developed the event marketing products, we understood that not everyone could understand the value of [them]. So we looked at which companies and industries really use these on a consistent basis. We came up with four categories where we see consistency in sales, and that's the retail and spirit industry (liquor and spirits), colleges and universities, medical insurance-based companies, and banks and financials. [Companies in these categories] have everything from recruiting to in-store displays. You also have trade shows, booths and any kind of public venue where you have marketing that you're branding with a logo. Those categories are the main ones that we see as a niche that our distributors have consistent success in.
Impressions: What is the company currently doing to attract niche markets?
Thackston: First, we consider ourselves an educator instead of a marketer in this kind of category for our distributors. We give them the benefit of a table cover sales kit or tool that provides them with swatches of preprinted table covers. We also provide educational information on those four industry categories — the how, where, and whom to sell those products to — and the ability to offer them a free "draw-down" sample or a mini table cover panel. They just have to provide their prospective client's logo and we digitally print that on a small mini panel or small table cover, and they can go demonstrate that in their sales campaign or send it out as a sample to their prospective clients.
Impressions: How can decorators find appropriate niche markets for their businesses?
Thackston: Look introspectively, instead of going out first, to find out what your strengths and weaknesses are as
a company. What do you do best? Take that and figure out what industries you're compatible with, regardless [of] if it's production, if it's exclusivity of product or process, or if it's a particular product that fits a particular industry. It may be relatively broad, as ours is, and it may be very small, but I think you really need to look at what you're good at and what your
capabilities are, and then match those with a particular niche out there that gives you the ability to have success.
Impressions: Do you have any examples of your customers who are successfully working in niche markets?
Thackston: We have one particular large distributor who works extremely well with the financial markets. They do all of the display table covers for two of the top Fortune 100 banks that we partner with. Another works solely with liquor/spirit beverage companies. They do a lot of sampling and on-site-type marketing to the public and within stores, so these are great for any kind of displays. Once [your customers] find that you're the industry leader and can provide them with the education of what their clients are looking for — and samples — then you're going to be the go-to source. They're not going to shop you on price and product if you show that you have the advantage over your competition.
 
More Build Your Business
---
Keeping us clothed is a $1.5 trillion industry that consumes a lot of resources and casts a large environmental footprint.
FULL STORY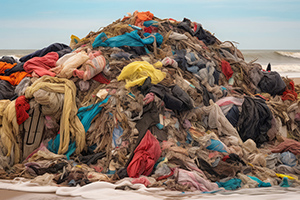 If you're busy, does that mean you're making money? Or are you so focused on getting work—any work—you're no longer paying attention to your bottom line?
FULL STORY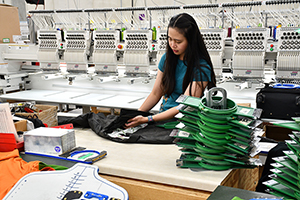 Taking out a loan or leasing to increase production capacity can help grow your embroidery, screen-printing or heat-pressing business, but do your homework first.
FULL STORY