Build Your Business: Trends

---
Adding the 'Wow' to Womenswear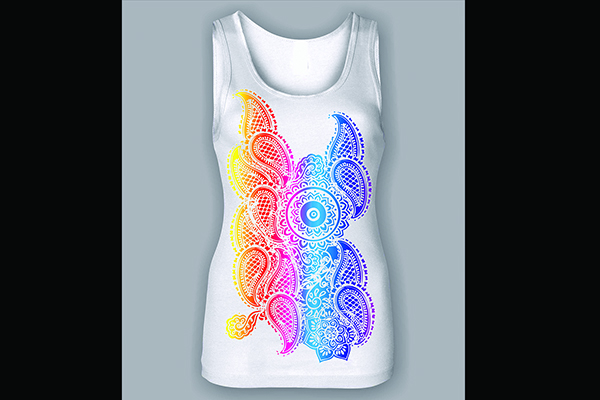 Water-based prints can work well either as background patterns or oversized prints on fitted apparel.
---
There's an interesting push in special-effects printing for ladies' and juniors' apparel that is more subtle. It even starts to push the boundaries of what is commonly considered special effects.
Apparel decorators with a good grasp of the basics in special-effects printing have the easiest time adapting to new trends and deciding whether a specific style is worth investing in or if it should be left for the "bleeding edge" of printers who are willing to endure the pain of trying every new fad.
The fundamental special effects that should be tackled first typically are best sellers because they can add perceived value to the final apparel product and excite potential buyers. This emotional appeal can be visual, tactile or both, so it is important to consider how the undecorated apparel, artwork and special effect will work together to create the final product. Some basic special effects to consider including are: water-based or soft-hand printing, glitter, foil and heat transfer rhinestones.
FABRIC CHOICES
Before you dive into decorating techniques, review some of the popular fabrics that are used to create ladies', juniors' and girls' apparel. Looking carefully at the features and limitations of each fabric will give you a clear idea of the obstacles you'll face with different decorating techniques. In addition to reading the manufacturer's recommendations, talk to another decorator who has experience with the fabric or garment type. Following is a short list of common fabrics for ladies', juniors' and girls' apparel that can have specific decorating limitations, including special effects.
1 Lightweight cotton and cotton/poly blends: Demand and availability of lightweight and ultra-lightweight cotton and cotton-blended fabrics have increased in the past few years. With these garment types, keep in mind the fibers that are used to create their surfaces. Even if a garment doesn't list spandex or Lycra in the tag, a stretchy feel is common of these styles and it is likely that they have a certain amount woven into the material. This is important because the synthetic fibers (the ones that are not cotton) can get damaged from being overheated. It is common to adjust dryer and flash-cure times, temperatures and total exposure to avoid a lot of scrap.
The other common concern with garments that are created from thin material is that a printed decoration or heat-pressed area will affect the soft feel and may make them uncomfortable to wear. Also, excessive ink may penetrate the garment and bleed onto the platen, then spread onto subsequent garments as they are loaded. The best solution for lightweight fabrics is to print on them using water-based or soft-hand inks so that the print will not affect the fabric's feel. When using an added special effect, it is important that any dimensional effects (such as rhinestones, glitter or heat press elements) are used in small accents or they quickly can become uncomfortable or distort the natural look of the shirt.
2 Dry-wicking styles and athletic apparel: Ladies' garments have taken the popular fabrics that are used in workout wear and incorporated them in many athletic uniforms, plackets, and T-shirts that use the synthetic fibers of polyester blends to help absorb perspiration away from the skin. It is important to get samples and test these garments prior to committing to a specific decorating style. Due to the polyester fibers and the way the garment is dyed, some dry-wicking styles will print very well. Others can have serious problems when heated (severe sublimation of the shirt color, shrinkage or hardening/scorching of the fabric).
A quality dry-wicking fabric that is properly cured will accept most decoration methods except for water-based inks, which need an absorbent fiber like cotton to sink into. Some dry-wicking blends will work with water-based inks if they have enough cotton content, but testing is always recommended.
3 Compression garments and sports bras: Ladies' apparel that is highly fitted and flexible in nature needs specific decoration methods that are balanced with the manufacturer's recommendations for the best results. Many of these garments have a large spandex or Lycra component and may only work with a carefully managed heat press application.
4 Compression garments and sports ribbed or piqué fabrics: Popular garments with loose or varied weaves often require special handling, printing styles or specific inks to achieve a result that is consistent and of higher quality. Although you can achieve a print on a ribbed tank top, it is likely to crack and distort when worn. Special effects are not as durable on these items due to less surface area available to bond to the effect.
Some of the best results on these items are achieved using a discharge water-based effect that is combined with a heat press or glitter accent. This effect can use water-based properties to effectively stain the fabric instead of just printing the surface of the ribs. Then, the special effect can be broken up into smaller pieces that will last longer and display less distortion while worn.
Piqué fabrics often are used in team apparel and placket shirts. Special effects tend to have the same concerns as with ribbed fabrics. Piqué looks the best using a distressed water-based print or embroidery.
TRY THESE EFFECTS
Using special effects requires mastering basic techniques. A great foundation in special effects for ladies', juniors', and girls' apparel involves practicing soft-hand printing. This is an ideal starting point because it will provide the base technique for embellishment, and will set off a flashier special effect like glitter or foil. Contact your ink representative and acquire the right products to test soft-hand printing on your equipment first.
The discharge style is the most common solution for the darker colors of ladies' apparel. Just be aware that it only works on cotton material, so other garments that need a soft-hand print will need a different process. Specific garments that are considered discharge friendly need to be used or the process will be inconsistent or problematic.
The following special effects (starting with the basics) are popular with today's womenswear and are sure to help boost sales at your decorated apparel shop.
Water-based printing: Use simple one-color designs at first until you are comfortable with a background image style. Print designs that have fewer small details until you have your process organized to avoid drying in the screens. Involve an experienced printer when you test discharge printing so you can learn the timing and particular needs of the whole process. Printing soft underprints for other special effects is important; it can create a high level of value while also defining a dramatic look to bright special-effects accents. Water-based prints also work well as background patterns and oversized prints on fitted apparel (see Figure 1).
Glitter printing: This type of printing is more common in shirts worn by younger girls, but also can be found in ladies' apparel for resort or team sports functions where a bright sparkle can help sell the garment. Proper glitter printing is mostly related to the managing the process of the particle passing through the screen mesh in comparison with the base that is used. It is important to consider the size and composition of the glitter, the transparency of the base and the size of the open area in the screen mesh if it is being printed.
Some screen printers occasionally will print a gel ink separately and "dust" the wet surface with loose glitter flakes. This method produces the brightest glitter effect, but is messy, less durable and provides a much slower production rate (see Figure 2).
Foil transfers: Using foil requires a heat press, so any fabric, previous decoration or other elements that are heat sensitive will be affected by the foil application. The standard process involves applying an adhesive or sticky gel print to the garment where you want the foil to release. Then, the shirt is gently cured in the dryer (not a complete cure; otherwise, it will become less tacky) and the foil sheet is laid on top of the printed surface in a heat press. Once the foil peels off, the areas that were printed become a shiny metallic.
A popular use of foil is to create an underprint using water-based or discharge ink (use a discharge water-based ink for dark shirt colors that will bleach out the dye of the garment and allows the underneath shirt color to show through), print the adhesive using a second print, and then heat press the foil at the end. The downside is the amount of handling required (three setups), but the upside is a dramatic final product that can be heat pressed without worry because water-based inks do not stick to foil (see Figure 3).
Rhinestone heat transfers: In most respects, the heat transfer of rhinestones or other elements (rhinestuds, welds, etc.) is similar in process to foil application, except that the adhesive is commonly in the objects being heat pressed. Stones or studs often are applied using a specialized heat press machine for stones or they are prepared by attaching them in a pattern on release paper.
Remember that stones are dimensional, expensive and can affect the feel of the garment when incorporating them into your designs (see Figure 4). There are additional methods of applying rhinestones, including using slow-drying glue, Tiffany mounts (pinched metal into the fabric), rim mounts or sewing into the fabric. The advantage of heat-set rhinestones is speedy application, but they have slightly less durability than some of the directly attached methods.
Once you've created a foundation with these basic special effects, you can work them into other areas or use combinations of different styles to increase the demand and distinguish your company from the competition.
Thomas Trimingham has been working in screen printing for more than 22 years as an industry consultant, freelance artist and high-end separator. He is an award-winning illustrator, designer and author of more than 120 articles on screen printing art and separations. To comment on this article or learn more about screen printing artwork, contact Thomas through his educational website, screenprintingartist.com.
More Build Your Business
---
For many decorators, the end-of-the year holidays, and Christmas, in particular, represent their biggest selling season.
FULL STORY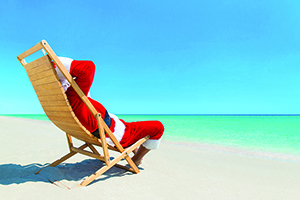 Fall is in the air, and with it comes a cornucopia of new apparel, with comfort continuing to be the name of the game. Fleece is also becoming more of an everyday wear item at the same time it straddles gender lines.
FULL STORY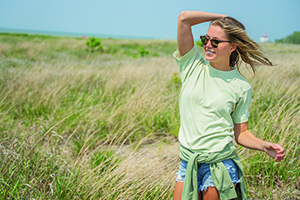 Austrian-born economist Joseph Schumpeter's economic "gale," as continuing advances in business tech are sometimes known, has been a good thing for the decorated apparel industry in the United States in more ways than one.
FULL STORY