Build Your Business: Trends

---
What Women Wear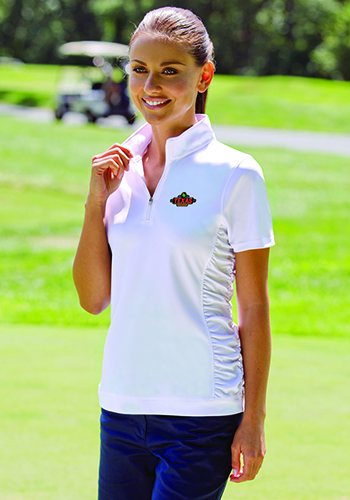 The women's Vansport Omega ruched polo (style 2611) is flattering to women of all shapes and sizes.
---
Promotional fashion style leaders are keenly aware of several trends dominating new product development, particularly for women.
These trends are centered on "providing an experience for our lady wearers in terms of technologically advanced fabrics that blend overall style and design, along with visual and physical texture, unique colors and details," says Elson Yeung, director of private label design and merchandising for alphabroder.
This female market, greatly influenced by the busy active lifestyles of younger women in the Generation X and Y populations, are savoring advanced technology features and fashion details in their clothing fabrics. Yet, they insist on comfort and convenience in their wearables.
These highly media-connected buyers also follow retail trends more closely than older segments, and insist that their fashions mirror retail creativity and individuality — even with corporate attire. As AKWA USA-Made Apparel line expert Steve Pinzon notes, "Women want to be women. They don't want to match the men they work with. They want garment features that flatter them, so we have to develop those products today or we're not in the game."
They also want corporate apparel that says, "I don't have to wear this. I want to wear this," says Lauren Cocco, director of merchandising at Vantage Apparel. "That's how our garments will get worn over and over again, and bring true value."
In the past, women often dreaded wearing "that uniform shirt," Yeung says, "We are designing clothes women want to wear at an event or as an incentive, etc. And they still like wearing it afterward."
STYLE TRENDS
With plackets (traditionally not a woman's favorite category), new trends are wooing women back with feminine style enhancements. According to Cocco, the hottest new styles address women's wardrobe phobias when outfitting a multibody type and size teamed with the same style. This is done by offering flattering princess seams, and even new styles with ruching.
As for fabrics in ladies' plackets, Pinzon says, "We find ladieswear does better in jersey knits rather than piqué because of its softer hand that's more flattering to feminine curves, and it more closely resembles retail fashion. It also takes stones, nailheads and beads better if [those are] the decorations of choice."
With most lines, the basic cotton piqué still is a mainstay, but with a makeover. "We took our best-selling cotton piqué polo and pulled out the weight," Cocco explains. "It now has 3% spandex for comfort, with princess seams, a longer placket, decorative neck taping and tagless branding because that's what women wanted. It looks nothing like the coordinating men's version."
In the women's T-shirt world, neckline diversity still is of utmost importance in the premium styles, with scoop necks, flowy tees, cardigans and layered looks being prominent.
S&S Activewear Marketing Director Margaret Crow elaborates. "The 'flowy' tee trend still is strong this year," she says. "You know those cute sweaters and shirts at retail that have asymmetrical hems and scarf/wrap-like designs? It's the retail look of today and these shirts are flattering and comfortable. We have 12 styles of flowy tees and we are selling them well."
She also adds that the common theme of ladies' T-shirt fabrics continues to be softness, specifying that combed, ring-spun cotton in high thread counts is the top tee trend of today. Cocco agrees, adding that heathers and tri-blends also are highly popular because of the softness factor and the lighter, tighter knit fabrics.
OUTERWEAR
Details prevail in outerwear trends as well. The lifestyles of your customers dictate that you not only consider what they wear, but how they live. "Many of the outerwear styles of the past focused on layering for different kinds of weather conditions," Yeung says. "Today's lady buyers are focused on how the garment will accommodate their needs going from a chilly morning run, to a coffee-shop rendezvous, to a work meeting, and then soccer practice on the sidelines. The trend is layering for purpose."
Cocco describes Vantage's ladies' collection as fashion practicality with a creative flair. "Women want an outerwear garment that's different, edgy, with all the protective bells and whistles, but with creative styling and logo placement," she says. Top new trendsetters shown by many apparel vendors at this year's early trade shows were lightweight tech air-block jackets that are wind- and water-resistant. Features such as integrated convenience pockets, protective chin guards, stretch bonded sides and sleeves — some with poly-fill quilting and unique vertical imprints along the zipper — were prominent.
WOVENS
As for the ladies' woven shirt category, more feminine fabrics are being used to follow the retail brands, rather than matching fabrics to men's styles. "We have seen a real movement into more feminine fabric types for ladieswear in both knit and woven styling, such as peached or brushed finishes and synthetic blends that exhibit a soft hand feel and superior drapability," says longtime woven designer and manufacturer David Bebon of D-Bebz Apparel.
He adds that the performance movement has crossed the wovens threshold and has gone into the womenswear market. "Athletic comfort with tech advances has now made its footprint into the dress shirt market as well," Bebon says. "[They are designed] with performance features like wicking fabrics, which keep ladies crisp and dry while working a trade show or hustling back from lunch at a steamy outdoor cafe."
Bebon insists today's discriminating womenswear buyer is seeking wovens with slimmer silhouetting and sculpted looks, as well as darting and pleating that accentuate the female form.
Yeung says a younger demographic is being targeted with wovens in a more urban-driven, retail-savvy corporate environment. "They want designer trends in what they wear," she says. "We are edging the retail line [and are getting] closer than ever to retail than we ever had been."
Lee Strom, director of marketing, SanMar, agrees, but also stakes this industry's claim on being at the forefront of brand development. "This is now the industry where brands can spring into retail," he says. "For instance, art — the way the imprint is designed and positioned on a T-shirt — can make that tee so cool, so in demand, that the art is the reason why retailers are featuring it or why people go online to buy it. We are leading retail in that way for the first time in our industry's history."
Mary Ellen Sokalski, MAS, is the founder and chief creative officer of The Scarlet Marketeer, Cherry Hill, N.J. She has 33 years of marketing experience (including numerous industry awards), specializing in the decorated apparel and promotional products industries. For information or to comment on this article, email Mary Ellen at maryellen@scarletmarketeer.com. 
More Build Your Business
---
For many decorators, the end-of-the year holidays, and Christmas, in particular, represent their biggest selling season.
FULL STORY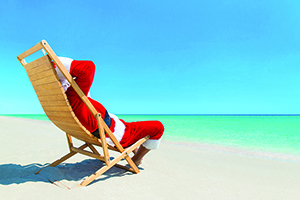 Fall is in the air, and with it comes a cornucopia of new apparel, with comfort continuing to be the name of the game. Fleece is also becoming more of an everyday wear item at the same time it straddles gender lines.
FULL STORY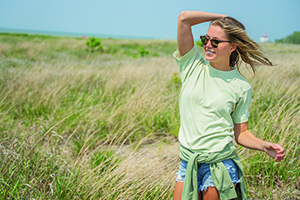 Austrian-born economist Joseph Schumpeter's economic "gale," as continuing advances in business tech are sometimes known, has been a good thing for the decorated apparel industry in the United States in more ways than one.
FULL STORY