Catalog Request

---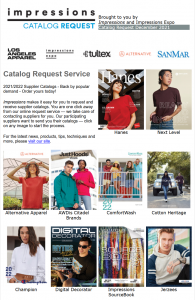 Catalog Request Service
Order participating supplier current catalogs by clicking on the thumbnail image. You'll be able to indicate what catalogs you would like – any or all!
Order Catalogs Here
View Catalogs
Catalogs are perhaps the single most important tool you have as a decorator. View participating suppliers' catalogs. Flip books include page-by-page turn, zoom, links, and share.
Click on a cover below to view that company's catalog: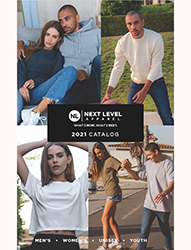 Next Level Apparel 2021 Catalog
Since our genesis in 2003, Next Level Apparel continues to lead the industry with innovative fabric blends, fashion forward styles, a full spectrum of fits, a diverse color palette, and a passion for what we do and the customers we serve. The ultimate goal is to perfect the art and science of t-shirts. This continues to define Next Level Apparel as one of the top suppliers of fashion blank in the world market. Our global distribution network, now including over 28 locations, brings one of the most in-demand fashion tees to your doorstep.
View catalog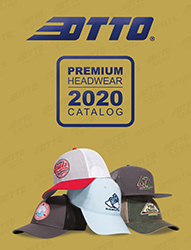 OTTO Intl. 2020 Catalog
OTTO's 2020 catalog set is now available: Premium Headwear catalog features all our stock items along with new styles and best sellers. The Custom Decoration Services catalog features numerous decoration techniques and turnaround times. Use this one as an idea book to show your clients. OTTO has 4 new styles for 2020 and 6 styles with added color options. OTTO International, Inc. has been a leading worldwide manufacturer of quality headwear for over 50 years. We have locations in CA, TX, and GA for fast shipping throughout the US. With over 6,000 style & color combinations, we are America's Largest Cap Source.
View catalog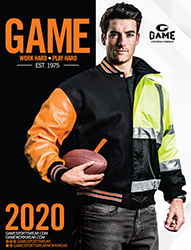 2020 GAME Sportswear & Workwear Catalog
Two Product Lines, One Great Company! Famous for its Varsity Jackets and Firefighter Work Shirts, GAME's 2020 catalog features New Workwear, High-Visibility and Outerwear Styles, Enhanced Work Shirt Features and a wide range of in-stock styles, colors and sizes, custom and Made in USA options.
View Catalog
Supplier Info
To add your catalog to the Catalog Request Newsletter or Digital Catalogs Email Us.