A DTG Q&A
Answers to five questions about direct-to-garment printing quality, production, maintenance and more.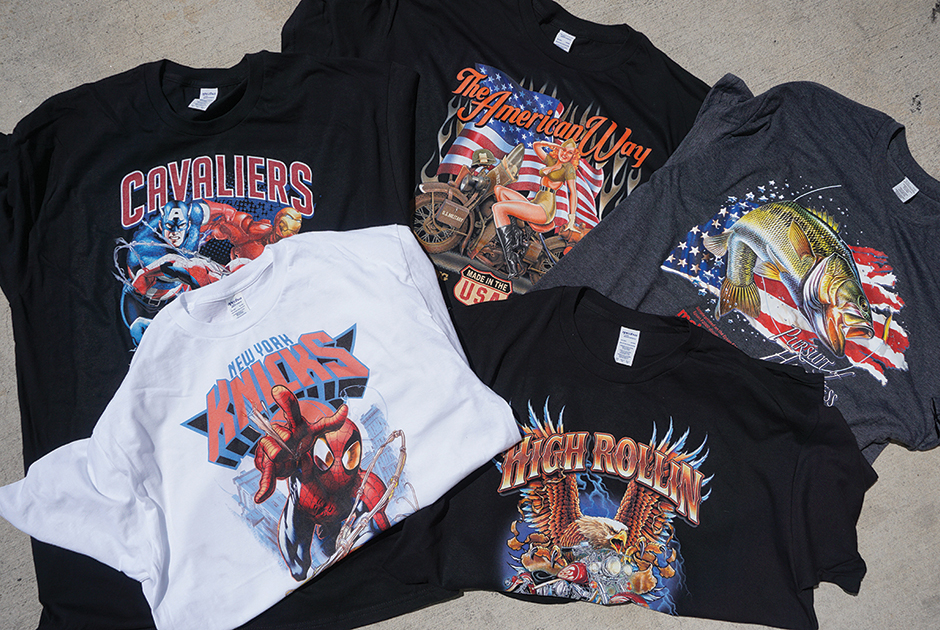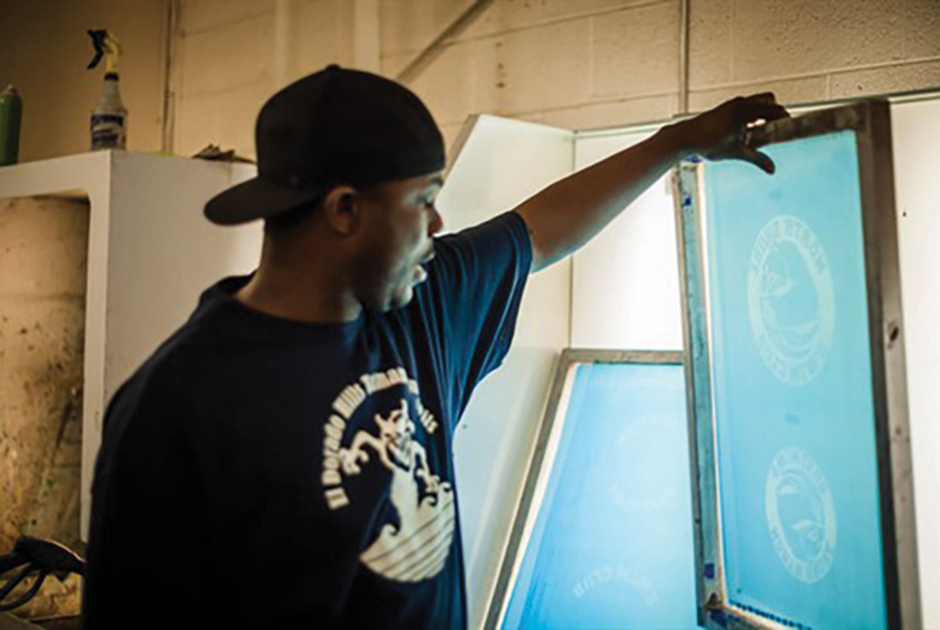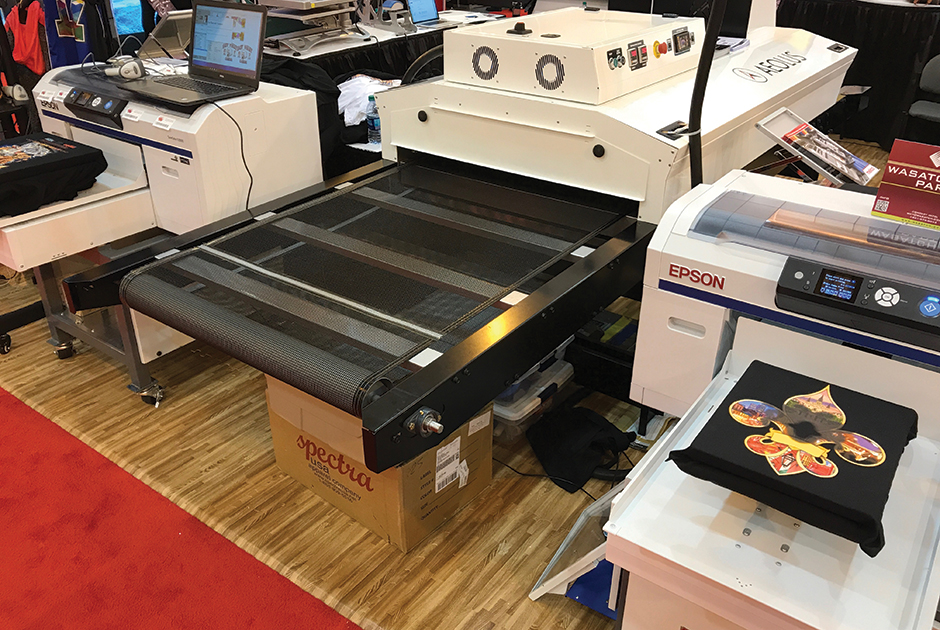 The transition from screen to digital printing is becoming increasingly common among apparel decoratorslooking for fully custom, low-volume, quick-turn apparel.
Digital printing has evolved to fill this need and with new technological advancements, it is easier than ever to implement. Still, many screen printers ask questions about the transition and benefits that direct-to-garment (DTG) printing offers. Following are some of the most popular questions asked by screen printers looking to add DTG printing to their production capabilities.
1. "I'm looking to produce photo-quality prints? How easily can that be done with DTG?"
This is a popular question. Your customers probably are seeing more apparel with incredible detail and photorealistic images. Though this is possible with screen printing, the learning curve and required resources can demand a tremendous amount of time, money and talent. Because of their high-resolution output, DTG printers can yield the results of a normal printer. The cost and learning curve needed to print a photo are the same as that required to print solid text.
DTG printers operate based on the same concept as CMYK printers, so you can print any picture you see on a computer screen. High-resolution, large-format machines can print at least 1,440 x 720 dpi. This means that if you get a photo with relatively decent resolution — 150 dpi or greater — you can deliver an incredibly detailed result.
Pull photos directly from a phone, computer, scanner, the internet — anywhere. It's easy to modify, add flair and print a professional, photorealistic image.
2. "When does it make sense to screen print a job as opposed to using DTG printing, and vice versa?"
This question highlights the importance of diversifying your production offerings. Say a customer wants 25 shirts for little Johnny's birthday party. The design features a five-color baseball team logo and custom text.
To screen print a five-color job for 25 shirts requires art separation, five films and burned screens, washout, drying, block out, more drying, screen alignment, test printing, printing, cleanup, breakdown and reclaiming. In short, that's a lot of work and time for 25 shirts.
Let's consider the DTG process. Simply create the art on your computer, save it as a transparent-background PNG file and upload it into the RIP software. Printing, which should be done after machine maintenance has been performed, simply requires pretreatment, drying, printing and drying again.
With the best DTG printers on the market, maintenance is easy, as are pretreating and drying shirts. Thus, a five-color job can be printed in one to two hours. The time and cost are minimal, and the returns are high.
On this type of job, DTG printing makes the most sense. But let's examine a one-color job (white ink) to be printed on 25 black shirts. For screen printing, it's easy to burn one screen, then print, flash, print and dry the design. Setup and breakdown times are minimal, and white ink is inexpensive and looks good.
On the digital side, achieving a bright white print on a black shirt requires a lot of ink, possibly making it more costly than screen printing. Time also is a factor; you may be able to set up and screen print this job faster than having to pretreat and print using the DTG method.
At this point, analyze costs for both printing methods. Time and resources also should be considered when evaluating such a job. Which method will be most profitable and least time consuming? One-color jobs are fast and easy when screen printing. For jobs requiring two or more colors, DTG may be a more logical approach, especially when it comes to maximizing profits. After all, you're in business to make money. Use the process that will be easiest and generate the most profit.
3. "My customers are concerned about washability. Doesn't DTG wash out, while screen printing is more permanent?"
The answer to this question has two parts, but is simple. First, just because a shirt is dry doesn't mean it's cured. Most applications require a certain temperature and time to "set" the print. If these requirements aren't met, it may wash out. This can happen in screen printing and DTG. Follow the manufacturer's guidelines, perform wash tests and set a policy that ensures prints will be properly cured.
Second, plastisol, water-based and discharge screen-printing inks are durable. Plastisol can crack and peel after numerous washes, which most customers don't like, but the problem usually is poor application. Screen-printed ink washability has set the standard.
DTG ink, on the other hand, has a reputation of washing out after a few launderings. However, some manufacturers guarantee five-star washability from the American Association of Textile Chemists and Colorists (AATCC). This means a properly cured DTG print can be as good as — if not better than — a properly cured screen-printed design.
4. "Doesn't DTG require a lot of maintenance? I don't want to constantly be working on equipment."
Maintenance is a necessary element for most DTG printers because the process involves lots of sticky, water-based ink being used and flushed. The best printers on the market feature built-in maintenance, but ink still needs to be managed. This specifically applies to white ink; CMYK inks don't typically cause problems.
The issue with white ink is titanium dioxide, which is the main white pigment in nearly everything you use that is white (toothpaste, paint, white correction fluid, etc.) Not all white DTG ink is the same. Most systems require regular white-ink flushes to mitigate buildup and clogging. Every system requires some sort of manual cleaning of components that come into contact with this ink.
However, a few DTG printers require little maintenance because cleaning is automated. They can be turned off for seven or more days at a time without fear of white ink drying and clogging the system.
5. "DTG never will be able to keep up with screen printing on large orders."
Such a statement was true five years ago, but not today. Many shops are moving to an all-digital format by forming "banks" of printers. This involves setting up three to five DTG printers around a forced-air conveyor dryer. A quality, fast dryer dramatically increases production efficiency, meaning pretreated shirts can be dried and printed shirts can be cured at the same speed without a heat press.
The price of productivity also should be considered. For example, a 10-color, 12-station automatic screen-printing press could cost more than $150,000. Additional equipment includes a dryer, washout booth, dark room, inks, screens, film printer or direct-to-screen (DTS) system. Those expenses can add up quickly.
DTG production costs are much simpler to calculate. The industry's best printer is affordable, at $13,000-$18,000. A pretreatment machine costs $4,000-$6,000 and a conveyor dryer costs about $15,000. In fact, you could buy two sets of five DTG printers and one dryer for the same cost as one automatic press.
The industry is moving in this digital direction: DTG printers that require little maintenance, have full-custom capability, very little setup and breakdown, with extremely high-quality print production. How's that for the future?
John LeDrew is the DTG director for Melco Intl. He has worked professionally in garment decoration since 2006, managing accounts and overseeing production for some of the world's largest brands and retailers. For more information or to comment on this article, contact John via LinkedIn.
The 'M' Word
Maintenance is a major factor in DTG productivity. If you're constantly working on your machine, you're not printing and making money. Do your research and invest in a printer that requires the least amount of maintenance so that you can avoid prolonged downtime.
---
The past few years have brought changes to almost every industry, and decorated garment production is no exception.
FULL STORY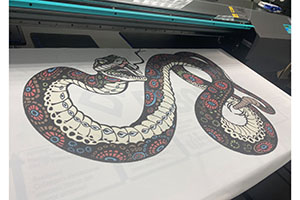 New Jersey-based Breakthrough Custom Clothing created "Warrior Princess" from scratch by digitally hand drawing the entire piece.
FULL STORY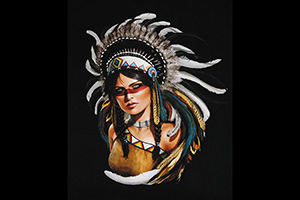 Onsite printing at events by screen printers, heat press decorators and direct-to-garment (DTG) companies was gaining momentum but with the pandemic, they came to an absolute stop.
FULL STORY