Avoiding DTG Downtime
Follow these tips for consistently keeping your machine running to generate more money.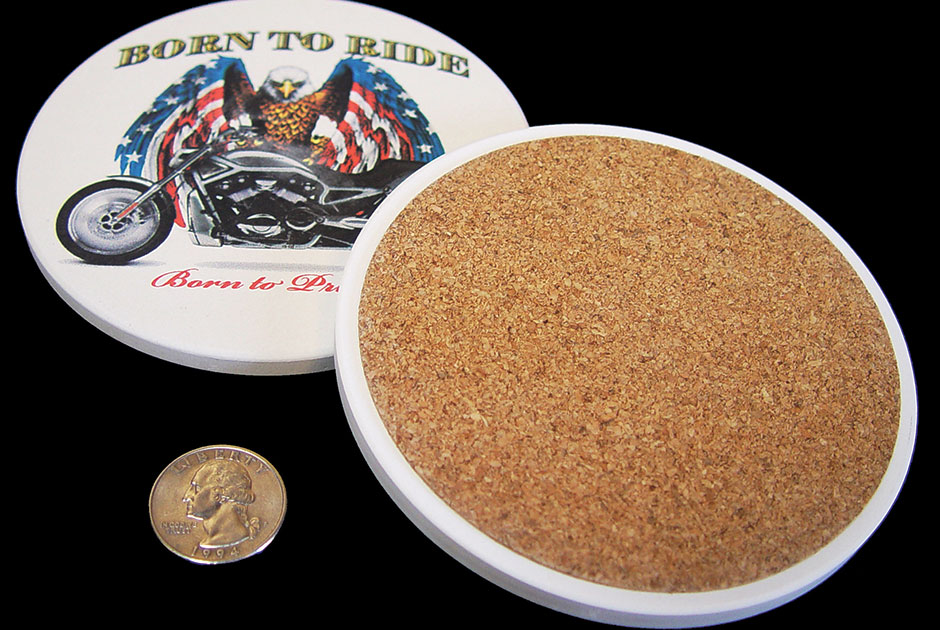 Even if you don't have any apparel jobs, experiment with printing alternative products, like stone coasters.
---
Running any business can be a challenge. There are so many moving parts that you need to ensure all the "wheels are greased" and operating smoothly to be successful. The problem is that it's easy to mistakenly ignore one area, while focusing on or trying to solve problems in another.
A direct-to-garment (DTG) printing business is no different. But focusing on the tasks that will keep your machine running and consistently printing is part of the key to being financially successful in DTG decorating.
No Jobs Today? Print Anyway
Even with the advancements in capping-station technology and inks, DTG printers are designed to print. It's possible to leave some printers sitting longer than a couple of days, but that's not why you invested in the machine. It was purchased to print shirts and make money. Use it for that purpose.
However, there are times when your DTG printer could potentially sit unused. One preventative maintenance routine during these dry spells is to actually print something each day, regardless of whether you have a paying job from a customer. This may not apply or be feasible during the weekends, but it still is a good idea.
White ink separates when it sits idle, causing its heavy components to sink to the bottom of the ink bottles, cartridges, bags, ink lines — and even the print heads. You don't want this separated solution circulating through the ink-delivery system and into print heads. Always keep inks well shaken and try printing something at least daily. This will help keep the white ink moving a little bit, which will help reduce settling.
Besides, some of the best advertising you can do is to have your company's logo seen in public. When business is slow and you need to print something to keep the ink flowing, print your logo on shirts to give away to customers when they place orders. If they like the shirt and wear it around town, they just became an inexpensive, walking advertisement for you.
Climate Control
DTG printers and their ink sets have an environmental operating range. This can be challenging during various seasons and depending on where you live. In the winter, forced-air heating systems can dry out your printing area by lowering the humidity to dangerous levels. Many areas, including the southwestern United States, have traditionally low humidity levels.
Invest in a good temperature/humidity module — they typically cost between $10 and $20 — and place it next to your DTG printer. This way you easily can monitor what is going on in the printing department. Low humidity levels can cause the DTG inks to dry out faster, causing issues related to print heads, capping stations, wiper blades or other critical printer parts. A simple solution for low humidity levels is a whole-room humidifier. They typically cost $50 or more and can be one of the simplest remedies to help maintain a healthy printing environment.
Another factor to monitor is room temperature. It can be problematic in the winter if your printer isn't located in a climate-controlled room. Inks also have an operating temperature range. If it's too cold, the inks will not flow as well, causing potential banding in your prints. If the room that contains your printer has wide temperature variations, allow several hours for the ink in the printer to warm up after a long, cool weekend.
Make New Friends
If your main business is embroidery, sign making or DTG printing, but you don't have screen-printing capabilities, it may be a good time to make some new friends. It can be daunting to work with competitors in your area, but forging an alliance with someone who only does screen printing or embroidery can expand your business. You can offer to wholesale print DTG jobs for them; in exchange, they can provide their embroidery or screen-printing services.
If you don't like doing this with competitors in your town, search a few miles outside your radius. These businesses are less likely to be a threat to you, and with the internet, you can do most of the artwork and proofing from your desktop and send it via FedEx or UPS when the job is done.
These types of partnerships can help you expand your customer base by allowing you to offer services that you currently don't offer in-house. This will help keep your DTG printer making money.
Think Outside the Advertising Box
It's a new world and social media is ubiquitous. However, even if you don't use social media in your personal life, consider doing it for your business. You can promote your services, jobs you've done and special deals only available through a social platform.
It's just a matter of public awareness. Statistically, it takes between six and eight "touches" to generate a sale. Using Twitter, Facebook and your own website are not the only ways to generate sales.
One old-school method is a super effective way to reach your potential audience — and it costs just pennies per person. It involves hang-tagging either your business card or an "information" tag on each of the shirts you send out the door. The hangtag should be simple, eye catching and informative, letting potential customers know how to get in touch to place orders.
If someone orders 75 shirts, you can hang-tag each one. This means every person receiving a shirt — whether it be for an event, road race, school fundraiser, etc. — will know who printed them. They already are a captive audience and likely will remember your business the next time they need shirts.
Combining such a method with the digital world of brand awareness can help boost your sales and keep your printing queue full.
Know What You Can Print
DTG printers are designed to print garments, but that's not the only thing you can print to make money and keep the business chugging along. Though the inks are water-based, you also can print stone "soaker coasters," treated and untreated wood, towels, hanging fabric calendars, high-top shoes, wood nickels, baby beanies and more. If you can find a way to fit it into your printer, you may be able to print it.
Though many of these items can simply be printed, some — like wood — may require some type of primer (like a white underbase) to seal pores. Still, DTG printing can produce nice-looking results. Finding alternative products to print takes a little time and experimentation, but it's
a fun exercise.
Downtime is not always a good thing, and working to minimize it can boost your bottom line. The more you are printing, the more money you should be making. Focusing on keeping the printer clean, finding new products to print and new customers are just a few ways you can minimize slow periods in your DTG printing business.
Brian Walker has owned a screen-printing business, developed quoting and pricing software, and also launched a successful online direct-to-garment equipment and supply business. He currently is president of i-Group Technologies, makers of Viper pretreatment machines for the direct-to-garment industry, and founder and owner of RTP Apparel, a supplier of ready-to-print garments for DTG decorating. For more information or to comment on this article, email Brian at brian@igrouptech.com.
Say Hello to 'Mr. Clean'
Keeping your printer clean requires a concerted effort. However, it's paramount that you and your staff develop good habits with the printer if you want to avoid unnecessary downtime. Follow the manufacturer's cleaning guide religiously. After a day of printing, make sure to clean everything thoroughly before shutting the printer down.
We often get busy, are running behind schedule or any number of other excuses, and don't properly clean critical DTG components. If you let ink build up around the print heads or capping station, forget to flush the capping station or just neglect the printer for a period of time, it may "call in sick" when you can least afford it to fail you. This can lead to costly downtime and expensive repairs.
---
The past few years have brought changes to almost every industry, and decorated garment production is no exception.
FULL STORY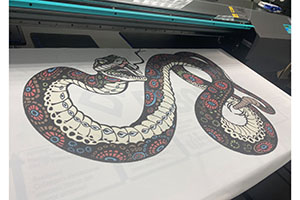 New Jersey-based Breakthrough Custom Clothing created "Warrior Princess" from scratch by digitally hand drawing the entire piece.
FULL STORY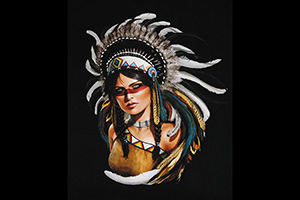 Onsite printing at events by screen printers, heat press decorators and direct-to-garment (DTG) companies was gaining momentum but with the pandemic, they came to an absolute stop.
FULL STORY