Digital Apparel Printing Reimagined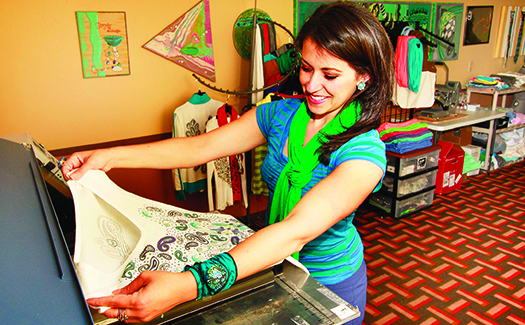 There's no doubt digital printing is becoming more mainstream. Any number of color combinations can be reproduced with cyan, magenta, yellow and black. Photo courtesy of R.Levine Original Designs; Photographer: Henry Bernstein, Three Driveway Media.
---
If you follow any business journal or forum, you've probably read an article or two about industry "disruption." This is where a new product or idea becomes solidified within the pre-existing business landscape and makes what once worked obsolete. Think of what the horse industry must have thought about the automobile, the postal service thinks about email, or the taxi industry thinks about Uber.
In the garment decorating industry, we've shared a long and successful run with traditional screen printing. However, just as in other industries, the weaknesses of screen printing can be overshadowed by newer technology that exploits them and can gain a foothold on the business beachhead.
Impressions recently spoke with John Albrecht, digital sales and strategy leader for SPSI, to explore some different scenarios for digital printing in a five-to-10-year window. He discusses where using more advanced technology can gain market share over traditional screen printing, as well as what this might mean for the industry. Albrecht is 30-plus-year veteran and frequent contributor to the garment decorating industry. He has owned and operated a screen-printing equipment and supply company, and has worked in many roles during the past 23 years with SPSI.
Impressions: Print speed probably is one of the biggest hurdles that digital printer manufacturers face. However, during the past two or three years, we're seeing faster print heads, more nozzles, bigger droplets and print speeds that are four or five times what they were. What are your thoughts?
John Albrecht: I think digital print speed will continue to rapidly increase. Print-head technology will increase along with electronics. Today, there are heads on the market with thousands of nozzles covering wide print areas in one pass. In the future, this will only increase; so will the number of heads. In five years, it should be to the point that a single head array will cover a 24-plus-inch area and print an overall shirt in one pass in a few seconds. Nozzle size will determine print detail; nozzle numbers determine ink volumes and together, with number of heads on a machine, determine final speed.
New entries to the market will be hybrid digital screen presses, as well as inline digital direct-to-garment presses. Digital speeds will be more than 400 shirts per hour. Every screen press will have a digital option. Digital print companies will have the option of small, inexpensive machines and inline digital presses producing thousands of prints per shift with one employee.
Another key to future development will be a continued drop in cost per print (CPP). Digital ink prices will continue to decrease as competition enters the market. One big reason that so few textile screen-printing shops convert to direct-to-garment printing is this high CPP. Future pretreatment, shirt manufacturing, print electronic and software improvements, along with the aforementioned upgrades, will play a key role in how fast digital printing erodes traditional garment screen printing.
Impressions: The biggest weakness for direct-to-garment (DTG) printing has to be the reliance on a pretreatment system for getting the ink to adhere to the shirt fabric. On most DTG printers, this currently is an outside-the-machine step that has to be dialed in exactly. What do you see as the future of the pretreating process?
Albrecht: I see pretreatment as a huge stumbling block for entrants into DTG today. I also see this changing rapidly. As speeds increase digitally, the need for pretreating increases at an even faster rate. As the speeds and number of shirts printed digitally increase, so will the number of shirt manufacturers that are willing to invest in already-pretreated technology, as well as the number of companies finding outside pretreat options and companies looking for inline pretreat options for their presses. For those direct-to-garment printing presses that require offline pretreating, the question will remain: If a decorator can pretreat a shirt weeks prior to printing, why can't a shirt be supplied ready to print?
I see a market being created for the mills to pretreat as a final step, in lieu of other finishing processes or third-party companies seeing a niche to offer pretreatment. Automated roll or other applicators will become available that are capable of pretreating hundreds of garments per hour, along with shorter curing times. Maybe microwavable technology can enter the pretreat world. Who knows? Today, there is still the option of having pretreatment done inside the printer.
Impressions: There are two ideas that currently are competing against each other as digital printing gets more mainstream. The first idea is that more shops will invest in digital technology to solve their problems. The other idea is the ominous corporate Internet giant that uses a bank of digital printers to gobble up orders that previously went to local shops. What is your opinion?
Albrecht: I see the gap between high-speed DTG and low-cost DTG equipment continuing to expand. Labor, throughput, quality, speed, CPP and capital all will continue to separate printers. Large DTG production houses capable of printing tens of thousands of one-of-a-kind shirts per day will continue to be the brokers for small to mid-size companies.
Fortunately for the small account, not all business is thousands of one-off prints. Because the average run size for DTG is smaller, it will help keep some local customers local. Soon, every town will have high-quality, low-cost DTG printing available. Run sizes will continue to shrink, color quantity will increase and the number of promotional seasons also will continue to increase, making the need for quick turnarounds even more attractive. I see local players competing like they currently are, and large e-commerce continuing to eat up the volume.
Other than hybrid digital screen printing, I still see the biggest gains in garment decorating coming from DTG. More and more big-box stores will offer, along with their photo departments, the option of creating shirts and picking them up in an hour. Local stores also will continue to offer kiosks at their locations to complement the online ordering, and then have the large digital production houses ship the next day. While every local business will have the means to have a DTG printer, this will continue to flood the market with digital raster prints. It will ultimately erode the screen-print market and greatly expand the need for high-volume industrial direct-to-garment print companies. The current DTG print companies with millions of dollars of production equipment will see the most growth as the demand continues to push the ability to produce.
Impressions: One of the great features with digital printing is the fact that it uses the technique of four-color process printing to produce the image. Any number of color combinations can be reproduced with cyan, magenta, yellow and black. Will there be more options available in this area?
Albrecht: PMS color matching has always been a shortfall with digital. Now, there are hexa colors. There also will be a lot of improvement in the availability of metallic, neon, spot and other colors. As the volume of ink sold grows, so will the interest of ink manufacturers to capture market share. Many DTG printers now are being built with the thought of added colors in mind for the future. Discharge, foil bases also are available now. With a hybrid printer, all screen options also are on the table today. Photographic capabilities will continue to improve as ink technologies and pretreatments evolve. The color gamut will continue to escalate with spot-color options. Poly pretreats, along with the above color improvements, will make the school and sporting goods markets even better DTG targets of the future.
Impressions: Five or 10 years from now, what crazy thing for digital will we see that we aren't currently thinking about?
Albrecht: I see the cost of entry-level printers continuing to fall. Not too long from now, the average DTG entry-level printer will cost about $5,000 with an ink cost of $50 per liter. I do not see the speed in this part of the DTG market or the cost of operating making much stride. This will allow every business to be able to afford a DTG printer for on-demand, low-volume needs. Large-volume DTG producers continue to offer the volume. On the industrial side, I see one-person operating machines printing more than 500 pieces per hour, also with the CPP pricing decreasing each year. If the printability of DTG increases to the point that it is as predictable as the $79 printer on your desk, then every shop will have one. As stated earlier, the shops that need the high volume will continue to expand and produce the volume. Thus, the biggest growth is the industrial DTG market.
Marshall Atkinson is the chief operating officer of Visual Impressions Inc., and Ink to the People, Milwaukee. Atkinson has lectured on sustainability at ISS trade shows, and webinar industry panel discussions regarding the Consumer Product Safety Improvement Act (CPSIA). For more information or to comment on this article, email Marshall at matkinson4804@gmail.com.
---
The past few years have brought changes to almost every industry, and decorated garment production is no exception.
FULL STORY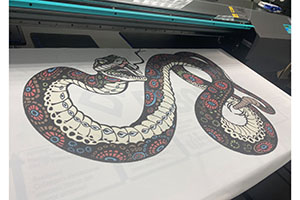 New Jersey-based Breakthrough Custom Clothing created "Warrior Princess" from scratch by digitally hand drawing the entire piece.
FULL STORY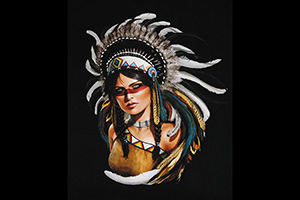 Onsite printing at events by screen printers, heat press decorators and direct-to-garment (DTG) companies was gaining momentum but with the pandemic, they came to an absolute stop.
FULL STORY