Digital Decorators Must Overcome Growing Pains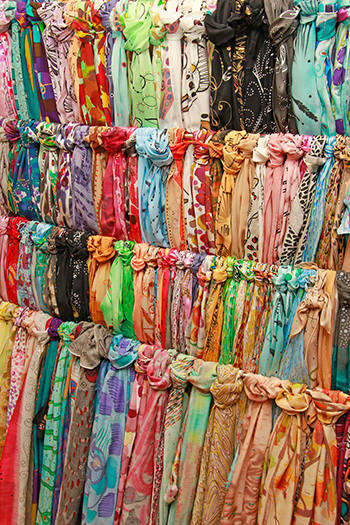 Many of her T-shirt designs come from original painted scarf designs. She enjoys designing a shirt that complements a scarf. Not matching, but pulling certain elements from a scarf design and repeating them on a T-shirt.
---
After successfully printing scarves on my digital printer the first few months, I decided to branch out into shirts, as it seemed like a natural
progression.
I have always been into fashion and accessorizing. I rarely made things individually; rather, I always liked putting complementary pieces together. I wasn't necessarily aiming to create matching pieces, but, instead, pull elements — such as a paisley print — from a scarf and incorporate them onto a shirt.
Shirts, I quickly discovered, were trickier to deal with because of the different sizes, seams and silhouettes. So I experienced a learning curve when initially choosing from among the different styles and sizes to order.
When you are a designer — especially a print designer — the cut and color of the shirt are important. My customers vary, and some prefer a fitted cut because they are tired of a regular T-shirt. I also have women customers who want a shirt that is fashionable, but not so fitted.
I initially kept my line basic, and included cotton scarves and just a few shirts. I had already built up a reputation as "the scarf lady." Customers love cotton because it is so comfortable and the best part about digital printing is the lack of hand that the print produces. It's not like screen printing. People are amazed at how the print seems to be a part of the fabric.
ADDING ACCESSORIES
Once I figured out how to print scarves and shirts, my next addition to the line was wrap bands, which are strips of printed fabric that can be worn as headbands, wristbands or chokers.
Sometimes a hand-painted button is added for interest. One of my latest experiments is printing fabric with the digital printer to cover this button. I've done some test runs. The button is metal and a silk fabric covers it. Using the printer to design the fabric enables me to speed up my production.
After wrap bands, I began experimenting with a collar necklace, and I currently have a patent on one of my designs. Women say to me, "I like scarves, but I don't want to tie them." People are worried about styling, but with the necklace, all you have to do is slide it over your head and shift it around to get different looks.
The necklaces are created by taking strips of fabric printed on the digital printer and attaching them to a "D" ring. I use a similar design to create a coordinating belt.
Almost all of my designs are either hand painted or hand drawn. At the beginning, I literally was hand painting silk scarves. During those first two years, I accumulated at least 100 designs.
When I started using the digital printer, I would scan a design into the computer and then manipulate it. In some cases, the design was on paper; otherwise, I scanned a design directly from a painted scarf. This is one of the aspects I love so much about digital work. I can combine prints from different scarves, which I couldn't do before.
The digital printer has great photographic capabilities. It captures all the nuances that you could never get in another decorating process. I initially worried about how hand work would translate when digitally printed. I knew I would need to edit and simplify, but I didn't realize how much the integrity would be maintained.
I've had customers pick up a scarf and think it was hand painted because the brush strokes can be seen. Some of my more popular designs are motivational or inspirational words. I write the words on paper with a marker and scan them. The more complex designs usually are done on a scarf, but simple graphics are done on paper.
TARGETING A NICHE
Determining my target market was another learning experience as I started my business. As tempting as it is to sell to everyone, I knew that wasn't a good strategy. From exhibiting at shows, I found that my target market is young mothers ages 25-45. They are women who have busy schedules and want to wear something fashionable, but quick to put together. They have small children or are at a point in their careers where they are very active.
My biggest marketing medium has been through local shows. I experimented with a few out-of-town shows, but I have gotten away from that because of the time and travelings costs. For now, I am focusing on growing my customer base locally, with hopes of expansion in the near future.
One of the biggest challenges with consumer shows is that the majority of them are scheduled during the holiday season, which starts in August and lasts through December. That means the majority of my sales come during those months. I spend the months leading up to the shows getting ready, and I did about 40 shows last year. I love exhibiting at these shows because they are well-attended and there's a lot of interest from customers who are looking for something unique.
Also keeping me busy year-round are home parties and bridal shows. The bridal shows are unique because attendees are looking to have things custom made for weddings. It's quite extravagant. I've printed silk sashes, purses and other things appropriate for a bridesmaid's gift. There is a lot more work and follow-up involved when working with a bridal client.
With so many unique patterns on a wide range of wearables, staying organized is critical. I use shelving and boxes so I can see at a glance what I have. I have a section for raw goods and a couple of rolling racks where I put finished printed products.
I have a grid that is used to display the scarves at shows and in the studio. I previously folded and stacked scarves at shows, but I realized that people couldn't see the prints. Now, I fan them out on a grid, as people want to see their options right away.
In my early days, I made a lot of each design because I thought I needed the inventory. Since then, I have scaled back. Now, I only stock up on designs that I know will sell well. I also do custom orders on request if a client can't find something she likes from the stock.
Currently, the line consists of about 15-20 different products and roughly 100 designs. The scarves and wrap bands are the most popular. I typically bring about 30 different scarf designs to a show. Within that 30, I might stock 20 of the five most popular designs and only about five each of the rest.
The wraps bands sold extremely well last season. I'd bring 50 to a show and would sell out. For those shows, I don't create as many multiples of the same design. I might have two to three of a certain style, but people buy so many different varieties of those that it isn't a problem to have limited numbers of styles.
THE NEXT STEP
So far, I only have participated in consumer shows. People love coming in and picking something up on the spot.
As I am entering my fourth year in business, I have defined my products and target market, and I've gained enough experience to accurately anticipate customers' needs. As a one-woman business, I've reached that point where growth is going to depend on my ability to do things differently. I have learned a lot about the business. Now I'm looking for an investor so I can pursue my other ideas.
The wholesale channel is one obvious direction I have contemplated. I did a couple of wholesale shows, but I wasn't ready. I brought way too much of my handwork. I need to find a local manufacturer to help me decorate the wrap bands. I also need to hand off some of the production if I want to approach bigger retailers.
So as I move into this next phase of my company's evolution, it will be interesting to see how I continue to fine-tune my existing line, while adding new products and designs.
Note: To read a blog post about this author's experience creating the designs featured in this article, visit rlevine.net and click on the "Blog" link.
Rebecca Levine is the owner of R.Levine Original Prints. Based in Cleveland, she offers a full line of shirts, scarves, wrap bands, jewelry, belts, tote bags, and purses all featuring her designs and mostly printed using a Mimaki digital printer. For information or to comment on this article, contact Rebecca at rebecca@rlevine.net or visit rlevine.net.

---
The past few years have brought changes to almost every industry, and decorated garment production is no exception.
FULL STORY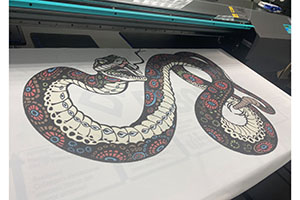 New Jersey-based Breakthrough Custom Clothing created "Warrior Princess" from scratch by digitally hand drawing the entire piece.
FULL STORY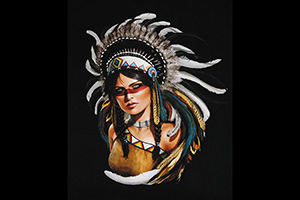 Onsite printing at events by screen printers, heat press decorators and direct-to-garment (DTG) companies was gaining momentum but with the pandemic, they came to an absolute stop.
FULL STORY