Digital Printing Opens New Doors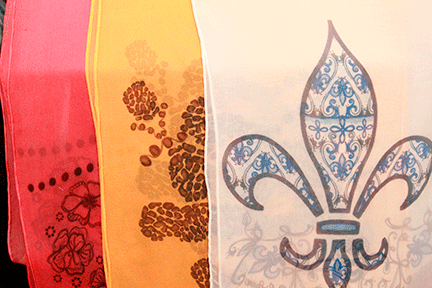 Levine admits that one of the toughest challenges with her digital printer was controlling the color. It's important that color be consistent from print to print. Photo courtesy of R.Levine Original Designs; Photographer: Harry Bernstein, S.M. Cristall
---
One of the greatest things about emerging digital direct-to-garment (DTG) technology is the freedom it gives artists to profit from their work. By purchasing a digital printer and a heat press or conveyor oven, designers can create garment graphics, print only a few pieces and test market them to find the best sellers.
This technology has removed the need to rely on a contract screen printer to 
produce goods, as well as the cost and minimums associated with that process. It also has eliminated the issue of delivery times and the back-and-forth communicating with a printer to ensure garments are produced to exacting color and other specifications. The artist retains full control of the process and the result.
That's not to say there isn't a learning curve involved with purchasing a digital printer. While the process definitely is shorter and much less messy than learning how to screen print, it's not a push-button scenario, and any designer must be willing to invest not only time, but possibly a case or two of T-shirts in figuring out how to get the best results.
I purchased a Mimaki printer in 2010 and am successfully using it to produce my line of designer apparel. Best of all, I'm not a computer genius or a digital technician.
I studied at Miami University in Ohio and graduated cum laude in 2005 with a bachelor's of arts degree in communications and Spanish. From there, I went on to get a degree in fashion design at the Illinois Institute of Art-Chicago. I also did an internship with Nicole Miller in New York before graduating in the winter of 2007.
I returned home to Cleveland in 2008 to start my own company, R.Levine Original Prints. My first pieces were hand-painted scarves featuring original designs. For the next two years, I sold my work mainly through trunk shows and local events. I also accepted custom orders. I was building my customer base and developing a lot of my patterns as I created my line. My studio was (and still is) located in my home and this gave me time to get started without a lot of overhead.

While in design school, I took a digital print class. The printer was a flatbed Hewlett-Packard that printed fabric versus finished garments. One of the challenges I was facing in my new business was negotiating the time it took to hand paint a scarf versus. how much I could charge for it. I gradually realized that I was going to have to come up with a faster way to decorate scarves if I was ever going to make money.
MY INTRO TO DTG
I ran into my neighbor, Henry Bernstein, who worked for Hirsch Intl. at the time.
After talking to him about what I was doing, he suggested I stop by the company's Solutions Studio, located in a suburb of Cleveland, and check out a DTG printer.
I watched how it worked, and then I started bringing in scarves and some simple patterns to see how they would look when printed. I found there definitely was a learning curve. When I went from doing fine art and using different paints and materials to digital printing, I realized I had to change my patterns around quite a bit.
But I found the process to be amazing. I was still able to convey my design ideas in a satisfactory way. Instead of taking hours to paint a single scarf, I could print one in minutes.
One of the first challenges I had to overcome was how to run the silk scarves through the printer. I experimented with many things in the beginning. I started with a wooden board and used a spray adhesive, but the board became warped. Then, my uncle cut a much thicker wooden board, but a little narrower. This worked well and I use double-sided tape to lay down the corners. This combination greatly sped up the production process. Over time, my technique got better and I found I could simply stretch the scarf over the board without needing any tape. The stretchiness of the scarf helped it conform to the shape of the board. I just needed to flatten it.
From that point, I moved on to shirts, which opened up a whole new arena. It was exciting, but also a lot of work to transition from a flat fabric to all the elements involved with printing on a shirt. It got tricky at times, but I became very creative with the printer.
THE LEARNING CURVE
After I got my digital printer, I spent the next few months getting to know the machine. Being able to work with it full time allowed me to shorten the learning curve.
One exciting aspect of the digital printer was I could get an immediate result, regardless of whether it was exactly what I wanted. I still had to play around with the layout, but the process of hand painting a scarf was taking me anywhere from hours to days.
I devoted most of my time to experimenting with the printer until I got the results I wanted. If you want the print to be sharp, clear and crisp, you have to work with the machine. That is one thing that I didn't know in the beginning. I had to learn how to get it to look right. I would inspect a print and see something that was just a little bit off, and I would figure out how to correct it.
Experimenting is part of the process. There were definitely some rejects in the beginning, and I have an entire rack of them to prove it. If I have to do a test print, I will grab something from that rack to use again.
I have come a long way in the creative and production process. I don't start a run on new shirts unless it's something I've been doing, and I know I can do it without a lot of errors.
I also have an accessories line that includes wrap bands, headbands, belts and collar necklaces. All of them are made from printed pieces of fabric.
Color is the toughest aspect of digital printing. When I'm doing it by hand, I see a color and I paint it. Color on a printer is trickier because a lot of times, what you see on a screen is much different than the printed result.
I work with color charts, but at the same time I have to physically see it. I have my most popular core designs that I try to get exactly how I want them. When I'm working on something new, adjusting the color is part of the process.

The positive side of it is sometimes I like the result, even though it may not have been what I intended. That's what I love about art: You are never really wrong; it just may not be what you initially intended to create. I make the color adjustments, with a lot of experimentation, in Adobe Photoshop.
When you start a business, you don't really know what you are getting into. I was creating pieces that I liked, but establishing a customer base and the sales that come with it to realize a return on the investment takes time and is part of the process.
After my initial experiments with the printer at the Solutions Studio, I felt like I knew enough to say, "I think I can do something with this." If I had questions, I had resources to draw upon.
The printer was pretty easy to operate in the mechanical sense. The real challenge was figuring out how to use it to create something unique and different. How could I use it to accomplish my design and career goals?
People told me they were interested and I had great support, but I was hard on myself and I expected a lot. Most of my profit that first year was invested back into the business to do more shows and marketing. I now realize that although sales are necessary, what was more important was the fact that I created something new and got a good start building a brand and getting recognition.
Note: To read a blog post about the author's experience creating the garment designs featured on the cover of this month's issue, visit rlevine.net and click on the "Blog" link.
Rebecca Levine is the owner of R.Levine Original Prints, a Cleveland-based company offering a full line of shirts, scarves, wrap bands, jewelry, belts, tote bags, and purses featuring her designs, and mostly printed using a Mimaki digital printer. For more information or to comment on this article, contact Rebecca at rebecca@rlevine.net or visit rlevine.net.
---
The past few years have brought changes to almost every industry, and decorated garment production is no exception.
FULL STORY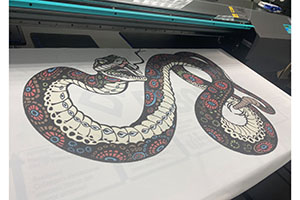 New Jersey-based Breakthrough Custom Clothing created "Warrior Princess" from scratch by digitally hand drawing the entire piece.
FULL STORY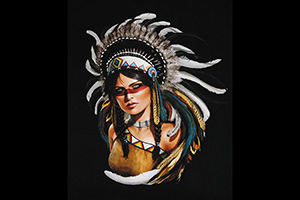 Onsite printing at events by screen printers, heat press decorators and direct-to-garment (DTG) companies was gaining momentum but with the pandemic, they came to an absolute stop.
FULL STORY