Digital Shines in the Spotlight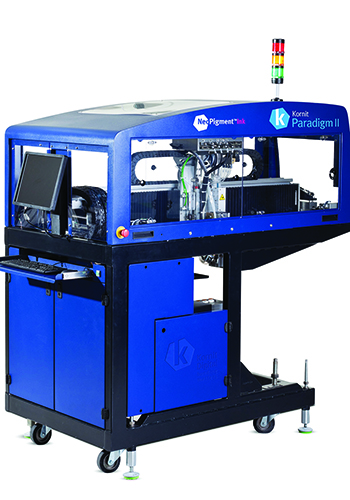 ---
Editor's Note: This article is a small snapshot of just a few technological advancements seen in direct-to-garment and dye-sublimation printers. It is not meant to be a comprehensive overview of the industry's digital decorating sector. For information on technology offered by specific suppliers, please contact them directly.
IN CASE YOU HAVEN'T heard, everyone's talking about the latest trends in digital decorating.
Lately there have been some remarkable pieces of equipment introduced to the market (or are soon to debut), and they certainly will leave their marks on the industry for years to come.
Let's take a look at these technologies and how they impact decorators using digital printing techniques.
DTG on the Grand Stage
KORNIT HAS A dominant market advantage over other digital direct-to-garment (DTG) printer manufacturers in that it owns the patent for pretreatment being done inside the machine. Simply put, this is the primary reason Kornit is the 800-pound gorilla in the room.
Kornit's Vulcan and Paradigm: The second reason is the company's new Vulcan printer. With a cruising speed of 250 prints per hour on any color shirt, its output is basically double that of the company's next model down, the Avalanche.
The printer uses Kornit's own NeoPigment water-based inks that recently have been reformulated with an increased color gamut for digital printing. The Vulcan uses a six-color-plus-white system that is pumped through an astonishing 60 print heads that recirculates the ink, so there's less waste than in previous models. The Vulcan can print image sizes up to 27.5″ x 39.5″ standard, which could be the largest on the market.
Ever wondered what would happen if you could stick a DTG printer onto a press like a flash unit? That's essentially how the Kornit Paradigm model works itself onto a machine. Using a regular screen for the underbase plate, the Paradigm has a much lower per-print cost because most of the cost is tied up into the digital white ink and pretreatment. The Paradigm system turns that on its head by using discharge or regular white ink that is screen printed before the unit prints the CMYK image on top. You also can print other colors afterward and create different effects.
The output is slower for printing on an automatic press, but much faster than some other DTG printers on the market. The Paradigm II prints images up to 15″ x 19.5″ in size using eight Spectra Polaris print heads with 256 nozzles each and prints resolutions up to 600 dpi.
Aeoon KYO: This big bright green machine features up to 12 print heads, and allows upgrades as a decorator's needs change. Need to increase your print speed? Just bring in a technician and add more print heads.
The Aeoon KYO uses either a two- or three-shirt platen configuration that cycles into the machine, and can print multiple designs independently. The configuration is based on the size of the platens and objective output needed, as three platens will print more shirts per day.
Like other DTG printers, the Aeoon KYO prints at 600 dpi using eight print heads. For faster speed, four more can be added. With the 12-printhead setup, Aeoon touts the ability to print up to 800 shirts an hour if the image size is 8.5″ x 11″. Three image-size variations are available: 21″ x 39″ with three platens; 39″ x 39″ with two platens; and a whopping 78″ x 39″ with one platen.

M&R M-Link and M-Link X: Winner of the 2015 SGIA Expo Product of the Year Award, the M-Link DTG printer costs about one-third of the price of Kornit or Aeoon printers. It features i-Color RIP technology from M&R with a black-color mode that prevents it from printing black ink on black shirts.
M-Link printers can print up to 14″ x 19″ in size and use DuPont Artistri BRITE digital textile inks as their go-to consumable. The difference between the M-Link and the M-Link X is print speed. The M-Link can print a white shirt in 45-60 seconds and a dark shirt in two-and-a-half to three minutes. The M-Link X can print a white shirt in 30-45 seconds and a dark shirt in less than one minute.
Another innovation is M-Link's Mobile Pallet System, which allows decorators to lock down the garment and move it between machines. This is an interesting development, as shops can add to a shirt's digital decoration by taking it to another machine for extra embellishment.
Brother's GT Series: What makes the Brother GT series DTG printer appealing is that you can tailor your workflow needs to your budget with this cost-effective setup.
The GT-341 model uses only CMYK colors and is for white and light garments only. The GT-361 and GT-381 units can be used for all garment colors and have two and four white-ink print heads, respectively. All the setups use the same frame and housing, so you essentially pick the model that best suits your workflow and customer base.
The standard print size is 14″ x 16″. The printer uses individual CMYK print cartridges for ink, and basically works like an office color printer, so operating and maintaining the equipment is easier. Brother printers include a print calculator that estimates the true ink cost of an image based on the print-quality setting, so you can quote jobs more accurately.
Dye-Sub on the Spot
IF YOU'RE REALLY into dye-sublimation production, keep an eye on technology introduced by the following machines.
Mimaki TS300P: This production-oriented dye-sublimation printer features a 77-inch-wide print range, speeds up to 1,238 square feet per hour in four-color mode (700 square feet in six-color mode) and new engineering that allows better control of the media so workers can leave the machine unattended while printing.
The unit also uses 2-liter ink packs instead of cartridges, which are more cost effective and sustainable. Also, when networked, the printer can send your staff updates on the production run progress or other information via the Remote Event Notification feature.
Roland Texart XT-640 Dye-Sublimation Printer: Roland's XT-640 dye-sublimation printer features dual, staggered, eight-channel,
160-nozzle print heads that maximize productivity while punching out rich, detailed photographic details.
The unit offers two print modes. One uses normal four-color process (CMYK), but you also can expand that to eight colors (adding orange, violet, light cyan and light magenta). The added colors allow you to successfully match 130 more Pantone colors than in the four-color mode. This is great for shops with clients who are picky when it comes to color.
This printer is linked to Roland Printer Assist, so you can manage one or multiple units from an iPad. View a print status, run machine calibrations or perform maintenance — the power is all at your fingertips.
Just a glance at the latest technology to hit the market, these machines are increasingly efficient and cost-effective solutions for digital decorators. Evolving rapidly, the digital segment continues to surprise the industry with unprecedented features and enhancements.
Marshall Atkinson is the COO of Visual Impressions Inc., and Ink to the People, Milwaukee. He also is a PromoKitchen chef. For more information or to comment on this article, email Marshall at matkinson4804@gmail.com.
---
The past few years have brought changes to almost every industry, and decorated garment production is no exception.
FULL STORY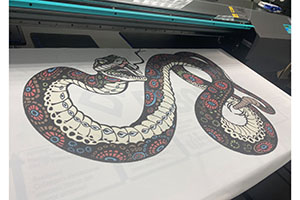 New Jersey-based Breakthrough Custom Clothing created "Warrior Princess" from scratch by digitally hand drawing the entire piece.
FULL STORY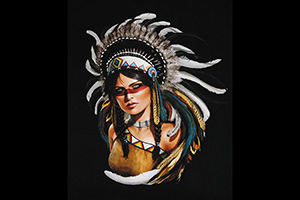 Onsite printing at events by screen printers, heat press decorators and direct-to-garment (DTG) companies was gaining momentum but with the pandemic, they came to an absolute stop.
FULL STORY