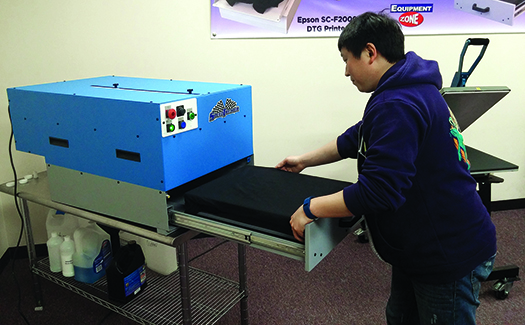 ---
The demand for low-volume, custom-printed T-shirts has completely revolutionized the garment decoration industry. There have been significant improvements in the technology dedicated specifically to direct-to-garment (DTG) printing.
Because of the industry's recent advancements in reliability and quality, it's hard to question the viability of DTG. The demand for reliable, one-off printing capability is so strong, the question is no longer whether you should invest in DTG; it's how to compete and ensure the success of your investment.
To market your DTG business you do not need a huge budget. Easily acquired industry relationships, a website, basic knowledge of SEO and analytics, strategic social media and creative prospecting can be just as effective as big-time marketing budgets.
No Minimums
You can confidently advertise low-minimum, full-color prints on light and dark garments. Better yet, you can advertise no minimums. Take a look at your competitors online; how many of them are advertising no minimums? The answer, most likely, is very few. The reason they don't is because they do not have the confidence to reliably produce one-off, custom-printed shirts. On your website's homepage, boldly let your customers and prospects know that you provide full-color prints with no minimums.
You may be thinking there isn't any money in one-offs. That's true — to an extent. Doing one custom shirt, with custom art and customers' often-wild requests, can be a hard way to make a consistent profit. The goal for offering no minimums is not to do one-offs regularly; rather, it's to capture the market that wants low volume and save them from the pain of searching and contacting other screen printers who cannot deliver their low-minimum custom orders.
You're making the customer's decision to contact you easy by eliminating doubt, complications and fear. Most customers don't want just one shirt, but there is peace in knowing they can order one shirt with a full-color print, especially for reorders or fill-in needs.
Contract Work
Capitalize on the bulk of new business and develop a relationship with competitor printers in your area. Introduce your DTG capabilities, and bring them samples and enticing contract pricing. If they don't have a DTG printer, they are struggling to service clients who bring in low-volume orders. Eliminate their struggle by giving them an easy solution to pass off low-minimum jobs.
Your Website
A well-laid-out website is essential for highlighting your services and promoting your business. Do not fear website creation; today, they are easy to acquire and often are free or inexpensive to host. There are numerous template-based, drag-and-drop sites that will work beautifully for your needs. I use Wix for my portfolio site and WordPress for my blog. Whatever you choose, the learning curve is relatively easy and you could have a website up in a few hours.
E-Commerce
Consider setting up an inexpensive e-commerce page. Many are free, such as BigCartel, and can link to your website. Use one-off capability to increase revenue by showcasing your custom designs.
You could take this concept a step further by creating "shops" for your regular customers. Let's say a local school regularly orders spiritwear. By hosting all of their designs and styles in one shop, they can confidently and easily reorder one or 100 pieces. This goes a long way with customer service and encourages loyalty.
Having a website does not mean instant recognition on search engines. You must make it visible to searchers. The higher up in Google search results your website is, the more traffic it will see. Following are several budget-conscious steps you can take to help increase your placement.
1. Sign up for and engage in everything Google. Open every possible Google account in your business' name and add content or update these sites regularly. To name a few: Blogger, Gmail, Google Maps, Adwords, Google Analytics, Google+, YouTube, Google Domains, Google My Business and AdSense.
2. Do everything possible that is relevant. The more your business name and location are seen by Google, and the more you update content, the more Google will engage with your business.
3. Learn simple SEO and keyword theories. Keep track of all your activity with Google Analytics. This is imperative for understanding which keywords and search terms are most relevant to your customers' searches and how users engage with your site.
Dominate Your Local Market
Try to pick a business name that is available for a .com address; it's best if your company's name matches your URL. You also can try to tie in your region. For example, the domain name "seattlecustomshirts.com" will immediately pop up for anyone searching for custom shirts in the Seattle area.
Ensure all of your marketing keywords also include your area of operation. For example, instead of paying for the keyword "custom shirts," narrow it down to your region, as in "custom shirts seattle." If national acclaim is your focus, be prepared to pay heavily to be seen.
Social Media
Social media marketing can be as expensive and complicated as standard SEO work. My philosophy for social media is to contribute, but don't obsess. Spend money elsewhere. Part of the beauty of social media is that it's free, so take advantage of that and don't get suckered into expensive ad campaigns.
I find the most value in Facebook and Yelp. The latter, like Google, is imperative because it prominently features customer reviews, which are important. If using Yelp, encourage your customers to use this feature.
Hit the Streets
The relationships you develop with your competitors is essential for gaining referrals and capturing your target low-minimum market. Your website is capturing data and leads daily. Both of these are critical to growth, but it may not be enough. You may have to pick up the phone or go door-to-door to promote your services.
When it comes to getting your name in front of businesses, remember that you have a distinct advantage over your competitors. You can make custom samples quickly — and for next to nothing. Find companies in your area that need apparel, create a custom logo or borrow their existing logo from the Internet and make a sample. Take it to their location, include special pricing, and sell yourself and your shop's capabilities. Be proactive and use one-off printing to your advantage by offering personalized samples that will wow your prospects.
With more time and dedication than money, you can professionally promote a credible and visible DTG business. Remember, just having a printer will not guarantee success; you have to sell the capability. Have fun, make money and happy printing.
---
John LeDrew is the DTG director at Melco Intl., Denver. For more information or to comment on this article, email John at jledrew@melco.com.
---
The past few years have brought changes to almost every industry, and decorated garment production is no exception.
FULL STORY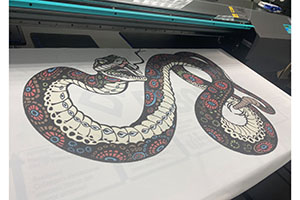 New Jersey-based Breakthrough Custom Clothing created "Warrior Princess" from scratch by digitally hand drawing the entire piece.
FULL STORY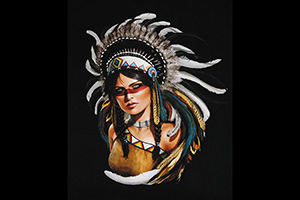 Onsite printing at events by screen printers, heat press decorators and direct-to-garment (DTG) companies was gaining momentum but with the pandemic, they came to an absolute stop.
FULL STORY