Do More with Digital
Use your existing direct-to-garment and sublimation equipment to expand into new markets.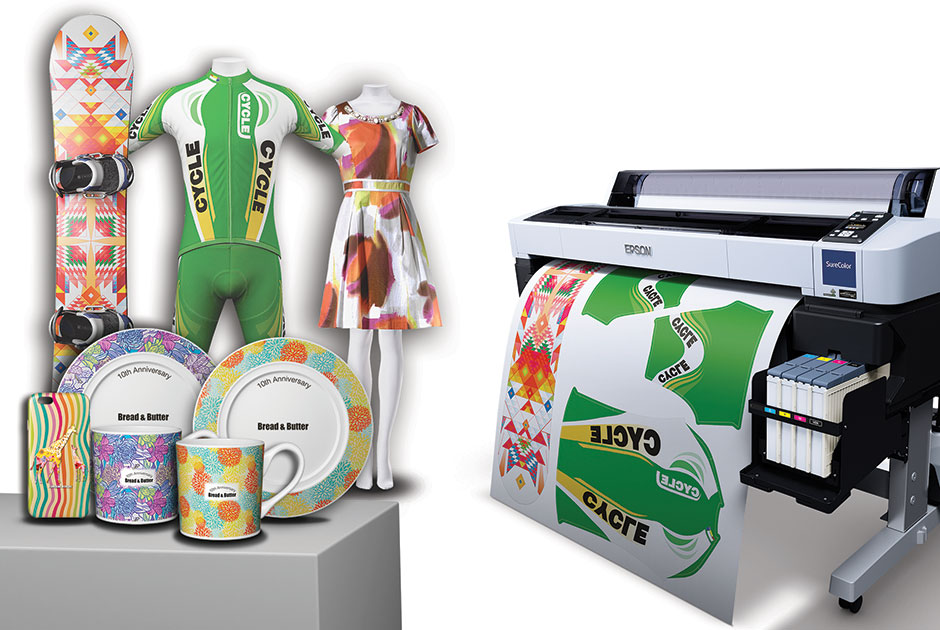 Dye-sublimation printers create transferable output for a wide variety of porcelain, glass and textile-based items that can be gifted to loved ones.
---
The digital textile industry is expected to grow into a $2.31 billion industry by the end of 2023, and is projected to grow nearly 5% each year between 2018 and 2023, according to a 2018 Research and Markets report. You've seen the statistics, purchased the equipment and fully committed your shop to digital textile printing.
What you may not realize is the equipment you've purchased — both direct-to-garment (DTG) and dye-sublimation printers — produce excellent output beyond traditional textile prints that can push your business into different markets to attract new potential customers.
Today, there are many revenue channels that easily are attainable with DTG and dye-sublimation equipment. You can open an Etsy shop, set up a local pop-up shop or work a consumer wedding expo to get new customers, explore new possibilities and increase profits without purchasing new technology.
The following are six ways — outside of traditional use — to leverage the textile equipment in which you've invested.
Direct-to-Garment Printers
DTG printers traditionally have been used for cotton T-shirt and sweat shirt printing. While the iconic tee always will be a wardrobe necessity, DTG printers also have several other uses. In addition to printing on cotton, they can create new, custom and personalized items that can be sold online — giving businesses the ability to upsell and add to current business offerings.
1. Customized Accessories: Custom accessories offer an easy upsell for any business already creating custom T-shirts for college sororities, wedding parties, family and class reunions, and work parties. Tote bags, gym towels, hats and custom pillow cases are only a few examples of the extra add-ons that can be created.
Cotton-based items can be customized to match shirts, giving customers incentives to provide positive recommendations and return. When sold separately, these easy-to-create accessories offer a good margin and increased profits during busy holiday and wedding seasons.
2. Attachments Offer Greater Flexibility: Many companies offer DTG printer-compatible attachments that
provide greater flexibility and can increase product offerings. For example, using an attachment enables printing on ball caps and visors, which can be ideal for any bachelor party or family reunion. For decorators looking to advance their skills, an attachment can be used to design and print on cotton-based shoes to help a shop stand out from other local textile providers.
3. New Solutions: DTG printers historically have been used for 100% cotton and cotton/polyester blends. As the textile industry expands, so does the use of DTG equipment and the versatility of pretreatments and hardware. Using correct pretreatments can help a business expand into new markets and textiles.
The ability to do a DTG print on 100% polyester garments recently was announced, but these printers now can be brought on-site to local sporting events to create customized shirts for both local and national marathons and fun runs, for example. Runners now can have their names and bib numbers printed directly onto their polyester race shirts to commemorate the priceless experience. By expanding business offerings into new, unique and niche markets, there are huge opportunities for both increased demand and revenue.
Dye-Sublimation Printers
We see dye-sublimated textiles in all types of clothing, from athleisure apparel to simple dresses, tops and more. This technology makes fast-fashion trends achievable for small design houses, while reducing textile waste and water consumption.
In addition to fashion, dye-sublimation printers are gaining popularity in the soft signage; photography; and customizable and promotional products markets. The following provides additional insight into how to leverage your dye-sublimation printer in each of these markets to expand service offerings.
1. Rigid Metallic Signage: Metallic signage is a popular way to modernize traditional printed signage. It can be used in retail stores, small office spaces, trade show designs, labels and more. Using dye-sublimation equipment, you can expand your service offerings by creating rigid metallic signage for customers. Dye-sublimation prints easily transfer to metal and other rigid signage material, and can be used for flat interior and exterior retail signage, tabletop or bar-stool designs and more.
2. Photography: With today's technology, images can be touched up and printed onto metal. Dye sublimation creates brilliant photography; using specifically designed transfer paper, photo output can be transferred onto metal panels to create vibrant images with minimal grain and magnificent focal points for commercial, retail and residential locations.
3. Tangible Memories: Whether for personal or business use, customized and personalized items are thoughtful for any gift. People enjoy receiving products customized specifically for them, and companies enjoy creating promotional products and gifts for employees, such as mugs, mousepads, koozies or lanyards.
Leveraging specific heat-transfer equipment, dye-sublimation printers create transferable output for a wide variety of porcelain, glass and textile-based items that can be gifted to loved ones. Create customized interior items such as cutting boards, glassware and wine tote bags that never will go out of style.
DTG and dye-sublimation printing technologies deliver fast, economical, reliable and high-quality results that easily are scalable for any business. A few DTG and dye-sublimation machines allow a print shop to double output and further expand profit opportunities without increasing costs for other resources.
While traditionally reserved for textile printing, DTG and dye-sublimation equipment can expose other opportunities to deliver a variety of output that can be sold at excellent margins to upsell current customers and attract new audiences.
Tim Check is a senior product manager in the professional imaging division at Epson America Inc. For more information, visit epson.com.
---
The past few years have brought changes to almost every industry, and decorated garment production is no exception.
FULL STORY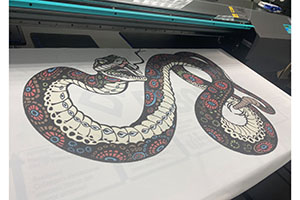 New Jersey-based Breakthrough Custom Clothing created "Warrior Princess" from scratch by digitally hand drawing the entire piece.
FULL STORY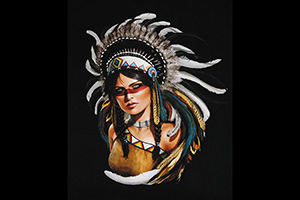 Onsite printing at events by screen printers, heat press decorators and direct-to-garment (DTG) companies was gaining momentum but with the pandemic, they came to an absolute stop.
FULL STORY