DTG Comes of Age
With technological advances, the newest DTG printers power short-run and specialty print production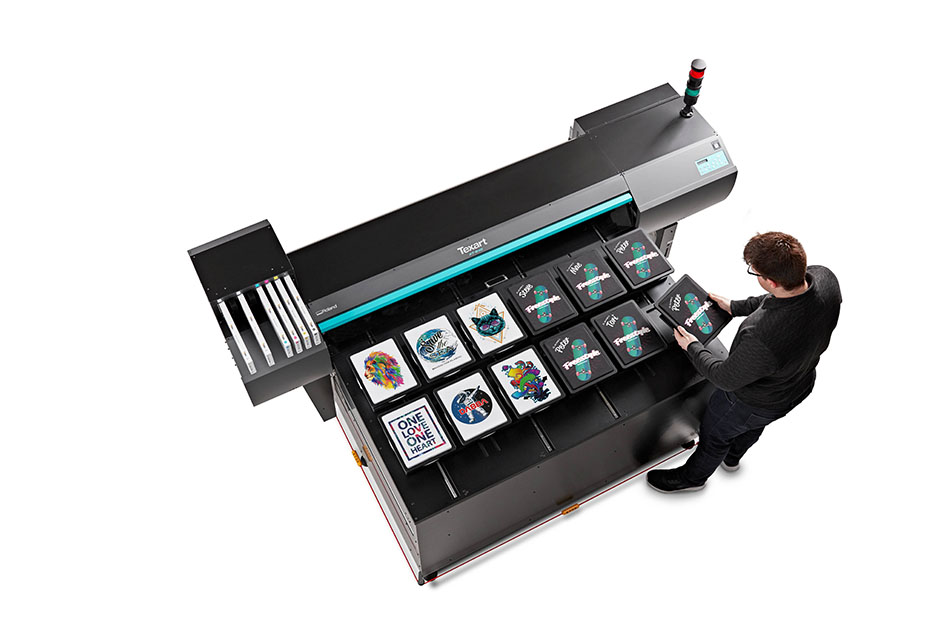 The Roland DG Texart XT-640S DTG printer featuring a 53-inch-by-64-inch bed and an 8-inch Z axis, allows users to print on many T-shirts at once, or to print larger, more lucrative products like towels, throws and blankets. Photo Courtesy of Roland DGA
---
The past few years have brought changes to almost every industry, and decorated garment production is no exception. With the rapid rise of e-commerce came an increased demand for specialty printed and short run decorated apparel, and direct-to-garment (DTG) printers have emerged as a critical technology.
Today's consumer wants to order their apparel online, add an uploaded photo or graphic, and receive their printed item in a short time frame. Direct-to-garment (DTG) printers are perfectly suited for these applications and the unique capabilities of these machines continue to drive their popularity. In fact, in 2019, Keypoint Intelligence forecasted a 13 percent compound annual growth rate for DTG through 2024.
Recent advances in DTG ink and pre-treatment options have been accompanied by evolutionary changes in DTG printing technology. Today's powerful and versatile DTG printers not only provide on-demand production power for home-based or online stores and PSPs, but are useful tools for fulfilling short run orders, testing graphics, and evaluating trends for industrial apparel manufacturers.
The Evolution of DTG Printing
In the past few years, companies have been finding ways to speed up DTG production through a variety of pre-treating and heat pressing techniques; however, while DTG printers are becoming more powerful and less expensive, one-platen printer production can only go so fast.
In planning for the evolution of DTG printing, better inks and more comprehensive software are key, but the real leap forward is coming from flexible print production that allows companies to set themselves apart from the competition.
Today printer manufacturers are looking outside the box to provide faster, better DTG production on a wider variety of materials and substrates. Roland DG has recently come out with a DTG printer featuring a 53-inch-by-64-inch bed and an 8-inch Z axis, allowing users to print on many T-shirts at once, or to print larger, more lucrative products like towels, throws and blankets. This power and versatility change the economics of customized and short-run production, yielding higher profitability for owners.
Growing Demand for On-Demand
Study after study has shown that consumers are willing to pay more for customized apparel. With its full-color capability, DTG printing offers users the ability to profit from this trend, whether you own a home-based online business or an industrial apparel company.
The world of on-demand involves a tremendous focus on one-off production. You can have a hundred people ordering a different shirt with the same picture on it, or a hundred shirts with a hundred different pictures. Being able to print all these combinations of shirts and graphics is essential to staying current with the market. The newest printers are equipped with multiple platens to enable companies to produce these one-off orders more rapidly, with oversight from a single operator.
Easier Learning Curves
Printer manufacturers are also taking account of the fact that the typical operator is no longer necessarily a print professional. DTG printer owners want to be able to load a file, load a shirt, press print, and move on to the next shirt. With the newest DTG print technology, an operator can be trained within a few hours to use the software and system.
Even the largest DTG machines have come a long way in terms of ease-of-use. Today, operators can quickly master the DTG printing workflow. When the art of the pre-process is dialed in, the repeatability of the DTG print workflow lends itself to strong and consistent productivity.
Moving Beyond T-Shirts
Today, the printed T-shirt market is crowded—even overcrowded—with producers. To distinguish your company from the pack, you really need to go beyond T-shirts. Today's larger DTG printer platforms allow printing on many products at one time, or printing on larger, thicker materials.
We are seeing more pre-fabricated or manufacturing companies that are looking to print on richer materials like cotton and tri-blends that normally require a larger size platen. With flexible production printers like the new Roland DG Texart XT-640S, you can print 53″ x 64″ tablecloths or pre-fabricated jerseys. The printing can be done when the product is a finished piece, or in the middle of the manufacturing process. It's all about offering product diversity through the evolution of DTG printing technology.
Easy Web-to-Print Production
The newest DTG printers occupy a unique niche between commercial and industrial printers. While priced lower than industrial printers, they can do the work of two or three commercial machines. They also require only one operator, allowing producers to cut down on the number of employees needed to run their equipment.
In addition, advanced printers like the XT-640S run with a version of Digital Factory that has fully integrated bar code readers. The printer can work with your software systems and API for smooth web-to-print production.
Short Runs or Specialty Print –1,2,3 Go
Workflows on the newest DTG printers are also simplified. A short run is easy to set up. Let's say you need to print 50 T-shirts using the same shirt and the same graphic: Simply load your file and duplicate it 50 times. Then load a shirt, print it, load it again, print again. With just one setup, you can pretty much press print and go.
To set up an on-demand print run, load your files into the hot folders that are populating your platens. With a versatile DTG printer, you can run T-shirts on all the platens, or arrange its sliding baseplate and platens to run blankets, towels or sweatshirts. When the files and platens are loaded, you simply press print.
What Matters in Evaluating DTG Printers
A primary consideration when evaluating DTG printers is obviously space. The DTG process requires a pre-treat machine and a dryer in addition to the actual DTG printer or printers, so proper space allocation is critical.
A second consideration should be inks. There are a wide variety of ink densities and colors available today. It's important to evaluate the quality of the print on specific substrates and with the pre-treatment options you are looking to use. From there, you can more precisely estimate your ROI for different ink, substrate and pre-treatment options.
Upkeep is another critical consideration. A clean machine will always provide better, more consistent output. Some printers are self-cleaning and only require a 15-minute cleaning by an operator once a week, while others need more frequent or longer attention. Ensure you have a clear understanding of the cleaning and maintenance requirements for any printers you are considering.
It's also important to consider the future of your business—what is the next step in your company's growth? If you are planning to expand your DTG production, you may want to consider a single printer that can handle the increased load, rather than acquiring additional printers down the road. Next-generation DTG printers can produce as much as three typical DTG printers, and only require one operator. Since each DTG machine needs space, ink, cleaning, maintenance and an operator, having a single, more versatile printer can be a great option.
Ready for the Future
With unflagging demand for short-run and specialty printed apparel and fabrics, the future is bright for DTG printing. In addition to simplified workflows and powerful production, the newest printing technology offers easy and innovative ways for businesses to expand their product line. With the ability print on larger and thicker items like towels, throws, blankets, and other premium products comes the opportunity for improved profitability. If you haven't looked at DTG lately, it's worth your time to evaluate the current crop of innovative DTG printers and see what benefits flexible production can bring to your business.
Kitt Jones is a co-creation product manager at Roland DGA.
---
New Jersey-based Breakthrough Custom Clothing created "Warrior Princess" from scratch by digitally hand drawing the entire piece.
FULL STORY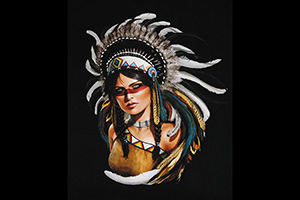 Onsite printing at events by screen printers, heat press decorators and direct-to-garment (DTG) companies was gaining momentum but with the pandemic, they came to an absolute stop.
FULL STORY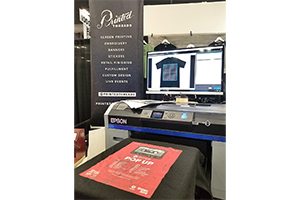 If you're a direct-to-garment (DTG) decorator, have you found the colors in your prints to be less vibrant on certain brands and materials?
FULL STORY