DTG Printing Outside the Garment
Using your direct-to-garment printer for more than just apparel can add profits to your shop.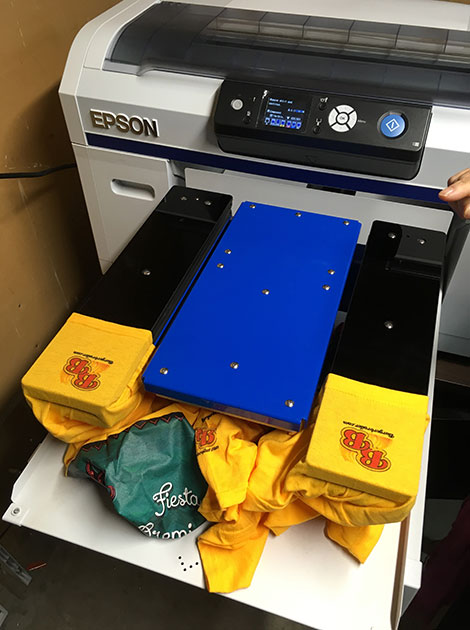 Don't spend lots of money on a platen you don't necessarily need when it may be more cost effective to modify existing platens to accomplish a job.
---
The concept behind a direct-to-garment (DTG) printer is pretty self-explanatory, right? It prints directly to the garment. Well, not so fast.
Yes, it's true that the bulk of what you will print with a DTG machine is apparel: T-shirts, hoodies, tank tops, onesies, etc. Since you are a true garment decorator, then you should know there always is a way to make something else work. That's the nature of this business; we must be creative and solve problems to do some jobs — and DTG printing is no different.
There are numerous accessories available to accommodate our desire to do the impossible, weird and unnatural. I have seen people use DTG technology to print under cap bills, on koozies, neck labels, compression sleeves, socks, wood, leather, shoes, hats, pillow cases, bandannas, tote bags, lamp shades, canvas and more.
Let's discuss how to print on obscure products. However, while doing so can be fun and unique, it's important to remember that you got into this business to make money. If it takes you 20 hours and lots of expensive trial and error to print a pair of shoes for $50 for a customer, ask yourself if it's worth it. In my shop, our motto was "Just because we can do it doesn't mean we should."
Ask four main questions before printing something out of the ordinary: Will we make money on this job? What is the learning curve? Do I need to invest in additional equipment? Is that investment going to lead to future profitable sales?
If you don't plan on being a shoe-printing master or regularly selling your capabilities for consistent profits, you may find sticking to T-shirts will be much more lucrative and easier on your sanity.
There can be money in printing other things, especially if you master them and have a market for something unique. So, if you're still interested, let's talk about how to make money doing this.
Using Standard Platens
When using standard platens, it's important to take into account platen-height errors and print head strikes so these items are smooth and flat, and will lay on the platen like a garment.
Canvas is easy. Sheets of canvas can be cut and made to lay flat on standard platens. Think patches or small, printed canvas portraits or paintings. These can be printed via DTG before being cut and sewn into something else, and experimentation is easy and cost effective.
Tote bags can be laid flat on existing platens. This can be done as long as the seams and handles are off the platen's edge. You may need a 7″ x 8″ or 10″ x 12″ platen to adequately accommodate them. Totes are inexpensive to produce and perfect for use as a promotional item to capture more business. For example, say a boutique grocery store has a few shirts made. Don't stop there; wow the customer with a custom-printed canvas tote bag, and explain why it could be an ideal additional piece.
Patches, compression sleeves, leather, paper, wood, etc. You can lay these items directly on the platen without securing them with a hoop. In some cases, you may need double-sided tape to keep the edges from being raised, and the only difficult part is finding where the image will be printed on the product. The easiest way to do this is to print directly on the platen, then lay the product over the general image area. Adjust each print, then draw a template for the product.
Using Special Platens
Now, let's talk about items that require special platens — typically aftermarket or OEM platens that have been designed to accomplish printing on something other than a standard rectangular print area.
Everyone seemingly wants to print on shoes and hats. Special platens for these items do exist, but remember that there are limitations on the types of shoes and hats you can use. For example, you must use unstructured hats. So it's important to know the limitations and research what's realistic with these options.
Other special platens allow for printing on dual sleeves, pockets and long sleeves. I have even seen under-the-bill cap platens. Having a wide variety of these accessories to accommodate unique placements can be helpful if the orders you receive justify the investment. Remember not to spend lots of money on a platen you don't necessarily need when it may be more cost effective to modify existing ones to accomplish a job.
Platen modification is an affordable and inexpensive way to print unique placements or products. "Platen risers" are available commercially, and some fit aftermarket platens. They work by lifting and isolating a specific garment portion, and "hiding" seams, buttons or other obstructions. Essentially, you are creating a platform to accommodate a smooth print surface.
These are great for isolating pockets or sleeves and can be inexpensive. A lot of end users will make their own to help create a smooth and obstruction-free print area. The best way to make platen risers is to buy thin pieces of Masonite and cut them to fit the shape of the product you want to print. Secure the cut template to an existing platen with double-sided tape. Hide the seams, buttons or obstructions below the print surface. Then lower the platen.
If your printer has a head-strike warning, keep raising the platen and checking the height until the warning is deactivated, then drop it a notch. If you don't have a sensor, lower the platen until it is at the correct print height.
I have seen platen risers be extremely effective for women's V-necks, tank tops, pockets, zippered hoodies, onesies, tote bags and more. Get creative with platen risers; they are inexpensive to make and extremely versatile.
Remember, the goal with these other printable materials is to make money. Invest wisely and analyze whether printing on out-of-the-ordinary products will be advantageous for your business. Having a unique print option may set you apart from your competition or help you evolve into a niche specialty. Use these techniques to have fun, make money and create amazing things — which is part of what makes this industry so great.
John LeDrew is the DTG director for Melco Intl. He has worked professionally in garment decoration since 2006, managing accounts and overseeing production for some of the world's largest brands and retailers. For more information or to comment on this article, contact John via LinkedIn.
---
The past few years have brought changes to almost every industry, and decorated garment production is no exception.
FULL STORY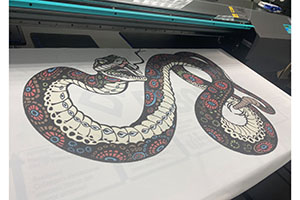 New Jersey-based Breakthrough Custom Clothing created "Warrior Princess" from scratch by digitally hand drawing the entire piece.
FULL STORY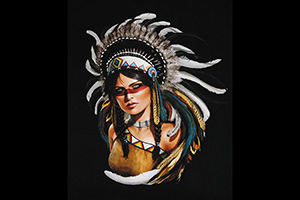 Onsite printing at events by screen printers, heat press decorators and direct-to-garment (DTG) companies was gaining momentum but with the pandemic, they came to an absolute stop.
FULL STORY