DTG Quality Control
Follow these tips for consistent, successful prints.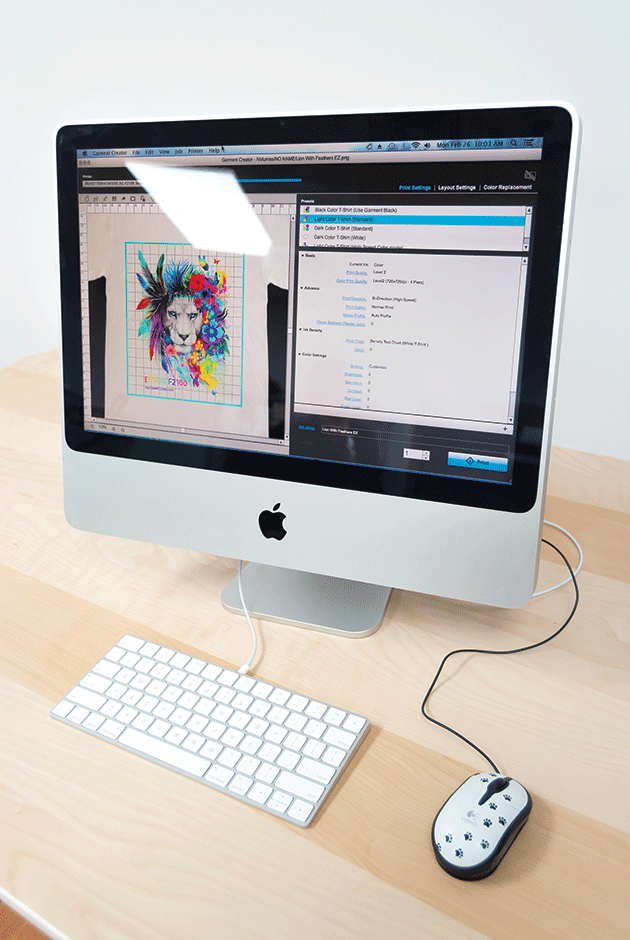 ---
Most garment-decoration methods involve "dialing in" machines to produce orders without hiccups from beginning to end — with the last print being like the first. When using a direct-to-garment (DTG) printer, other variables throughout the process potentially can impact consistency and quality from garment to garment.
With most DTG printers, the first step upon startup is to shake or agitate the white ink. Next, print a nozzle check. If you see breaks in the image (clogged nozzles), perform head cleanings until the nozzle check is perfect.
Some printers allow only head cleaning of the clogged nozzles, saving ink cost. If, during production, you see banding (horizontal lines in the image area), do additional nozzle checks and head cleanings until clear.
Consistent Pretreating
Pretreating a shirt will impact the printed product. For quality control, a consistent amount of pretreatment on each garment within a print run is important. An automatic pretreatment machine is the only way to achieve this from shirt to shirt.
In addition, keeping track of the pretreatment settings for a particular garment brand and style will ensure reorders will match the original, and all subsequent, orders. Many decorators attach these settings to the front of the pretreatment machine.
You can achieve consistent pretreating using a handheld power sprayer, but it requires practice and experience. No other pretreatment method is acceptable for professional production.
DTG-Friendly Garments
Unlike other decoration methods, all shirts are not equal when it comes to DTG printing. Garments that are made of 100% ring-spun cotton contain the smooth surface and tight weave that render the brightest and most-detailed printed images.
The fact that the fabric is ring-spun actually isn't the reason for DTG printing preference. Ring-spun cotton is manufactured with thinner threads, which result in a smoother, printable surface. Thus, the threads, not the fact it's a ring-spun fabric, make these garments DTG friendly.
Some DTG operators or their customers prefer garments that aren't ideal for this application. While such garments still can be decorated successfully, extra preparation is necessary, such as performing multiple pretreatments. However, this adds time and cost to the process.
RIP/Print Driver
Printing on DTG-appropriate garments almost always will allow you to use your raster image processor (RIP) or print-driver software's standard settings. The garment determines whether this will be the case. Printing on other substrates often will require special printer settings as well. However, remember that such experimentation to achieve the best results adds time to the process.
Most current RIP and print-driver software allows you to archive images. This will help ensure reorders are printed exactly the same as the previous order.
When saving images to print, position each so that the garment can be loaded the same way each time. For instance, position a full chest, left chest or any other position so that the print operator can load the shirt with the collar just over the edge of the platen. This will ensure uniformity between prints and garments.
A common complaint about DTG -printed garments is seeing the "DTG box" around the image. This usually results from applying excess pretreatment. Unfortunately, most decorators have this problem. Additionally, the heat press — the most commonly used curing method — can cause a rectangular edge around the image. An inexpensive handheld steamer quickly will eliminate this, allowing a better final presentation to your customer.
Environment
DTG printers require a defined environment that's far different than most garment-decorating technologies. These printers need to be in a controlled-temperature, office-like environment, with a minimum of 40% humidity. Some decorators assume if they are not experiencing clogging issues, their temperature and humidity level are fine.
In reality, a low-humidity environment will cause the print head to overheat. It cools by forcing the water from the DTG ink through the head. Thus, low humidity costs you in ink and time lost during the head-cleaning process.
The last step in quality control with most garment-decoration methods is the wash test. Nothing will tell you more about a quality print and cure than washing. Periodically print an additional shirt during production and wash it. If you have pretreatment or curing issues, it will be apparent in just one wash.
Quality control is important to any decoration method. With DTG printing, quality is judged by the final print, presentation and washability. In addition, consistent prints from shirt to shirt constitute a unique factor in DTG decoration.
Terry Combs is a 35-plus-year veteran of the garment-printing industry, and has managed production shops large and small across the United States. He currently does sales and training with Equipment Zone, Franklin Lakes, N.J. For more information, visit terrycombs.com.
---
The past few years have brought changes to almost every industry, and decorated garment production is no exception.
FULL STORY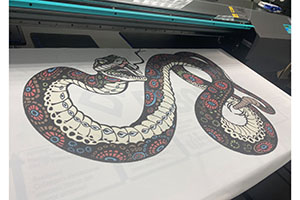 New Jersey-based Breakthrough Custom Clothing created "Warrior Princess" from scratch by digitally hand drawing the entire piece.
FULL STORY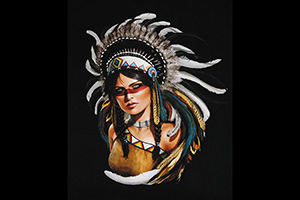 Onsite printing at events by screen printers, heat press decorators and direct-to-garment (DTG) companies was gaining momentum but with the pandemic, they came to an absolute stop.
FULL STORY