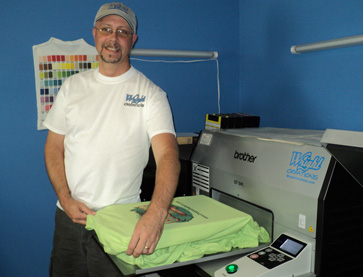 Wright Creations' co-owner Mark Wright with the company's Brother GT-541 direct-to-garment printer.
---
Some people work to live and, consequently, live to work. Thus, the perception is they work because they have to work.
Mark Wright, however, is an entrepreneur. He subscribes to the notion that if you do what you love, then you love what you do.
Wright, co-owner of Wright Creations, Flowery Branch, Ga., always has had artistic ability and an eye for detail — even when crafting award-winning artwork as a child. So in 1991, he answered a classified ad from a sign company, hoping for a creative outlet and a job. Painting white boards all day wasn't appealing, nor was working in the hot Georgia sun. His boss worked inside, in the air conditioning, at a computer. Wright aspired to have the same; put simply, he wanted a way to use his talent in a pleasant environment.
So began his journey to becoming a business owner.
For nearly 20 years, Wright worked for sign companies — handling production and learning his way around the business and creative aspects, as well as gaining basic business experience. Eventually, he landed at a company that also offered embroidery and digital printing; there, he began to hone his skills in those areas.
In 2009, he and his wife, Lisa, opened Wright Creations. The duo draws upon their different professional backgrounds to run the venture. Lisa Wright uses her experience in embroidery and handles back-office tasks, such as bookkeeping and taxes. Mark Wright does design, embroidery and printing.
"We started the business in two sections of our house: a spare bedroom and a bonus room," Mark Wright says. "We worked hard to promote the website and get listed on all of the social networking sites and search engines so people would be able to find us. I would take at least two days a week to drive around making cold calls in the surrounding area, passing out business cards."
Mark Wright also relied on relationships he had developed with previous customers who turned out to be loyal fans of his work. Business began to grow, and the company leased a 1,000-square-foot space in a small shopping center — which was adjacent to a busy gas station — in July 2011.
DIGITAL OUTREACH
While Wright Creations serves mostly local accounts, the occasional out-of-state customer comes calling, thanks to Wright's aggressive use of local networking and social media.
He joined the Gainesville, Ga., chapter of Business Networking International (BNI), attending weekly breakfast networking meetings. Members often "keep it in the family," referring others to businesses owned by other members. This helped Mark Wright build his client base. A Facebook page and Twitter account added extra layers of branding and exposure, while Mark Wright's sister, a professional Internet designer, produced an eye-catching company website.
"Social media has helped a lot," Mark Wright says, "and my sister knew all the tricks to getting our business at the top of the results pages of search engines like Google and Google Maps, etc. She has helped with the SEO (search engine optimization) process."
KEEPING QUALITY 
AMID CHANGES
While he readily admits he'll sell to just about anyone, there's one thing Mark Wright won't do: sell "flea market-quality" items, or throw-away stuff (TAS). "The point of printing your name on a shirt is to get someone to advertise for you while wearing it, right?" he asks.
Mark Wright's assertion is due to the fact that his clientele is expanding as more people who are in search of high quality and fair price discover Wright Creations. Customers driving an hour through metro Atlanta to visit the Wrights' shop is not uncommon.
"A lot of people are looking for price, not quality; or people compare prices that aren't apples to apples," he says. "I try to educate them on the pricing and the printing process, if they'll let me. People start as customers and end up as friends. They like it when you know and call them by their names and recognize them."
"Your image created the Wright way" is more than just a company slogan. It means Mark Wright usually is lending his artistic ability to either create a logo or design, or improve what a customer has submitted.
The company's services have morphed since its inception. While design always has been an important staple service at Wright Creations, screen printing has been nixed in favor of direct-to-garment printing.
"For one thing, it's too time consuming to start one screen printing job, and there is way too much competition for screen printing," he says. "The space requirement for direct-to-garment is minimal, and there are no chemicals to handle. But the main reason we [switched to] direct-to-garment [printing] was to be able to offer the luxury of printing only one shirt or hundreds of shirts."
While an Internet search for the phrase "screen printing" will land you on Wright Creations' website, "when you get to our screen printing page, there is an explanation for why we don't offer screen printing and why direct-to-garment is a better choice," Mark Wright says. He adds that, in addition to the ability to print smaller runs with direct-to-garment printing, he doesn't have to adhere to the Occupational Safety and Health Administration's (OSHA) strict rules for ink storage, or occupy a lot of storage space with ink.
Wright Creations currently has one direct-to-garment printer, a Brother GT-541, which was purchased new. "It runs like a champ, and we have been very pleased with its performance and quality," Mark Wright says. "The drawback is that we're not able to print onto dark materials, since that process wasn't readily available at the time we purchased this machine."
To print on dark shirts, Mark Wright contracts the work out to a local colleague who custom prints heat transfers using his designs.
Embroidery is done with a Brother PR-600, which typically is marketed and sold as a hobby machine. "It has proven to handle our orders like a workhorse," he says.
Heat transfers are applied with a Stahls' Hotronix Heat Press that features a 16″ x 20″ platen. Designs and layouts are created through a combination of CorelDRAW 15 and Adobe Photoshop Elements 8.
LOOKING AHEAD
Mark Wright plans to add a second embroidery machine and, eventually, a new direct-to-garment printer from Brother's recently released GraffiTee line. He'd also like to acquire a Roland VersaCAMM printer/cutter, which would enable more control over production with digital printing.
If you're a budding entrepreneur interested in opening a decorated apparel or graphics business, Mark Wright offers a bit of advice. "Have some type of graphics experience, or working experience in the industry for at least six months," he says. "You'd also need an artistic or graphics background, with an understanding of the artistic software. People are looking to you to be the expert."
Jennifer A. Morrell is an award-winning writer who has written for a number of national consumer and trade publications. For more information or to comment on this article, email Jennifer at jennmorrell@hotmail.com.
Wright Creations at a Glance
Company Name: Wright Creations
Address: 4251 Winder Hwy., Suite I, Flowery Branch, GA 30542
Founded: 2009
No. of Employees: 2
Decorating Methods Offered: Direct-to-Garment Printing, Embroidery, Heat Transfers
Company Website: wrightcreations.com; markwrightart.com
---
The past few years have brought changes to almost every industry, and decorated garment production is no exception.
FULL STORY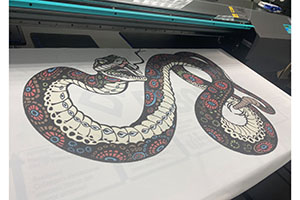 New Jersey-based Breakthrough Custom Clothing created "Warrior Princess" from scratch by digitally hand drawing the entire piece.
FULL STORY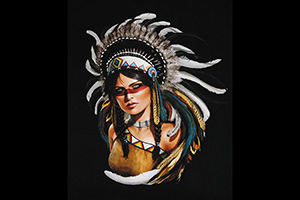 Onsite printing at events by screen printers, heat press decorators and direct-to-garment (DTG) companies was gaining momentum but with the pandemic, they came to an absolute stop.
FULL STORY