Five DTG Printing Myths Debunked
Learn the truth about a process that has made significant strides since its inception.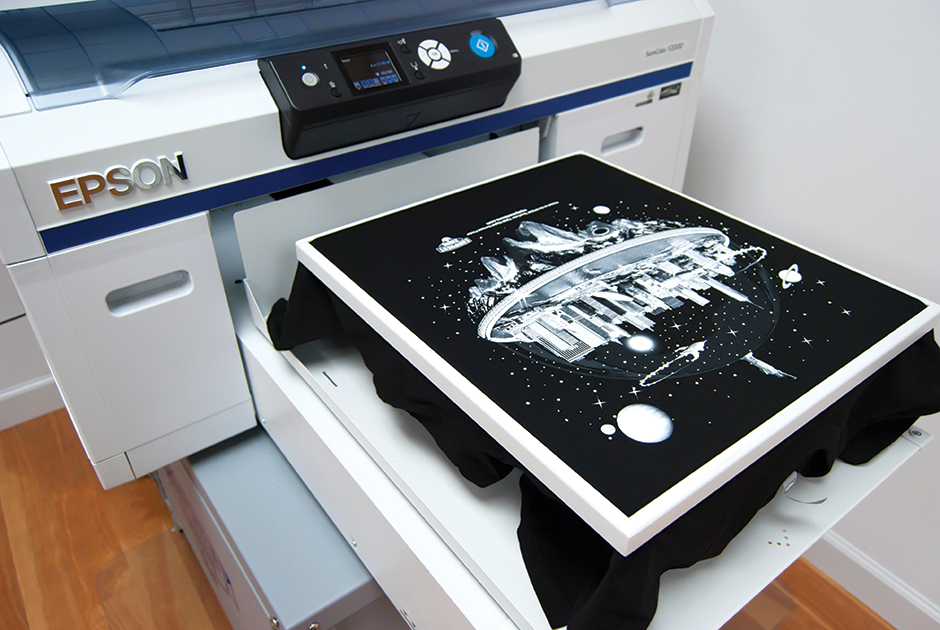 Proper pretreating is the greatest contributor to a bright white underbase. When combined with proper curing, excellent washability can result.
---
In its short lifespan — direct-to-garment (DTG) printing has only been a viable garment-decorating option since 2004 — much growth has occurred with this apparel-decorating process.
While this is true, and DTG printing has opened many doors for digital decorators, myths about the process that stem from its early days still abound. Some DTG users have developed them from ideas and theories of competitive processes.
Many are no longer, or never have been, true. The following are five DTG myths and explanations that shed light on the truth.
1. Myth: White ink always clogs.
Truth: Clogging issues today are more often attributed to proper maintenance and environment.
There was a time when, if you printed shirts, you could come back the following day and the white ink would totally be separated. But the solids are better suspended in the newer versions of white ink available today. Still, you need to agitate the ink daily before beginning production.
Most clogging issues are caused by improper machine maintenance, as opposed to the separation issues that digital decorators previously experienced. DTG printer maintenance is fairly simple but critical for avoiding ink clogging, especially in machines that use converted paper printer heads.
Environment also impacts clogging issues. All DTG printers require at least 40% humidity around the clock. They also must be operated in a normal office temperature. Besides contributing to ink drying, low humidity or extreme temperatures may cause print heads to overheat. The machine will respond by pushing ink through the print head to cool it, thus wasting ink and costing money.
2. Myth: DTG-printed shirts don't wash as well as screen-printed shirts.
Truth: Proper pretreating and curing result in excellent washability.
Just as with screen printing, if you do not properly cure a DTG-printed shirt, it won't wash well. But if cured properly, a DTG print will wash like a screen print. To properly analyze this, it's important to compare apples to apples.
Screen printing with plastisol ink is like applying PVC to the fabric. That print should last longer than the shirt itself. Since all DTG printers use water-based inks, the prints should be compared to water-based screen prints. With repeated washings, the garment will begin to deteriorate, as will the ink on its surface. The industry standard is 50 washings, and both DTG and screen printing with water-based ink will exceed it.
When printing white or light garments with just CMYK inks (no white underbase), using pretreatment solution will result in better washability than a DTG-printed garment without pretreatment.
3. Myth: You cannot do a DTG print on polyester.
Truth: Some polyester is printable and the future is bright.
Yes, DTG printing is best suited for 100% cotton and blends with high cotton content. But, successfully embellishing white polyester garments on a DTG printer has been done for quite some time. It's as simple as applying polyester pretreatment and decorating with a CMYK image. The result looks like a sublimation print.
Color garments have been more of a challenge, but not impossible. Dye migration can occur at a DTG print's common curing temperature. This happens when the polyester fabric's dye is released into the ink. White ink on a red shirt will result in a pink image. Screen printers have resolved this issue with low-cure-temperature inks.
With DTG — just as with cotton garments — some dark-polyester products print better than others. Printing a dark-polyester garment requires applying a light coat of polyester pretreatment, drying and repeating. The shirt can then be printed like normal. After printing, it should be heat set at 265˚F for 45 seconds, cooled and cured twice. This technique may vary with specific garments and ink systems, so experimentation is mandatory.
This multistep process is a bit tedious, but it tells us that polyester printing with a DTG machine is not only possible, but also is being done today. The process will become simpler and more commonplace in the near future.
4. Myth: DTG is too slow for real production.
Truth: Using multiple machines to print larger runs is becoming common.
Is it more efficient to print 500 shirts using screen printing instead of DTG printing? Yes, if you have the option of performing screen printing yourself or contracting out the job. DTG is best suited for shorter runs; in fact, you can make money by printing just one shirt.
However, the number of decorators with multiple machines steadily is increasing. Multiple machines means greater potential for printing larger orders. And remember, printing can commence almost instantly, in contrast to the preparation and setup times, and cleanup after the fact, necessary for screen printing.
I have seen a single operator running up to four DTG printers, along with a conveyor dryer. In these facilities, the environment (temperature and humidity) is better controlled compared to that of a traditional screen-printing production floor, so the conveyor dryer is a better fit.
5. Myth: DTG inks are too expensive to turn a profit.
Truth: Other factors impact costs, and the pricing standard for DTG is set high.
It's important not to be trapped into believing your customers only will pay a certain amount for decorated apparel. The limitations you put on your money-making potential probably has more to do with you than what your customer is willing to pay.
Comparing the cost of a one-color screen print to the thousands of colors available with DTG isn't reasonable. Can you do a one-color print on a DTG printer? Sure, but the cost is the same to do a full-color photographic image, so offering that option to your customers only makes sense.
All factors must be considered when calculating total decorating costs. Many people fail to consider the costs related to time involved in the preparation and post-printing processes. While
screen-printing inks are far less expensive than DTG inks, the investments in screens, chemicals, film and time — from start to finish — make the costs much more comparable.
DTG decorators have been given a wonderful gift. Large online decorators, nearly all of which use DTG technology, have basically set the price for all who use the technology. By publishing a healthy price over DTG-printed garments — about $20 — they have established an industry standard. Ink costs vary among DTG ink systems, but with an average cost of about 50 cents on a light garment and $2 on a dark garment, there is much money to be made.
Terry Combs is a 35-plus-year veteran of the garment printing industry, and has managed production shops large and small across the United States. He currently does sales and training with Equipment Zone, Franklin Lakes, New Jersey. His recent books, "Screen Printing: A Practical Guide," and "Direct-to-Garment: A Practical Guide," are available on Amazon. For more information, visit terrycombs.com.
---
The past few years have brought changes to almost every industry, and decorated garment production is no exception.
FULL STORY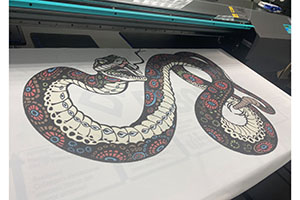 New Jersey-based Breakthrough Custom Clothing created "Warrior Princess" from scratch by digitally hand drawing the entire piece.
FULL STORY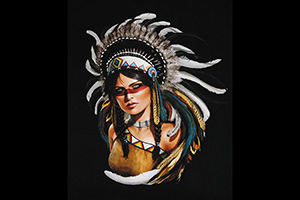 Onsite printing at events by screen printers, heat press decorators and direct-to-garment (DTG) companies was gaining momentum but with the pandemic, they came to an absolute stop.
FULL STORY