Four Major Business Benefits of DTG Printing
For those with an entrepreneurial spirit and drive, direct-to-garment (DTG) printing can open up a world of business opportunities. A DTG printer uses digital inkjet technology to print directly onto textile substrates, making it a cutting-edge T-shirt printing machine. Even though this technology is fairly new to the industry, it's already been welcomed by printers due to the incredible benefits it offers small businesses.
Below are four of the most impressive advantages of this technology.
Profits, Profits, Profits
It's no surprise that customized items can cost a pretty penny. When you look at websites like cafepress.com and zazzle.com, a custom-made T-shirt runs – on average – around $20 to $25. When you consider that the average operating cost to create a DTG print is around $1 for light-colored textiles and around $3 for a dark color, the profit potential is incredible. Plus, the cost of the equipment is much lower than other inkjet technologies – usually around $20,000 for a startup model and heat press. With consistent business at a profit of at least $10-$15 for a T-shirt, you'd be able to break even quickly.
On-Demand Capabilities
Screen printing is less than ideal for quick, short-run orders or items that will require a lot of color variety. This is because the process involves a good amount of upfront labor and skill to set up, execute and finish. On a one-at-a-time basis with a manual press, someone is needed to push the ink onto the garment through a mesh screen with a squeegee or blade, and only one color can be done at a time. Creating one or two T-shirts on short notice with screen printing is more of a pain than a profit.
As a digital process, DTG printing requires little to no setup. This makes printing short runs quickly and on demand much easier because there's a lot less time-consuming manual labor involved. All you need is a digital file from the customer and you'll be able to print small batches of fully customized, colorful garments. This on-demand capability also enables you to charge rush fees or additional fees for smaller orders.
High-Quality, Small-Volume Printing
Compared to traditional screen printing, digital inkjet printing can produce a higher quality product – especially on a short run order. Printers can fire much smaller droplets of ink, meaning the level of detail is higher and DTG printers can easily create gradients and other types of color transitions that screen printers often struggle with.
As a general rule of thumb, if you're printing any more than 25 one-color items, 50 two color items and so one, it may be more efficient to use a screen printing process. This is because screen-printing expenses are based largely on the setup process, meaning longer print runs will reduce the cost per piece.
Environmentally Friendly Process
Screen printing can require inks that contain phthalates, PVC or other chemicals. Because of this, many leading DTG printer manufacturers – like Brother and Epson – have gone the extra step to become OEKO-TEX 100 certified, which means the water-based inks, cleaning solutions and the overall processes are environmentally safe. This gives operators the confidence of knowing that the chemicals they are working with are safe for their customers, especially children.
While DTG printing isn't at the level where it can replace screen printing yet, it can still complement existing businesses. Let your screen printer handle your long runs while a DTG printer takes care of short, on-demand jobs. Together, they can help you build and sustain a profitable garment printing business.
Tim Dinneen is business development manager for ITNH Inc. ITNH is a leading provider of equipment, inks and media for wide format inkjet digital printing, including industrial UV curable applications. Since 1993, they have offered businesses the latest technology from the highest performing brands on the market, as well as comprehensive, turn-key solutions from planning and installation to implementation and support. For more information, visit itnh.com.
---
The past few years have brought changes to almost every industry, and decorated garment production is no exception.
FULL STORY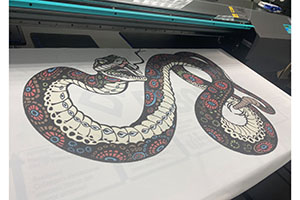 New Jersey-based Breakthrough Custom Clothing created "Warrior Princess" from scratch by digitally hand drawing the entire piece.
FULL STORY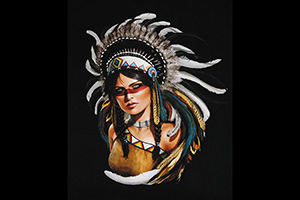 Onsite printing at events by screen printers, heat press decorators and direct-to-garment (DTG) companies was gaining momentum but with the pandemic, they came to an absolute stop.
FULL STORY