Get on Board with DTG Printing
Buying decisions for adding or expanding DTG printing in your business.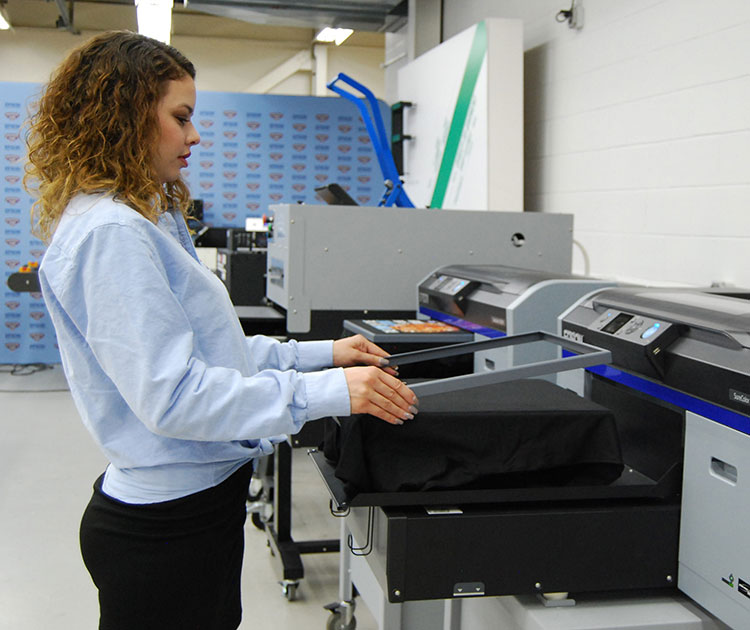 A single operator can normally run four DTG printers alone.
---
Digital decorating is in most of our futures — a fact that's becoming increasingly evident each day. The garment-decorating marketplace has seen a significant shift toward three things: individualization and customization for quantities as small as one; and the prevailing customer mindset of "I want it right now."
When a customer wants 100, 500 or 5,000 shirts, you still can screen print the order, but a growing number of customers want shorter runs. Even some longer-run customers ask for multiple shorter runs that will allow for leaner inventory levels, lessening the risk of being left with unsold merchandise.
Therefore, digital printing probably should be an option in your shop.
Adding DTG
You likely already turn customers away if you have no digital-decoration method. "Why can't you do three black shirts with a full-color image?" a customer may ask. "A dozen companies online will do it for me."
Here's a not-too-well-kept secret: Nearly all those online companies are using direct-to-garment (DTG) technology to fulfill such short-run orders. But they are doing hundreds and hundreds of them at a premium price. This is a fast-growing business to which you could have access with a DTG printer on your production floor.
The print-room environment is a critical part of the formula for success. DTG printers do not fare well on a traditional screen-printing or embroidery production floor. They need an office-type environment with consistent temperature and a minimum humidity level of 40%, which is important to help avoid a clogged print head and excessive automatic head cleanings.
You may not necessarily experience clogging, but too-low humidity will cause the print head to overheat, resulting in repeated automatic cleanings to cool it. The proper environment not only will help avoid clogging issues, but also save you from increased ink expenses due to unnecessary head cleanings.
Some printers can be removed from this environment to be used at special events, such as
car shows, art fairs, etc. The key is to return the machine to its proper environment as quickly as possible, but a one- or two-day event won't be an issue. (After all, those DTG vendors operating at trade shows certainly are printing in less-than-perfect environments.)
Be sure to check with your manufacturer to see if moving the printer impacts its warranty. This varies among brands and should be clarified before making a machine purchase.
Expanding DTG
If you're marketing well, you quickly may exceed a single machine's capacity. There are two philosophies of production success with multiple machines: Have one or more larger, faster, six-figure-cost machines, or have multiple machines in the $15,000-$25,000 price range. You won't see a substantial difference in print quality among any of these options.
An operator with one larger machine theorizes he can produce finished goods faster than with a few smaller machines. The operator with a row of smaller machines thinks if he has an issue with one machine, he can continue production with the other machines while the first is being serviced.
Both philosophies can be argued successfully. In my experience, when an operator starts with a large, higher-dollar machine, he will expand with the same brand. The operator with a row of smaller machines will expand by adding more of the same machines into a second and third production row.
Having different machines on your floor can impact the result. Different brands and styles all can yield an excellent and sellable product, but the printed graphic result may vary, depending on the machine used. Plus, expanding by adding more of the same machine allows an operator to only inventory one ink line, pretreatment solution, and additional platens and supplies.
Upgrading Production
To speed and streamline production, a conveyor dryer will allow you to skip the heat-press cure and simply lay the finished garment on the belt, just as a screen printer would. The key here is to have a well-insulated dryer that won't heat the room and is capable of curing water-based ink. A conveyor dryer system commonly will be used when a shop's production floor includes at least four DTG printers.
Another time-saving process is to apply pretreatment to large quantities of shirts prior to production. Pretreated shirts can be stored for many months, but it is recommended that you heat press a stacked-and-stored shirt for about five seconds to lay down the fibers.
Since you won't necessarily know the nature or size of the image that will be printed on pretreated inventory, you generally should pretreat the shirt's full front.
The future of our industry includes a short-run digital option for nearly all of us. The growing sentiment in the industry is to get on board or get left behind.
Terry Combs is a 35-plus-year veteran of the garment-printing industry and currently is in sales and training with Equipment Zone. For more information or to comment on this article, visit terrycombs.com.
Going Shopping
When shopping for a DTG printer, there are two types of machines available. One is a purpose-built machine, constructed from the ground up with the print head and ink system manufactured to work together.
The second type is a machine built with a printhead system taken from a paper printer and converted for use with a DTG ink system. The converted paper printer commonly will need to be run daily and the ink flushed if not used for three or more days.
This is because the print head was not manufactured to be compatible with the water-based ink system required for DTG printing, so extra care and attention are necessary to keep ink flowing.
---
The past few years have brought changes to almost every industry, and decorated garment production is no exception.
FULL STORY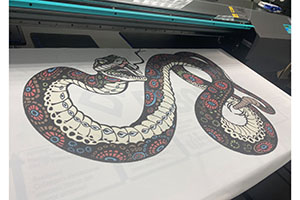 New Jersey-based Breakthrough Custom Clothing created "Warrior Princess" from scratch by digitally hand drawing the entire piece.
FULL STORY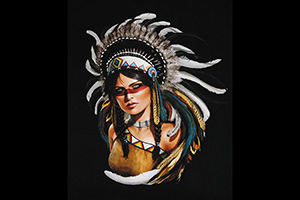 Onsite printing at events by screen printers, heat press decorators and direct-to-garment (DTG) companies was gaining momentum but with the pandemic, they came to an absolute stop.
FULL STORY