How to Expand Your Digital Printing Business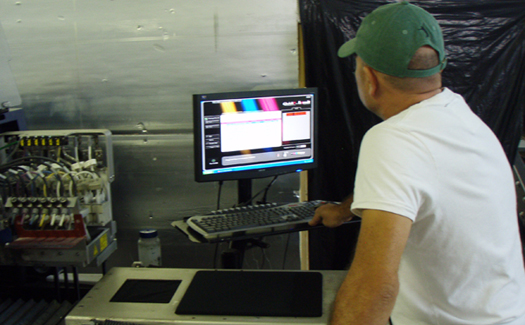 Adding a second shift is one option to consider when your capacity is not meeting customer demand (Photos courtesy of Blue Heron Industries, Little Falls, N.J.)
---
While growth is something every thriving businessperson pursues, it usually doesn't come without some growing pains. Finding the perfect balance between having enough capacity to handle demand and the capital to pay for it is a never-ending pursuit.
By thinking ahead and doing some advance planning, you may lessen the impact of growing pains on your business and ensure that you never have to turn away orders because you can't fill them.
One of the first warning signs that it's time to expand your digital decorating capabilities will be when your customer service begins to suffer. It may start with being a day or two late with an order, and as time goes on and nothing is done about it, you find yourself making more excuses to an increasing number of customers.
When this sign becomes evident, one of the first steps you can take is to change your turnaround time. If you have published a turnaround time and need to extend it, post an announcement on your website, social media and perhaps even an e-blast to your customer base. And of course, as new orders come in, you'll want to verbally update customers about your extended delivery times.
Another area where you may have to sharpen your skills is scheduling. Let's say you have a customer who comes in on a Wednesday, but needs the order completed by Monday. Although you are totally booked through the following Tuesday, it may be possible to make some phone calls and move less-critical jobs around to accommodate a more urgent need.
That being said, you also have to be careful about what you commit to. 
We all want every order that we can get our hands on, but if we can't handle 
it, we do more harm than good by 
not delivering.
CONSIDER OVERTIME
The next step you can take to deal with an increasing workload is to consider the staff working overtime. In many cases, you will have employees who are interested in making a little extra money.
Of course, with overtime, you are legally paying time-and-a-half for your workers so there is an increased cost factor there. However, if your production needs are short term, overtime generally is the best way to go.
The advantage of using overtime is that you've got the consistency of your current employees who will maintain your quality control standards and who understand shop procedures. You may find that overtime is the safest way as well, especially if your sudden surge in volume turns out to be an aberration.
In many instances, I have found that using overtime gives you the opportunity to assess how much extra capacity you really need. If your employees who were working 40 hours are suddenly putting in 60 hours, and you are still severely behind despite 50% more capacity, it's time to make a decision that may require you adding more machinery, not more people.
When overtime is not cutting it, because no one wants to burn out employees for an indefinite period, sending overflow work to a contract printer is a viable option. Some of the biggest printers in the country contract to other printers to handle overload. This practice has been going on since decorating started.
If you decide to start using contractors, you ideally want to run a few test orders in advance. In digital printing, there are many different machines, techniques and quality-control levels. To ensure you continue to meet your shop's quality, you'll want to know who you are dealing with before sending a contractor a big, critical order from one of your best clients.
I recommend doing research in advance to find the best options. Having contacts for emergency purposes is critical. I've been doing this for a really long time and in an emergency, I have contacts who can help me out, and I reciprocate for them when the need arises.
In this business, you need friends. Every other printer is not your enemy or competitor. If you want to be successful, you must have connections with other production people.
ADDING A SECOND SHIFT
Setting up a second shift is a major undertaking — and one that should not be taken lightly. One of the challenges is that you have to train a new set of employees and make sure they can produce on their own, because you can't be there 24 hours a day. Also, you have to know who's in your shop when you're not there.
Unlike screen printing, where you generally have a production manager supervising a staff of printers, a digital printing production manager often also is the operator. Finding and training someone to be independent is not something that happens immediately.
An owner who is considering adding a second shift should think about what it took to get his shop to the level of quality and consistency it has achieved that has caused him to need more production. Be careful not to compromise quality just to get orders out the door.
Second shifts also are a major commitment. You can't hire additional staff to come in and work, and then decide you are caught up and suddenly have no need for the extra employees. If you ever need them again, they are not going to come back. So a second shift is for shops that have a continuous need for extra production.
An alternative is to add a part-time second shift. At my shop, we have people who work from 6 a.m. to 3 p.m. and then a second shift that starts at 3 p.m. and works until 8 p.m. This provides employees with an opportunity to work part time without creating some of the challenges inherent in a full-scale second shift.
If you are producing 2,000 shirts a week and you can increase your capacity by 30%-50% with a part-time second shift, you just increased your capacity to 2,600-3,000 pieces a week. That would be enough to keep a lot of shops out of trouble.
DETERMINE A PATTERN
One of the keys to staying on top of your production needs and anticipating added capacity is by evaluating your orders weekly to identify a pattern. If a pattern persists, and you see that there was significant revenue lost over a six-month period because you couldn't meet demand, it may be time to consider physically expanding your operation.
If it is time to buy a new machine, you'll need to determine how much more capacity you need. You certainly will want your new machine to have greater capacity than your old one.
If your current machine is producing 200 shirts a week and you need to produce 275 shirts a week, that is going to be a different scenario than if you are currently producing 1,000 shirts a week and need to output 2,500. So first, determine how much capacity you need to meet current order demand.
A machine with greater yield will have a higher price tag. Do some serious analysis to determine if your need is an established trend or if it is seasonal. You do not want to make a capital investment based on a seasonal need. In that case, you are better off contracting or adding secondary production.
A good indicator of an established needs trend is if increased orders are coming from mostly new customers. Then, you have solid information that your business is growing. However, be especially wary if a big jump in orders is coming from a single customer. I do not recommend basing the purchase of a new machine on one source of increased sales. If you lose that customer, then you have more capacity than you can fill.
You may be considering adding a second machine because you recently hired a new sales manager, or you've decided to shift production responsibilities to a new manager so you can go out and sell.
I do not recommend purchasing a new machine to handle sales that you are only hoping will happen. If you decide to increase your sales efforts, using the options discussed earlier — overtime, contract and second shift — is a better route to go compared to committing capital for something you cannot be assured will happen.
Again, I recommend investigating which options will be best for your company before more orders start coming in. For example, check with employees to determine if they would be willing to work overtime if more work was available. You may find that some of them will decline the opportunity.
Growing your digital printing operation is a great goal — and one for which every business should strive. By thinking about the issues addressed here, you can start planning in advance so that your shop is poised for future growth. With proper planning and ongoing evaluation of your sales patterns, you can continue to meet customer expectations and save yourself a lot of frustration that often comes with growing pains.
Kevin Kelly has been involved in decorated apparel for more than 34 years. He opened his current business, Blue Heron Industries Inc., in Little Falls, N.J,. in 2006. For more information or to comment on this article, e-mail Kevin at kkelly@goblueheron.com or visit goblueheron.com. Hear Kevin speak on digital decorating at the Fort Worth Imprinted Sportswear Show (ISS). Individual seminars are just $25 if you pr-resgister: issshows.com.
---
The past few years have brought changes to almost every industry, and decorated garment production is no exception.
FULL STORY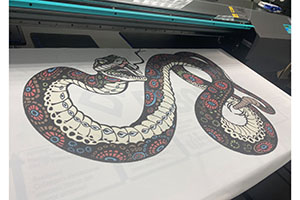 New Jersey-based Breakthrough Custom Clothing created "Warrior Princess" from scratch by digitally hand drawing the entire piece.
FULL STORY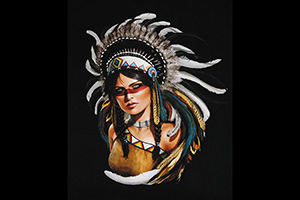 Onsite printing at events by screen printers, heat press decorators and direct-to-garment (DTG) companies was gaining momentum but with the pandemic, they came to an absolute stop.
FULL STORY