How to Increase Profitability by Ensuring Right Price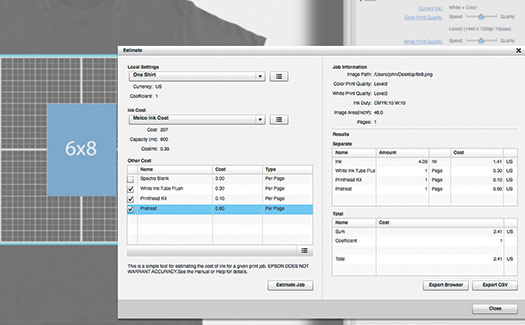 ---
Direct-to-garment (DTG) printing is on the cutting edge of garment decoration and easily can become the foundation for successful business with just a single printer. The process is fun, exciting, cool and creative, but a successful business is all about the money. This means you must know how to appropriately charge for your services.
There are several DTG printers on the market. As a production specialist and small-business owner, my No. 1 priority is having reliable equipment that will make money each time I turn it on. DTG has a troubled past, but new technology and advancements have exponentially increased its reliability.
For our purposes, I will be using the Epson SureColor F2000 DTG printer, Garment Creator (an Epson RIP) and the cost-estimator tool. Other printers and RIPs offer cost-estimator tools, but it is more difficult to accurately calculate production cost if you spend unexpected downtime troubleshooting, expending resources and tackling equipment repairs.
With the F2000, all maintenance is scheduled, prompted and has a fixed cost. Therefore, it can be calculated because it's not reactionary.
DTG Pricing vs. Screen Printing
Screen printing has many expenses the customer must absorb, including art 
separation, film positives, screens, setup and printing costs. These all are related to the number of colors in a job. In addition, the more colors the printed artwork has, the higher the expense, as more time and resources are needed.
DTG printing is different in that there is very little — if any — setup and breakdown time, and printing — whether with one color or the entire CMYK spectrum — is as simple as pushing a button. You don't charge by the number of colors, which is a selling point people often overlook.
Rather, DTG prints should be priced by their size, which is directly related to ink consumption. When using a digital printer, ink cartridges need to be replaced, which constitutes the bulk of the cost. The larger the print, the more ink that is consumed, and more ink means more cost; it's that simple.

Measuring Ink Consumption
It's best to have a cost estimator built into your print imaging software or driver to measure ink consumption. Older methods included weighing shirts and manually tracking consumption, which made it extremely difficult to accurately price jobs. In fact, we often guessed.
Figure 1 is a screen shot of the cost-estimator tool in Garment Creator. In the green box, you can see that a 600 ml ink cartridge is $207, which equals $0.35 per ml. This tool measures volume.
Develop a reference guide for measuring ink consumption by creating a series of solid shapes of varying sizes (Figure 2). Then, take each grid into Garment Creator, select the print preferences and run the cost estimator.
Print preferences include whether you will be using color ink only, white ink only or a combination of the two, as well as the amount you want to print. Figure 3 shows a cost breakdown of a 6″ x 8″ print on a black shirt with color and white ink.
Not all of your customers' art will fit into these reference shapes, but you can use strategic size templates as a guide for your pricing. The better you understand operations cost, the more informed decisions you can make.
Other Costs
It also is important to calculate maintenance and other consumables when determining DTG pricing.
The collective maintenance cost on a printer like the Epson F2000 essentially is broken down into two portions: the replacement parts for the print-head cleaning kit and the cost of ink waste when performing a white-ink tube flush. The print-head cleaning kit cost is fixed — $100 for every 1,000 prints, or $0.10 per shirt. The white-ink tube flush is variable and completely dependent on time. If you were to print about 100 shirts per week for six weeks, your cost would be about $0.20 per shirt.
Other consumables primarily include pretreatment solution, but you also should add electricity, rent, labor, T-shirt costs and any other overhead. I like to factor in T-shirt costs, which are variable, after I have accounted for my machine and main consumables costs. I often mark T-shirts up about 30% more than wholesale prices.
Remember that a DTG machine will print exactly what is on the screen. Using these solid shapes on a dark shirt, the output will be a solid 6″ x 8″ white rectangle and solid 6″ x 8″ blue over the top. This type of design will estimate the full cost of a 6″ x 8″ print area. Your customer's art likely will not cover every square inch of a 6″ x 8″ print area, but it's better to overestimate than underestimate.

Pricing Guideline Theory
DTG is significantly less labor-intensive than screen printing and can quickly produce one-off garments, and the margins can be high. Charge a fair price, but your time and effort should be considered when setting a price chart.
It's best to charge a fair value for your time and expenses, and provide a discount — if needed — after the full price is quoted. Don't give away your services when quoting a job; sell them. Remember, DTG has a distinct advantage over other decoration techniques: It can print one full-color, full-size image on a light or dark shirt in minutes.
Some people think this should be inexpensive, but consider the alternative. If a customer wants a picture of little Jimmy printed on a T-shirt for his birthday, screen printing is an option, but expenses will include art separations, films, screens, setup and printing costs. For one shirt, my old screen-printing shop would charge a minimum of $350. The customer could opt for transfers, but they can be thick, plastic, vinyl stickers — not ideal or necessarily cheap.
Using little Jimmy's shirt as an example, if the customer needs me to provide artwork, I may include a $20-per-half-hour art charge. I also may include a one-time setup fee of $10 to cover testing and adjustments. I would then reference my chart to figure out costs for the print size and ink consumption.
Let's say the print is 6″ x 8″ with a $3 shirt. We know 100% markup is $10.82, but for one shirt I might charge a 200% or 300% markup ($16.23 or $21.64), then factor in the additional costs. A one-off shirt for Jimmy might look like this:
Art per half hour: $20
Setup: $10
One black youth large 6″ x 8″ print: $16.23
Total: $46.23
This may appear expensive, but I think it's fair and you should sell your customer on why this is a good price. However, if you want to apply a markdown, your customer will appreciate the favor. Plus, you know the limit you can apply. Try a 10% or 20% discount as a solution to keep all involved parties satisfied.
Do your best to understand your costs, and don't sell yourself or your services short. DTG printing is fun. Enjoy it, but ensure you're making money.
John LeDrew is the DTG director for Melco Intl. He has worked professionally in garment decoration since 2006, managing accounts and overseeing production for some of the world's largest brands and retailers. For more information or to comment on this article, contact John via LinkedIn.
---
The past few years have brought changes to almost every industry, and decorated garment production is no exception.
FULL STORY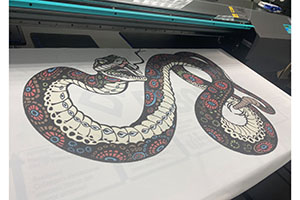 New Jersey-based Breakthrough Custom Clothing created "Warrior Princess" from scratch by digitally hand drawing the entire piece.
FULL STORY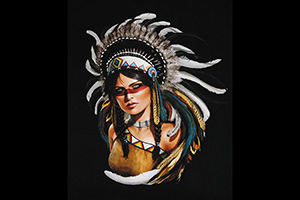 Onsite printing at events by screen printers, heat press decorators and direct-to-garment (DTG) companies was gaining momentum but with the pandemic, they came to an absolute stop.
FULL STORY