Is the New Epson SureColor F2100 Printer Right for You?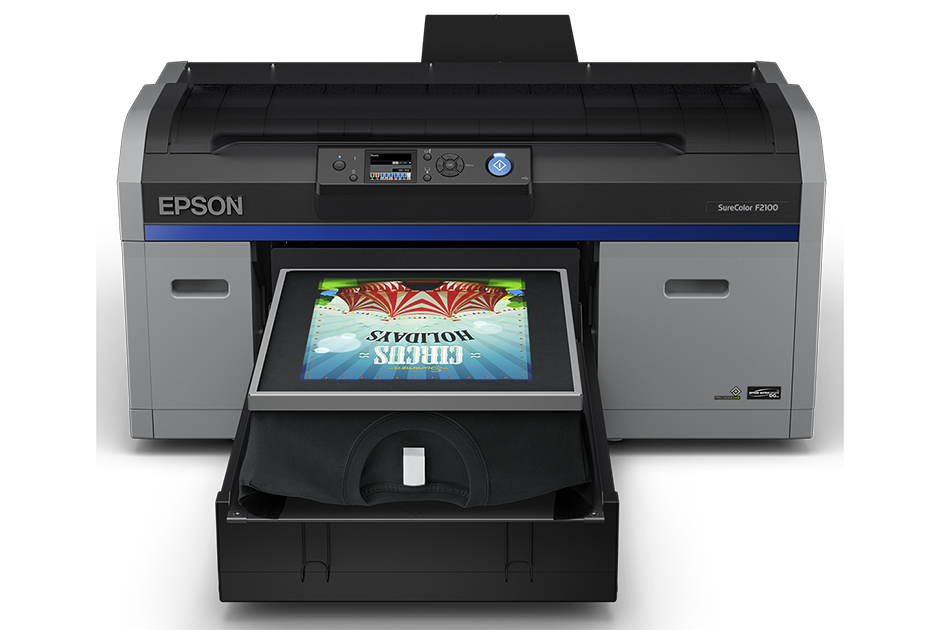 ---
The Epson brand has become synonymous with high-quality, cutting-edge direct-to-garment printing (DTG). Their SureColor F2000 was long held as the no. one selling DTG printer on the market and remains one of the most well-designed garment printers even five years after its release.
The SureColor F2000 was designed to empower businesses of all sizes with the necessary capabilities to print directly on fabrics. In an easy-to-use format, the F2000 made it simple to print on various fabrics including 100% cotton and cotton blends.
Just when we thought it couldn't get any better, Epson introduced the SureColor F2100. Since the F2000 was the no. one selling DTG printer for quite some time, you can imagine the enhanced capabilities behind the F2100. Here are some of the most notable new features and upgrades with this model:
6 Print Modes
Depending on your prints and preferences, Epson allows you to select a certain mode to optimize print speeds. Where the F2000 featured three basic print modes including fast, quality and high quality, the new F2100 includes these modes as well as three others, including a "Double Strike" additional mode for added white ink control.
Quick Loading
The new quick-load platen can reduce traditional hoop platen load times using a grip pad, which can result in more productivity. You can also continue to use a variety of platen sizes, from 4″x 4″- 16″x 20″.
Improved Versatility to Synthetics
An easy-to-use pre-treatment solution for use on 100% polyester garments will be available at the start of the new year. This will open the door for Epson DTG printers to decorate even more garments for the sports apparel, activewear and fashion markets with the specialized OEKO-TEX Eco passport certified solution.
Additional White Ink Filter
Since maintaining white ink is essential for both continuous and low production volumes, the F2100 includes an additional white ink filter to protect nozzles from clogging. This model also includes new ink circulation technology that helps further reduce white ink sedimentation.
Inline Automatic Daily Cleaning System
Eliminating the need for a manual daily tube wash, the F2100's automatic cleaning system is delivered through the printhead to save you time on maintenance. The cleaning cartridge is also inexpensive, giving you months of use.
Variable Drop Technology
Epson's variable drop technology allows the printer to control dot sizes with small, medium and large options, which help create smoother transitions in colors and tone. The precision of the dot control creates images with outstanding clarity and vibrant colors.
Improved Productivity
Epson's enhancements let you get more done in less time. The F2100 boasts throughputs up to twice as fast as the F2000, all with more control of image quality and ink density. Multi-image and text layering can also shorten design times and increase overall daily output. This model also requires less than 10 minutes a week for maintenance, giving you more up-time.
What This Means for Your Business
Epson has gone to great lengths to address the needs of today's garment printers. The F2100 includes an Epson Precision Core TFP printhead and Epson UltraChrome DG garment ink technology both designed exclusively for DTG printing. Epson has also improved their Garment Creator Software by offering more tools like color management, ink control and cost estimation.
The enhanced digital capabilities of the F2100 mean higher quality prints, while the functionality improvements mean cost savings and faster production speeds. Plus, the added inline cleaning system reduces the required maintenance, saving you even more time in the long run.
Ultimately DTG printing is your best bet for quick, short-run or multi-color orders with low to medium print volumes. Epson has proven to be a great entry-level printer, but with the advances in the new F2100 they've taken that a step further. Production capabilities can now fully complement existing screen-printing setups, eliminating the struggle with on-demand printing and back end fill ins. DTG printing can also serve as the sole means of production for smaller businesses. Either way, you can't go wrong with an Epson direct-to-garment printer.
Tim Dinneen is the business development manager for ITNH Inc., a leading provider of equipment, inks and media for wide format inkjet digital printing, including industrial UV curable applications. Since 1993, ITNH has offered businesses the latest technology from the highest performing brands on the market, as well as comprehensive, turnkey solutions from planning and installation to implementation and support. For more information, visit itnh.com.
---
The past few years have brought changes to almost every industry, and decorated garment production is no exception.
FULL STORY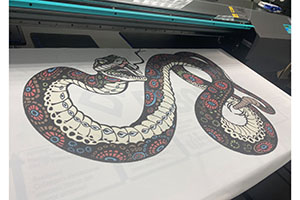 New Jersey-based Breakthrough Custom Clothing created "Warrior Princess" from scratch by digitally hand drawing the entire piece.
FULL STORY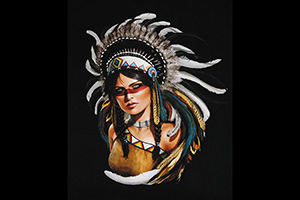 Onsite printing at events by screen printers, heat press decorators and direct-to-garment (DTG) companies was gaining momentum but with the pandemic, they came to an absolute stop.
FULL STORY