Mastering DTG Printing
Follow these six tips for proficiency in this decorating process.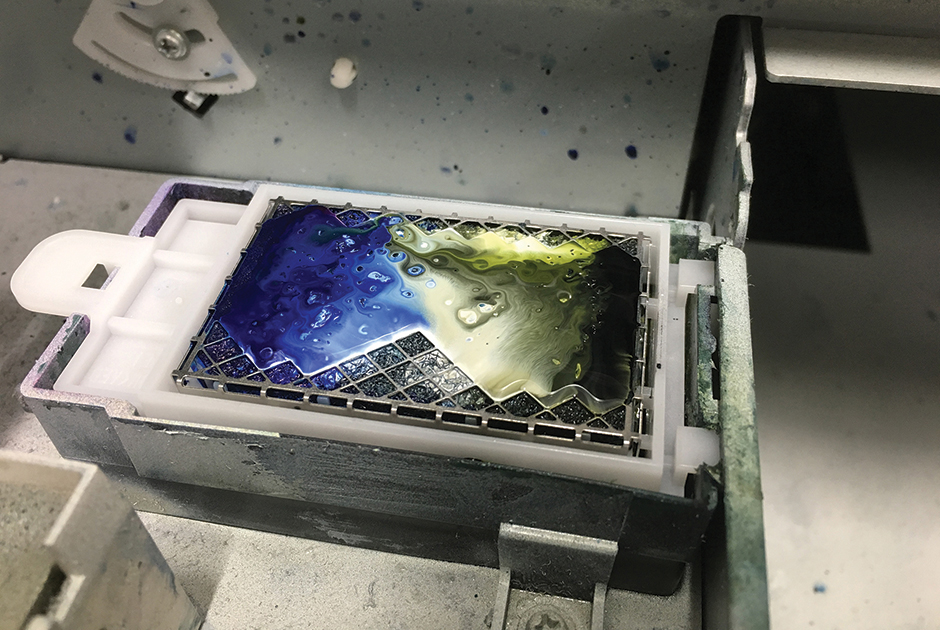 Perform regular maintenance and clean your machine's components to help sustain peak performance.
---
Direct-to-garment (DTG) printing is catching on as an effective technique for producing fashion-inspired and photo-realistic decorated apparel. If you've stepped into the vibrant DTG world while still offering screen printing — a move that many decorators have made in the past few years — you're likely looking for some DTG best practices to make the transition even smoother.
While the learning curve is pretty short, DTG printers still require special cleaning, prepping and production — processes that are worth an investment, given the overwhelming customer demand for life-like finished products.
Here are six tips to help you master the techniques of the trade.
1. Set proper boundaries. Many new decorators fall into the trap of overpromising and underdelivering. As a DTG decorator, it's important to know what you do well so that you don't allow customers to push you into production realms in which you're not proficient. Give clients a limited selection of services and let the finished products speak for themselves.
Master Tip: Since DTG inks are water-based, start with 100% combed cotton, as it's the friendliest material for the process.
2. Keep detailed job records. Experts know the importance of tracking what works and what doesn't. Keep a job sheet that details the processes, garments, fabrics, inks and placements — as well as the outcomes — so you can begin to shape your offerings and streamline production.
Master Tip: Don't experiment with new processes on client orders; dedicate time to innovation and discovery outside your normal production hours.
3. Organize your work area. Tight, cluttered work environments inevitably lead to frustration and mistakes. Set up your shop in a logical manner that helps operators work quickly without needing to move too much between machines or rooms.
Master Tip: Encourage employees to participate by asking them to weigh in on how to make workflow more efficient. After all, they're the people performing these tasks every day.
4. Practice placement. While you'll begin by using a measuring device to determine placement on the platen, it's helpful to develop a good eye for placement as you gain more experience. This skill, matched with an additional set of platens, will dramatically increase productivity, as it allows you to reload the next set of garments while the machine is printing the current garment.
Master Tip: Don't replace the measuring device until you've mastered placement and positioning.
5. Ensure a consistent pretreatment method. A pretreatment process helps the ink adhere to the garment and can make or break the finished piece's quality. Some decorators mistakenly use a manual-spray application. A pretreatment machine is critical to ensure consistent pretreatment application. It's also wise to prepress the garment in a heat press after pretreatment to smooth wrinkles and dry the fabric for better penetration.
Master Tip: If fibers are sticking up after pretreatment, consider pressing the garment again.
6. Prioritize machine maintenance. If ink dries on the print head's face or edges, your production is in trouble (think unintentional ink drops on client orders). To prevent this buildup, cap and wipe assemblies before retiring the machine for the day. Follow the manufacturer's maintenance recommendations to ensure your DTG machine functions optimally.
Master Tip: Perform a printhead test regularly to ensure there are no blocked nozzles.
Always strive to implement best practices along the way, with some being derived from collective industry issues and some being unique to your specific shop and processes.
Ed Levy has more than 25 years of apparel-decorating experience. Levy, who's director of software technologies for Hirsch Solutions, is an in-demand speaker at trade shows and regular contributor to industry magazines. For more information or to comment on this article, email Ed at Ed@hsi.us.
Using DTG-Friendly Garments
Unlike other decoration methods, all shirts are not equal when it comes to DTG printing. Garments that are made of 100% ring-spun cotton contain the smooth surface and tight weave that render the brightest and most-detailed printed images.
The fact that the fabric is ring-spun actually isn't the reason for DTG printing preference. Ring-spun cotton is manufactured with thinner threads, which result in a smoother, printable surface. Thus, the threads, not the fact it's a ring-spun fabric, make these garments DTG friendly.
Some DTG operators or their customers prefer garments that aren't ideal for this application. While such garments still can be decorated successfully, extra preparation is necessary, such as performing multiple pretreatments. However, this adds time and cost to the process.
---
The past few years have brought changes to almost every industry, and decorated garment production is no exception.
FULL STORY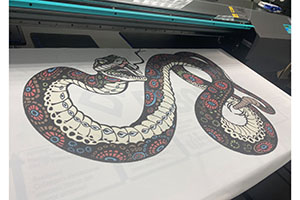 New Jersey-based Breakthrough Custom Clothing created "Warrior Princess" from scratch by digitally hand drawing the entire piece.
FULL STORY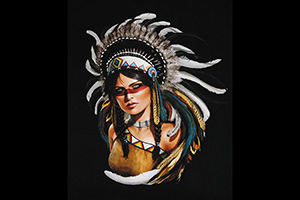 Onsite printing at events by screen printers, heat press decorators and direct-to-garment (DTG) companies was gaining momentum but with the pandemic, they came to an absolute stop.
FULL STORY