Multimedia Decorating = Multiple Profits
One of the well-known major advantages of digital garment decoration techniques is the ability to realize profit from small runs, and even orders consisting of just one piece.
Because there is little preparation time, your marginal production costs can be low and easy to incorporate into your pricing model. You can charge more money for just one or a few pieces. There is little to no waste, and customers perceive a high value in on-demand order fulfillment. In addition, they'll pay a lot more for custom pieces on the spot.
So why stop with one impression and technique? You can take advantage of more than one decorating application by combining complementary methods. Multimedia prints enable you to raise your prices, stand out from competition and expand your profit margin. And done properly, it doesn't require doubling your production time and costs.
HOW DOES IT WORK?
Creating multimedia pieces calls for some forethought, creativity, graphic design skills and a love for experimentation. Before you take orders for that three-technique slub-knit T-shirt or zippered hoodie, try tapping into your inner Da Vinci and exploring the images and textures that intrigue you.
Do you sell wholesale to retail stores and gift shops? If so, it's time to grow your margins. Bring your customers a handful of various artistic T-shirts, tunics, sweats, tank tops and other pieces that use digital ink combined with rhinestones or metal foil. No art? Local artists will enjoy working with you to make the most of their work and your wholesale prices will look more like those found at retail.
Consider that organizers of a local annual auto show may need shirts, towels and a special jacket or other garment to accompany the trophies that are awarded in each class. Develop a graphic theme that incorporates the show and employ multiple techniques with the promotional and prize pieces. Use dye sublimation on microfiber towels or direct-to-garment (DTG) printing with cotton towels. The winner's jacket can get a pocket drop treatment with a digital print, embroidery and a silver glitter vinyl accent.
By playing with new concepts and actually using your decorating equipment to its utmost, you can discover new product ideas and then practice them to achieve perfection.
Stephanie Wells of VS Rhinestones recently demonstrated a multimedia T-shirt process, for doing a digital garment print combined with a rhinestone pattern. The steps are detailed in the above video. This particular piece took a 40-second DTG print with a 40-second cure and added about one more minute of cutting, curing and peeling.
For multiple pieces, Wells recommends doing the steps in batch, starting with the least-expensive, or the "flattest," step. For example, if you are combining digital ink with embroidery, do the digital ink step first, then the embroidery step. This will result in the sharpest image quality and allow you to minimize waste.
Also, advise your customers to wash garments inside-out, via hand or machine, but then dry them by laying flat.
WHAT TECHNIQUES WORK BEST?
The combinations and possibilities are enormous. Common techniques that mix and match include digital direct-to-garment printing, dye sublimation, screen printing, rhinestones and sequins, metal foil, embroidery and heat transfers. Not all of these techniques play well with each other, so you need to study and practice, in addition to testing what the market actually demands. Screen printing is viable, but less likely to be paired because it's most cost effective for higher runs.
Chuck Northcutt of DTG Ready and Creative Promotions uses digital printing, vinyl and embroidery for certain pieces. Adding glitter vinyl and embroidery over a digital print is easy and fast. "I will do the digital print and cure first, then create lettering, stitch the glitter vinyl onto the cured garment, and finally heat cure and remove the excess vinyl," he says.
STEP 1: 
Print your digital image.
STEP 2: 
Position the vinyl, hoop the garment (not the vinyl) and add an outline stitch.
STEP 3: 
Remove the excess vinyl and cure it to the garment.
STEP 4: 
The finished product has a digital impression (DTG), embroidery and some shine.
Once a garment has been decorated with vinyl or plastisol ink, it is difficult to add any other elements that require heat. Another limitation is with raised applications like embroidery threads or sequins. These types of surfaces may make it difficult or impossible to add screen printing, direct-to-garment printing and dye-sublimation methods, which work best with a flat surface.
WHICH PRODUCTS MAKE SENSE?
Who is a likely customer of multimedia and where is the biggest bang for the buck? The default answer: Whatever the market demands. It's not always possible to predict what your retail or wholesale customers will buy, and it is best to test concepts with a few samples.
Be sure to price accordingly, factoring in your additional materials and production time, as well as the same margin percentage you expect for standard pieces. Wells and her team wholesale their finished goods at high prices — $20 or more each.
Because of the extra attention to detail, the higher cost basis and time, you most likely will produce multimedia garments in individual or small runs for known customers. Strong customers for multimedia include retailers and other garment decorators.
In addition to having a unique and high-margin offering for your retail customers, multimedia decorated apparel is attractive for boutique clothing shops, gift and souvenir shops, craft fairs and corporate promotional products.
You may find that your local business partners come to you simply to add a method to their core competency. "We sell a lot to embroiderers, retailers and screen printers," Wells says. "They can bring the print to us or we can do the whole thing from start to finish." With practice, you will be able to quickly discern whether a mixed-media piece makes sense for your customer.
MULTIMEDIA REQUIREMENTS
If you own a heat press, you already have the favorite low-cost production tool for many different applications. It is best (and safest) to experiment with adding other techniques by taking work-in-progress — items to which you already have applied one technique — to your favorite embroiderer or other decorator in order to apply their core methods.
As you gain practice, confidence and customers, evaluate complementary decoration equipment. The business case will vary by technique. When you're routinely producing perhaps 500 custom pieces per month, you'll have enough data points to measure your profit per piece and hour. You may discover that it's time to stop outsourcing, buy the requisite equipment, get trained and capture that extra margin.
THINGS TO AVOID
A good printed multimedia piece requires a solid backing or dense substrate. As with embroidery, in order to support multiple types of embellishments, you should have a strong and dense foundation. For example, a 6-ounce T-shirt or a heavy jersey knit can support both a digital print and stitches.
A word to the wise: As Wells points out, fine mesh items won't work with some types of transfers and applications. There needs to be a more-or-less solid surface behind applied media. Otherwise, the adhesive can cause a mesh or gauzy substrate to stick to itself.
For rhinestones, sequins and other media that has an adhesive backing, you can't use direct-to-garment white ink underneath. This restriction doesn't apply to dye sublimation. The media adhesive works best when it sticks directly to garment fibers or onto the printed substrate without white ink.
Remember, to be profitable with multimedia decoration, you must be prepared to test, experiment, collaborate, and get out in the field and sample. With practice, you will become very skilled at doing things no one else has ever imagined.
Joe Longtin, a writer with 15 years of experience in technology marketing, is the marketing director for AnaJet. For more information or to comment on this article, e-mail Joe at jl@anajet.com.
---
The past few years have brought changes to almost every industry, and decorated garment production is no exception.
FULL STORY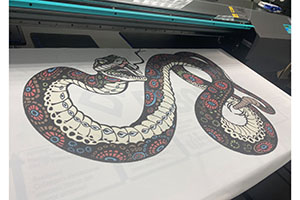 New Jersey-based Breakthrough Custom Clothing created "Warrior Princess" from scratch by digitally hand drawing the entire piece.
FULL STORY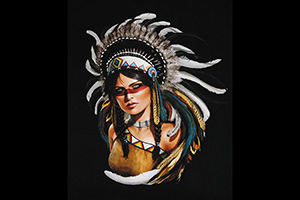 Onsite printing at events by screen printers, heat press decorators and direct-to-garment (DTG) companies was gaining momentum but with the pandemic, they came to an absolute stop.
FULL STORY