Needs for DTG
Look for these eight things in your next printer.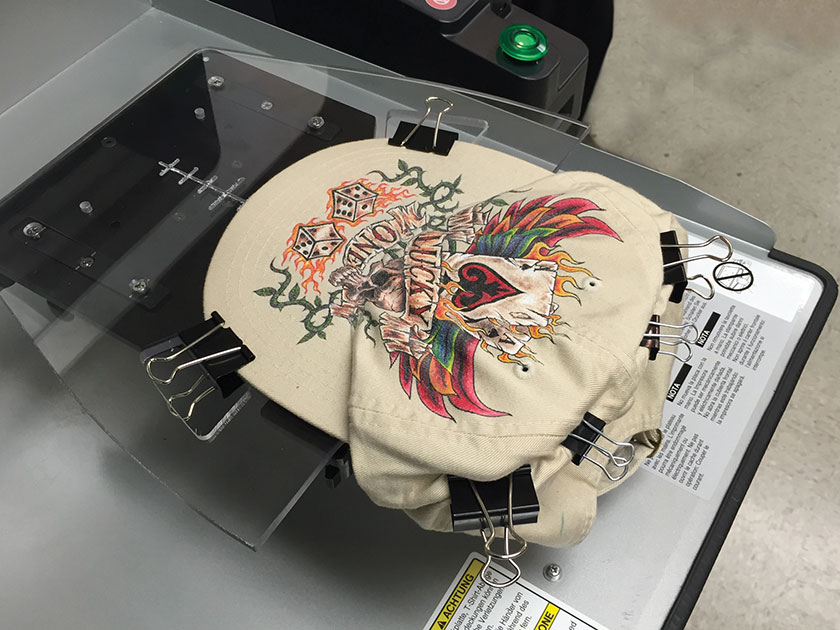 A printer with a larger gap lets you print on the greatest breadth of products, including T-shirts, sweat shirts with zippers and headwear.
---
The latest direct-to-garment (DTG) printers make it easy for your shop to create high-quality, printed apparel without having to hire or train highly experienced operators. When you add a DTG printer to your shop, one employee can take the order, print and prep products for delivery, then start the next job.
Direct-to-garment printers offer some key benefits, including:
• Easier setup and smaller space requirements. You'll also experience instant production capabilities, as you can start printing within minutes of receiving customer artwork.
• The flexibility of printing one-off pieces, along with medium and full production runs. With no screen prep, you can crank out low quantities of high-color designs, and then offer quick and easy reprints.
• You can expand what you offer in your shop. With DTG printing, you have access to unlimited color options and precise design reproduction. Plus, you can fulfill name and number programs, and even start attending mobile events with your easy-to-port printer.
The following are eight things you should look for in a new DTG printer:
1. There's a mean need for speed. You've probably heard it many times, but time really is money, especially for decorators. The more pieces you can print in an hour, the more profit you'll make. Look at estimated print times and productivity so you can get the most bang for your buck.
Question to ask: "What are the printer's estimated print times (high quality on a dark garment) and productivity?"
2. Score a printer with a large print gap. A larger gap lets you print on the greatest breadth of products, including T-shirts, sweat shirts with zippers, jackets with pockets, headwear and coasters, along with virtually any substrate that accepts water-based ink.
Question to ask: "What are the most unusual, out-of-the-box items I can print and wow my customers?"
3. Put recirculating white print heads on your musts list. Recirculating heads keep your white ink flowing and avoids the need to replace print heads.
Question to ask: "Does this DTG printer have recirculating white print heads?"
4. Learn to love low maintenance. Look at it this way: The more maintenance time your printer requires, the less time you have to print, lowering your shop's productivity and profits.
Question to ask: "What's a realistic cleaning and maintenance schedule for this printer?"
5. The ink's the thing. Try the ink's durability and washability your shortlisted printer uses before you buy. Another thing to note is while some screen-printing inks may contain PVC, phthalates or other chemicals, many DTG manufacturers have become OEKO-TEX 100 certified. That means the water-based inks, cleaning solutions and overall processes are environmentally (and people and animal) safe.
Question to ask: "What can I expect for T-shirt printing costs, including ink, pretreatment and other supplies?"
6. It's all about the accessories and add-ons. The wider variety of platens and accessories a printer offers, the more flexibility in print sizes (the larger, the better) and items you can offer your customers.
Question to ask: "What different accessories do you have available?"
7. Experience matters when it comes to your vendor. When you're evaluating vendors, look for a company that entered the DTG arena early, as the team will have more knowledge of what it takes to build a quality printer, in addition to experience navigating the learning curve and growing pains of the process.
Question to ask: "What kind of warranty, training and support will you give me with my DTG printer?"
8. Financing. A DTG printer is an investment, so remember to evaluate your financing options — whether leasing or buying — to determine which best matches your needs.
DTG printing today can be extremely profitable. If you print a realistic six-dozen garments per week, you'll get a phenomenal one-year return in investment.
That means printing as few as 15 garments per week is all you need to cover most lease payments. Plus, consider that many DIY printing sites will charge $20 or more for a T-shirt. So if your cost to produce a similar garment is $1 for light-colored and $3 for dark-colored, your profits will range from $10-$15 per shirt.
Question to ask: "What's your best financing plan for my specific needs?"
With a DTG printer, you can offer customized products in a wide variety of materials and expand your design locations with ease. Zippers, seams and pockets aren't a problem anymore. That opens the door to offering existing customers a whole new world of possibilities as you diversify your offerings and increase your bottom line.
Ed Levy has more than 25 years of apparel-decorating experience. Levy, who's director of software technologies for Hirsch Solutions, is an in-demand speaker at trade shows and a regular contributor to industry magazines. For more information or to comment on this article, email Ed at Ed@hsi.us.
---
The past few years have brought changes to almost every industry, and decorated garment production is no exception.
FULL STORY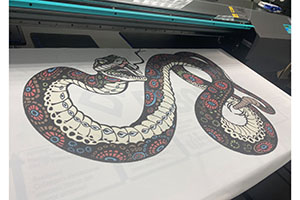 New Jersey-based Breakthrough Custom Clothing created "Warrior Princess" from scratch by digitally hand drawing the entire piece.
FULL STORY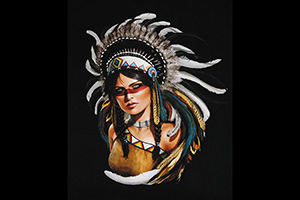 Onsite printing at events by screen printers, heat press decorators and direct-to-garment (DTG) companies was gaining momentum but with the pandemic, they came to an absolute stop.
FULL STORY