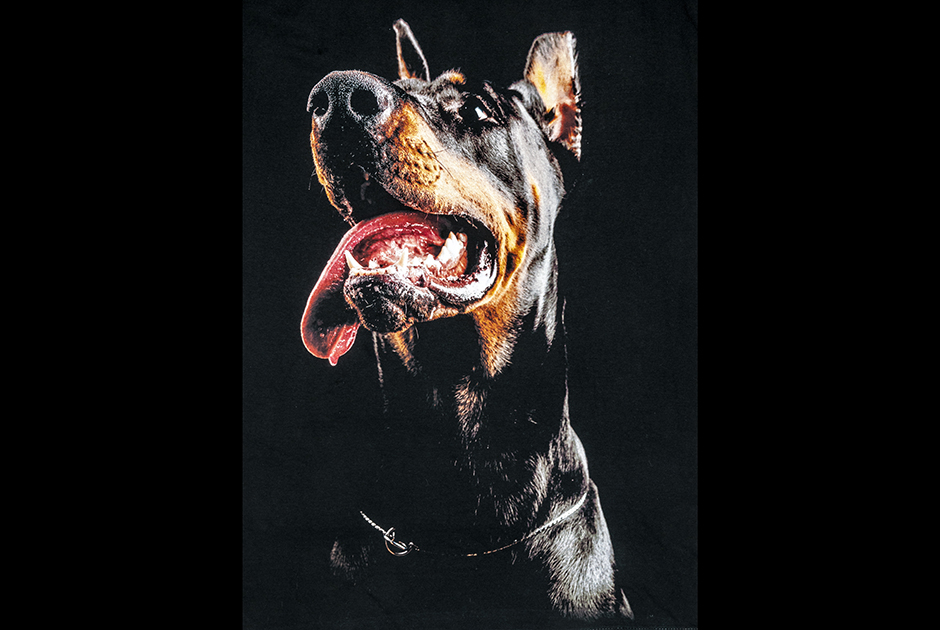 ---
This month's tongue-wagging design, "What Up Dog," is courtesy of New Jersey-based Breakthrough Custom Clothing. Founded by Gerald Cantalupo Jr. in 2007, the company was built around a heat press, plastisol transfers and vinyl.
"After we discovered [direct-to-garment printing] at a past ISS show, and conducting our own research and in-person demos, I ended up buying a Neoflex," Cantalupo says. "My thought process was [that] I can use DTG to create samples for my own clothing line but also grab small orders from customers [under 36], since most shops were offering only bulk orders. This helped me expand and generate more customers, especially ones that needed drop-shipping. There are no minimums and full digital images are still our niche."
This design was inspired by a supplied photo of a real Doberman Pinscher. Using Adobe Photoshop, the company enhanced the dog's highlights, curves and saturation, ultimately bringing the animal to life.
"Knowing which areas to increase a highlight, while leaving areas around it with a darker look, will really help make an image pop," Cantalupo says. "With DTG printing, having a high-quality image from the beginning helps a lot."
According to Cantalupo, the only difficult part involved removing the background and ensuring it had a smooth transition; the final printing touches were a breeze.
"Achieving the professional-photography look is the combination of the high-quality photo we received, plus having our RIP software dialed in to achieve the print exactly as we see [it] on the screen," he says. — Dustin Shrader
Design Details
Dimensions: 15″ x 25″
Direct-to-Garment Printer: All-American Neoflex
Heat Press: Stahls'  Hotronix Fusion IQ
Software: Adobe Photoshop and Kothari
---
The past few years have brought changes to almost every industry, and decorated garment production is no exception.
FULL STORY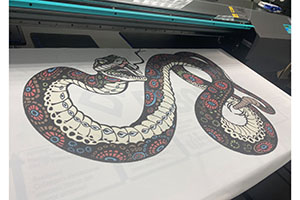 New Jersey-based Breakthrough Custom Clothing created "Warrior Princess" from scratch by digitally hand drawing the entire piece.
FULL STORY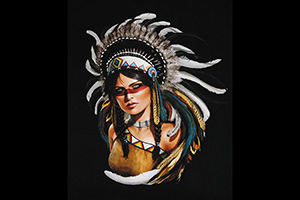 Onsite printing at events by screen printers, heat press decorators and direct-to-garment (DTG) companies was gaining momentum but with the pandemic, they came to an absolute stop.
FULL STORY