Out with the Old
A look at the past and present of three components of desktop direct-to-garment technology.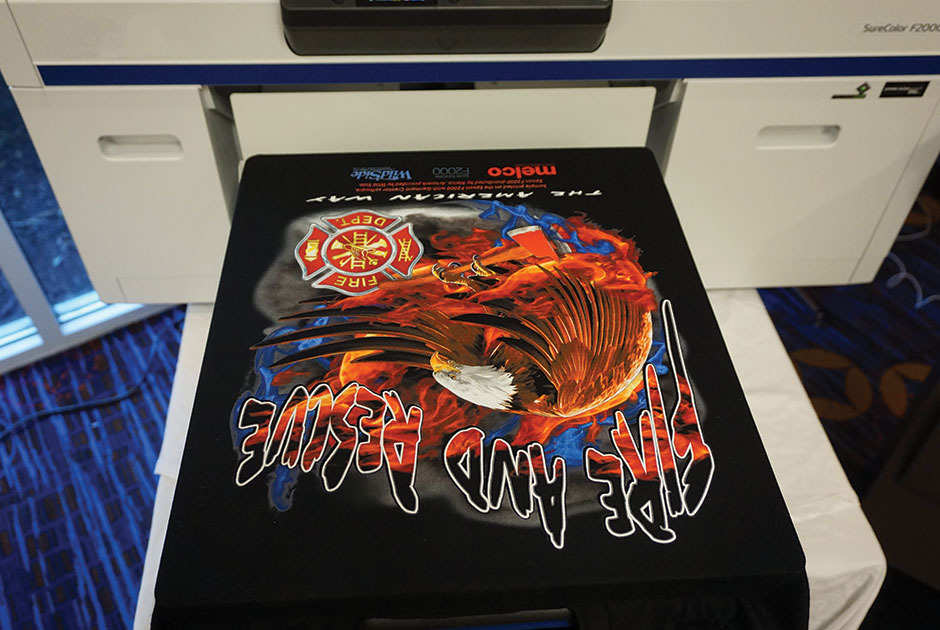 ---
Direct-to-garment (DTG) printing innovation stalled during the country's financial crisis that started in 2008. Technology had essentially stayed the same with the use of modified paper printer components and DuPont ink.It took a strong economy, and committed research and development, to further advance DTG as a justifiable application.
New printer models and technology have driven healthy competition among manufacturers. This is good for buyers, as it helps distinguish the good from the bad and helps advance the DTG application.
DTG printers can be divided into two categories: high-yield industrial models and low- to mid-yield, desktop-mounted models. High-yield printers typically feature multiple platens, and have fast print engines and output speeds similar to that of screen printing. These printers are expensive — costing $250,000 or more — and are designed for large production houses that mostly print custom one-offs.
Desktop units are popular among most DTG decorators mainly because the price is reasonable — between $13,000 and $50,000 — and they don't have a huge footprint. Also, these machines are designed to service the quick-turn, fully custom, full-color, low-volume market, though many can be used for large-scale production if time is available. Desktop DTG printers are the most common type and, thus, have seen the most industry advancement.
Desktop DTG developments have required a focus on reliability, especially when it comes to white ink. Operators previously were forced to regularly disassemble, clean and replace parts, which was time-consuming, expensive and made many decorators wonder whether this application could be a viable revenue generator. Ink, print-engine and maintenance advancements have helped justify a place for desktop printers in the market.
The following includes information on the advancements in those areas, as well as a look at what the future holds for desktop DTG printing.
Ink: Water-based DTG ink is unique with respect to how most digital print heads were designed. The adhesives used to bind printhead components are water-soluble, so it's not unreasonable that problems arise when introducing water-based inks. Some printer manufacturers offer purpose-built components and print heads designed to work in conjunction with water-based ink. When shopping for a DTG printer, it's always prudent to ask whether a model you're considering purchasing is a purpose-built, water-based DTG printer or a modified solvent ink-based system.
Ink technology has evolved to be far more manageable, especially with white ink, which includes titanium dioxide. This white pigment is sticky and naturally settles in fluid (think "Wite-Out" correction fluid).
Proprietary DTG-ink manufacturers have come a long way in helping to mitigate the negative effects of titanium dioxide-laden white ink.
Ink safety has become a priority in DTG printing, as physically and environmentally harmful components have been replaced with materials that are regarded as safe for human and environmental conditions alike. Early DTG inks and pretreatment solutions included extremely toxic chemicals, which necessitated wearing a mask and using them in isolated areas.
Print Engines: Not all print engines are the same. DTG printers were developed from modified solvent-ink delivery systems — mainly old Epson 3880 and 4880 printers. Don't mistake older Epson solvent printers for the company's newer, purpose-built F-series DTG printers. The latter are purpose-built models specifically designed to operate under the degenerative conditions facilitated by water-based ink. Such printers use an adhesive that is resistant to water degradation, and their nozzles are designed to accommodate the size of water-based ink droplets.
The print engine and ink-delivery system contain numerous components that purpose-built printers use to increase a water-based ink printer's reliability. Head caps and pumps, dampers, internal ink-circulation parts, fabric wipers and filters all combine to aid water-based ink flow and avoid clogging within the system. These components are essential to ensure the printer will operate daily as required to be a reliable revenue generator.
Maintenance: The concern with old DTG systems was the amount of reactionary maintenance that is required. These systems commonly yielded a quality print in one pass and a damaged print in the second. Avoiding such problems typically required daily disassembly, cleaning and reassembly. You can imagine the amount of time, ink and materials lost when printing just a few garments.
Modern inks, print engines and ink-delivery systems allow for purpose-built printers to operate with relatively little maintenance. The best printers have little to no ink waste and prompt the operator when maintenance is required. Maintenance should be simple, scheduled and preventive, not reactionary. This gives operators peace of mind knowing their units will function properly each day, enabling them to finish jobs and, ultimately, generate revenue.
Undoubtedly, these advancements justify investment in the technology. The future of DTG is clear: Printers will become more reliable, faster and compatible with a wider variety of substrates. Anticipate printing on polyester, as well as other blends and synthetic fibers, and doing so faster and with less maintenance.
Healthy competition and strong marketplace demand will push DTG advancements. But don't wait for the future to justify your investment in the technology. This type of application is better than ever and is a viable addition for finished products that are in high demand.
John LeDrew is the DTG director for Melco Intl. He has worked professionally in garment decoration since 2006, managing accounts and overseeing production for some of the world's largest brands and retailers. For more information or to comment on this article, contact John via LinkedIn.
---
The past few years have brought changes to almost every industry, and decorated garment production is no exception.
FULL STORY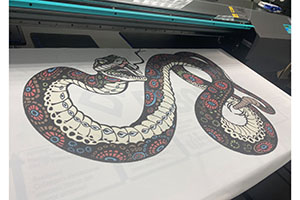 New Jersey-based Breakthrough Custom Clothing created "Warrior Princess" from scratch by digitally hand drawing the entire piece.
FULL STORY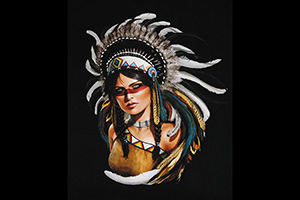 Onsite printing at events by screen printers, heat press decorators and direct-to-garment (DTG) companies was gaining momentum but with the pandemic, they came to an absolute stop.
FULL STORY