Peeking Into DTG's Future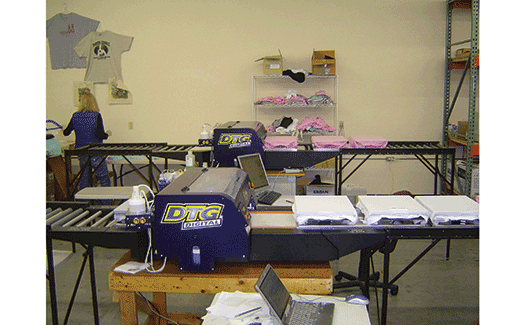 ---
It's hard to debate the validity of direct-to-garment (DTG) printing in today's decorated apparel marketplace. Major printer manufacturers are now in the game and even some of the largest screen-printing shop owners are invested.
DTG is more reliable, user-friendly and easy to maintain than it historically has been. Print speed, color gamut and ink durability all are improving, but what does the future hold for this process?
Looking at the advancements in the other large-format printing arenas gives us a glimpse into what DTG likely will become. Following are five things that will factor into DTG printing's path moving forward.
1. Print Speed: Like other large-format printers, speeds have increased and will continue to do so. One of the arguments against DTG is that the print speeds cannot match those of screen printing. With larger heads and multiple platens allowing decorators to load multiple shirts, it is highly feasible that DTG will deliver screen print-like speeds one day.
2. Color Gamut: We know the cyan, magenta, yellow and black (CMYK) color range is limiting, but many large-format printers have moved beyond it. Though DTG still uses CMYK and white, expect additional colors, and even metallic ink, in the near future.
3. Larger Print Dimensions: Currently, DTG printing is limited to about 16 inches wide and variable lengths. I expect the widths and platen sizes to increase in the coming years. One advantage of a wider format is the potential to print on large fabric rolls. Though maybe not particularly advantageous for the custom apparel manufacturer, this is one avenue of DTG printing that has enormous potential for the fabric industry.
4. Pretreatment: Ink chemistry constantly is evolving. Some manufacturers are making running changes that advance opacity, shelf life, usability and durability. Can white ink ever be used without pretreatment on the darkest garments? It may be possible, but it seems unlikely.
What is more likely is continued advancement in pretreatment solution and its application to garments. Pretreating in line with printing will continue to advance and be more feasible with new changes to ink and pretreatment solution.
5. Competition: An area that will significantly boost technology and advancement is the competition between major printer manufacturers. The early days of DTG were challenging because pieces and parts were repurposed from other equipment. Some of these types of printers still exist, but major manufacturers now are invested and completely revolutionizing the industry.
More competition among big companies will mean more reliable product, warranties and service. All these things could result in less downtime, higher quality and more successful end users.

John LeDrew is the DTG director at Melco Intl., Denver. For more information or to comment on this article, email John at jledrew@melco.com.
---
The past few years have brought changes to almost every industry, and decorated garment production is no exception.
FULL STORY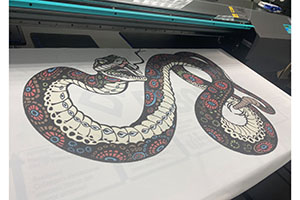 New Jersey-based Breakthrough Custom Clothing created "Warrior Princess" from scratch by digitally hand drawing the entire piece.
FULL STORY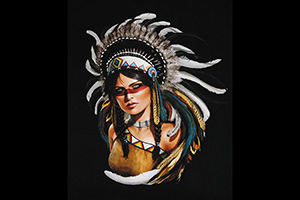 Onsite printing at events by screen printers, heat press decorators and direct-to-garment (DTG) companies was gaining momentum but with the pandemic, they came to an absolute stop.
FULL STORY