Setting Up a Mobile Garment Decoration Business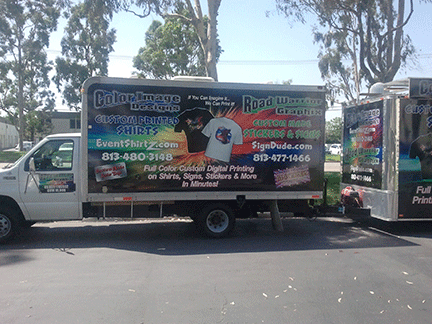 The Color Image Designs/Road Warrior Graphix mobile shop and store effectively communicates what is offered. Owners Susan Asplin and Gene Wodzicki typically arrive before a fair or festival begins to take orders from other exhibitors.
---
The term "road warrior" may conjure images of exhausted business people with rolling suitcases and laptop bags, or Mel Gibson donning shoulder pads and battling evil nomads in the Outback. But if you're considering expanding your garment decoration business with a mobile operation, thunder domes and mobile devices are optional.
For some shop owners, mobile decoration is a diversion — a reason to get out of the building and try something new. For many other owners, hitting the road constitutes a serious, high-margin business. Some base the majority of their income on it.
With the latest garment decoration technologies, it's very feasible to build a mobile setup for a variety of products. Digital direct-to-garment printing, heat transfers, rhinestones and air brushing are just a few techniques that lend themselves to mobile operations because of the equipment's smaller form factor, easy operating requirements and the capacity to produce custom, one-of-a-kind garments.
Bringing T-shirts, bags and other popular products to a mobile platform means you probably need the capacity to decorate on demand. This does not mean you're limited to on-demand technology — or even limited to garment decoration.
Many decorators prefer to stick close to home and connect with organizers of youth sporting events, auto shows, craft fairs and festivals. However, county and state fairs, regional auto shows, big tournaments and other major venues require experience, careful planning and budgeting, as well as a penchant for intense work.
Following are two case studies of different mobile apparel decoration businesses that provide a glimpse into different approaches.
CASE 1: ROAD WARRIOR GRAPHIX
Susan Asplin and Gene Wodzicki teamed up in 2011 and hit the road as
Color Image Designs/Road Warrior Graphix, a Lutz, Fla.-based mobile enterprise. The partners tour the country and exhibit frequently at state and county fairs, often for weeks at a time.
While Asplin and Wodzicki also operate out of office and production facilities, the mobile unit is a wrapped van with a 30-foot trailer that serves as their mobile printing shop and kiosk. A third partner, Heather Valen, manages the business
accounts and online orders from the company's home office.
The company's strategy centers on building a one-stop shop graphic printing business by traveling throughout the country, while maintaining a base operation. "Our planned route varies," Asplin says. "Last year, it consisted of fairs, bike events, runs and car shows. During the off months while we are at home, we set up on a main highway as a storefront."
Upon setting up the shop for the day, the duo posts giant graphic display boards, raises the awning on the side of the trailer and expose large windows into the shop. Potential customers peer in to see exactly what they are doing with the garments and other personalized products, from customizing graphics, to making impressions, to curing. A large flat-screen monitor shows what's happening with graphics and equipment.
This rolling print shop has a versatile arsenal of equipment and supplies, including an AnaJet mP10 direct-to-garment printer; Geo Knight 16″ x 20″ heat press; Ricoh dye-sublimation printer; Roland VersaCamm 54-inch vinyl printer/cutter; 65-inch laminator; 24-inch vinyl cutter for stickers and signs; and plenty of T-shirts, sweat shirts and baby bodysuits.
The traveling enterprise has opened the door to large-run and promotional product orders, as well as other business. Not only do Asplin and Wodzicki offer printed garments, signs and dye sublimation, but they also have expanded to provide complete corporate identity packages.
CASE 2: 'THE DIGI GUY'
While the Color Image Designs/Road Warrior Graphix team has struck gold with a major mobile operation, not everyone is inclined to manage a venture to this degree. Most traditional garment decoration enterprises can borrow a page from Chuck Northcutt. Known as "The Digi Guy," he started his embroidery business more than 20 years ago.
In 2007, he purchased an AnaJet FP-125, an early model digital direct-to-garment printer. Northcutt realized he could easily pick up the 84-pound printer and load it in the back of a van, along with a heat press and other supplies, to set up shop at a car show.
The mobile business became a serious, although seasonal, profit machine. Once bitten by the bug, Northcutt and his wife exhibited at a series of car and dog shows, soccer and Little League opening days or tournaments, festivals and other outdoor events. Their exhibits included a couple of pop-up tents, folding tables and low space-rental fees. The revenue, Northcutt says, was predictable and often exceeded the income from an entire week at the shop.
Northcutt's bricks-and-mortar embroidery business served as the stepping stone for a mobile setup, which consists of an old company van, direct-to-garment printer, three folding tables, a 10-foot pop-up tent, heat press, blank shirts, digital camera and — perhaps most importantly — change for a strictly cash-based operation.
Not surprisingly, weather is a limiting factor for the Seattle-area team. Northcutt says the season for outdoor garment decoration stretches from early June to late October, with some worthwhile Christmas and craft bazaars in the off season.
"First, we set up anywhere that we can expect a large crowd," he says. "If we exhibit at, say, a car show or dog show, we can predict with some degree of accuracy how much we will make beforehand. We are actually selling primarily to the dog or car owners, not the attendees. Our historical data over the last several years shows that we will get between 23% and 25% of this traffic."
As The Digi Guy exhibited at more shows, the space rental fees diminished or were eliminated entirely. "We would attend a show and drive a ton of traffic," Northcutt says. "People would eventually surround our booth to watch our process, and five or 10 minutes later, customers walked off with a custom printed shirt. When event coordinators opened up space rentals for the next event, they would invite us and quote the rental fee. We politely turned them down and cite other events that cost us less. Most of the time, they would forgive the space-rental fee entirely just to get us onto the exhibitor listing. We became part of the draw for attendees."
Joe Longtin, a writer with 15 years' experience in technology marketing, is the marketing director for AnaJet, which designs, builds and supports multiple lines of direct-to-garment printers. For more information, email Joe at jl@anajet.com.
---
10 Road Warrior Musts
Going mobile is hard work; it takes patience, self-confidence and skill, and it is not a spontaneous lark. However, if you are very strong in graphic design, know your equipment thoroughly and are seeing your revenue and customer base plateau or decline, going mobile bears consideration.
Before you embark on the path to becoming a road warrior, here are 10 best practices to keep in mind.
1. 
Know your target market. Consider the events where your existing customers, their families and business associates 
come together. Start with the well-beaten path of who and what you
already know and expand from there.
2. 
Research events or venues first. "We stay with the larger, well-established events," Chuck Northcutt, The Digi Guy, says. "We won't exhibit at a first-year event. We will go and check it out for the following year."
3. 
Start small, not big. Don't schedule 10 booths on 10 consecutive weekends for events you have not done before. Fewer well-planned exhibits will result in greater success than a lot of last-minute cramming.
4. 
Have a reliable bricks-and-mortar shop first. It may be too risky to put your entire operation in the back of a van or trailer. Ideally, you'll be able to comfortably leave some equipment and supplies in your mobile setup without impacting ground-based operations.
5. 
Master Adobe Photoshop or CorelDRAW. If you are going to customize garments in the field, you must be able to customize and clean up images in two or three minutes. Take an online class or pick up a guide to modifying art.
6. 
Be prepared to invest in marketing. This includes, but is not limited to, booth rental fees, flyers, business cards, vinyl window decals, giveaways, a robust Facebook site and more.
7. 
Purchase additional business insurance. The bigger your mobile operation is, the more critical it is to insure it. Your existing auto policy is not likely to cover the loss of business equipment in the event of damage or theft. Larger venues, such as state fairs, may require that you carry $100,000 to $1 million of coverage for your setup.
8. 
Don't stretch yourself too thin. Have a minimum depth of personnel before you devote people and resources to being in the field. Two people in the field and none in the shop means missed calls and lost business.
9. 
Master your technology. True road warriors know the ups and downs of every piece of equipment, and function as their own techs, mechanics and graphic designers. Decorating on the road is not for the dainty or helpless.
10. 
Price for profit. When you're mobile, the customer perceives uniqueness and senses urgency by virtue of your location being temporary. These elements add a premium value to the product. When you add the fact that you can produce a single custom piece on demand, price sensitivity goes away.
---
The past few years have brought changes to almost every industry, and decorated garment production is no exception.
FULL STORY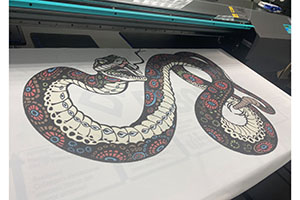 New Jersey-based Breakthrough Custom Clothing created "Warrior Princess" from scratch by digitally hand drawing the entire piece.
FULL STORY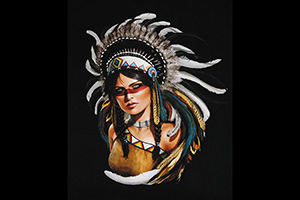 Onsite printing at events by screen printers, heat press decorators and direct-to-garment (DTG) companies was gaining momentum but with the pandemic, they came to an absolute stop.
FULL STORY