Teamwork Makes DTG Work
Here's what to look for in your next DTG distributor partner.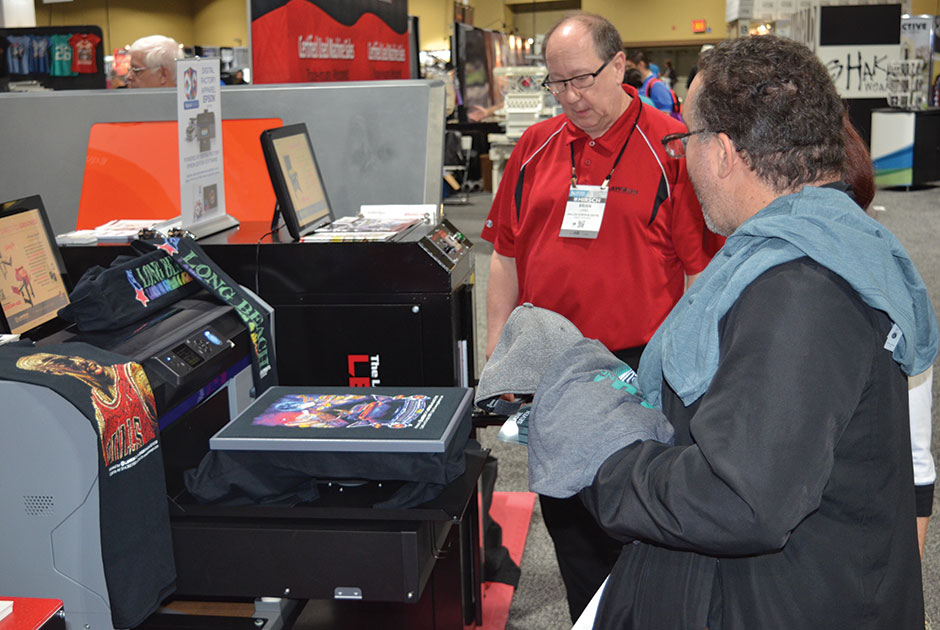 Look for a vendor that will be there to provide support and training after you've signed on the dotted line and received your machine.
---
With today's technology, direct-to-garment (DTG) printing has become more accessible and affordable, while also being less time-consuming and labor-intensive than many other traditional printing methods. Plus, you can take advantage of perks, such as live computer previews of prints and the ability to operate multiple printers from one computer.
While researching the perfect DTG printer to add to your shop, you also should evaluate the vendors and distributors from which you can purchase your new decorating equipment. That choice nearly is as important as the printer you select. For example, when you have a question about your printer as you're cranking out a last-minute order, can you reach an experienced support technician for help?
Here are a few key things to look for — and avoid — in the right DTG partner for your business.
What to Look For
1. Longevity. Only established companies should be included on your short list. A vendor or distributor that boasts an impressive track record likely will be around for the long term.
2. Presence. Look for a company with a national footprint. A vendor with a nationwide sales and support network is in a much better position to have resources to provide help exactly when you need it, especially if you prefer actually speaking to someone on the phone. Many DTG brands also provide 24/7 online learning centers that teach customers how to use their printers and troubleshoot any issues via short videos, along with insider tips to help them get ahead.
3. Diversity. Look for a distributor partner that can help you diversify as you grow. Starting small with a single decorating offering is great, but you always should strive to expand into other areas. Talk to a vendor about how it can help you expand your business in the future, then partner with a company that can help you reach those goals.
What to Avoid
1. Price shopping. We all have budgets, but don't be swayed by companies offering too-good-to-be-true cost savings. Pennies saved upfront usually end up costing too many dollars in the long run. Planning for success by investing a reasonable amount in your new DTG printer will help you achieve longer-term success.
2. Mediocre customer reviews. Real customer experiences can tell you so much more than clinically aggregated data from hundreds of faceless buyers. That's why you should do your due diligence when researching vendors. Talk to people you know and solicit their recommendations. Go online, read company reviews and check out what people say in forums. Also, don't be afraid to create a post asking for feedback on a vendor or a product.
3. Lack of support. Look for a vendor that will be there after you've signed on the dotted line and received your machine. Will a rep visit your shop to train you and your staff? Can you reach someone 24/7 if you have questions or problems? Is there an online training center? What about the warranty?
It's easier than ever to print full-color, precisely detailed prints on one garment or thousands. That means you easily can fulfill low-volume orders, as well as print even more, making DTG pricing very competitive. That's why now is a great time to take the plunge into DTG printing — with the ideal vendor or distributor partner.
Ed Levy has more than 25 years of apparel-decorating experience. Levy, who's director of software technologies for Hirsch Solutions, is an in-demand speaker at trade show and regular contributor to industry magazines. For more information or to comment on this article, email Ed at Ed@hsi.us.
DIY DTG Marketing
Once you've chosen the right DTG distributor and invested in a printer, it's time to market your services to current and prospective customers. Doing this doesn't require a huge budget. Easily acquired industry relationships, a website, basic analytics knowledge, strategic social media and creative prospecting can be just as effective.
1. No minimums. Take a look at your competitors online; how many of them are advertising no minimums? The answer, most likely, is very few. The reason they don't is because they don't have the confidence to reliably produce one-off, custom-printed shirts. On your website's homepage, boldly let your customers and prospects know that you provide full-color prints with no minimums.
2. Contract work. Capitalize on the bulk of new business and develop a relationship with competitor screen printers in your area. Introduce your DTG capabilities, and bring them samples and enticing contract pricing. If they don't have a DTG printer, they are struggling to service clients who bring in low-volume orders. Eliminate their struggle by giving them an easy solution to pass off low-minimum jobs.
3. Your website. A well-laid-out website is essential for highlighting your services and promoting your business. Do not fear website creation; today, they are easy to acquire and often are free or inexpensive to host. There are numerous template-based, drag-and-drop sites that will work beautifully for your needs.
4. Social media. Marketing via social media can be as expensive and complicated as standard SEO work. Don't obsess over it; spend money elsewhere. Part of the beauty of social media is that it's free, so take advantage of that and don't get suckered into expensive ad campaigns.
5. Hit the streets. Find companies in your area that need apparel, create a custom logo or borrow their existing logo from the Internet and make a sample. Take it to their location, include special pricing, and sell yourself and your shop's capabilities. Be proactive and use one-off printing to your advantage by offering personalized samples that will wow your prospects.
---
The past few years have brought changes to almost every industry, and decorated garment production is no exception.
FULL STORY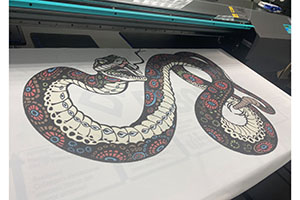 New Jersey-based Breakthrough Custom Clothing created "Warrior Princess" from scratch by digitally hand drawing the entire piece.
FULL STORY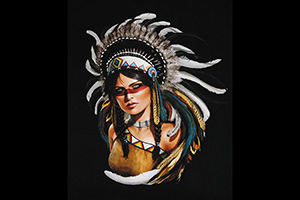 Onsite printing at events by screen printers, heat press decorators and direct-to-garment (DTG) companies was gaining momentum but with the pandemic, they came to an absolute stop.
FULL STORY