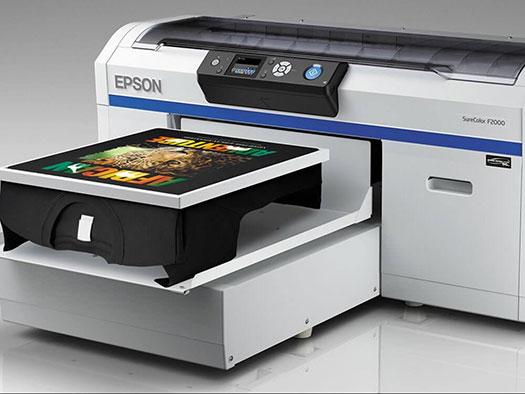 ---
Prior to 2004, printing images and designs on garments was done mainly with manual methods like screen printing for longer runs and heat applied vinyl transfers for shorter runs. Fast forward to present day, the age of direct-to-garment (DTG) printers. Equipped with the latest digital technology, DTG has revolutionized the industry by providing endless color, design and customization possibilities.
But how did we get here?
Shortfalls in Garment Printing Techniques
Screen printing, heat-applied transfers and now dye sublimation are widely used garment decorating techniques, but none truly compare to the capability of a DTG printer. With an estimated two billion T-shirts sold per year, tens of millions — if not more — are short-run or customized. Though there are instances where screen, dye-sub or transfer printing may be the best process option, DTG is a key contributing factor in the explosion of growth in customized and on-demand garment decoration.
Screen Printing
The technique of printing images on garments using stencils and screens dates back to ancient China, making it a long-standing and widely trusted practice. Screen printing has transformed over the years, but even in its present-day form, the process involves a blade or squeegee pushing inks through a stencil covered mesh or screen.
Individual stencils or screens are required for each color. Subsequently, setting up print runs can be time consuming. The more complex the design, the more upfront or setup charge end users encounter, making the screen printing process ideal for longer print runs where the initial costs can be offset over a larger number of impressions.
Heat-Applied Transfers
Heat-applied transfers can come in many forms, including solid-color films, printable films or screen-printed transfers.
Color films can be ideal for single-color designs where ease and durability are priorities. Names and numbers for athletic garments are an ideal application for this type of film.
Printable films can be applied to a variety of materials including synthetic and blended fabrics. But as with solid-color films, they require weeding — removal of the unnecessary material — and often have an undesirable feel, especially when covering a large area.
Screen-printed transfers essentially utilize the same process as screen printing noted above, except they are applied to a transfer sheet for later application to a garment rather than being directly imprinted.
Dye Sublimation
With dye-sublimation garment printing, the image is first printed onto a release or transfer paper, then placed in contact with a polyester textile under high heat and pressure. The heat causes the ink to sublimate — turn from a solid to a gas — and bond/transfer to the garment. This process provides high-resolution, vibrant images that won't crack or peel. This sounds perfect, but this method requires a polyester substrate, and because of its lack of opaque white ink can only be used on light and white garments.
All of these methods have their niches, but the garment-printing industry has had an increasing need for a high-quality process that is cost-effective for short runs and customized imprints.
Enter: Direct-to-Garment Printing
To understand the impact of DTG, first you need to appreciate the importance of inkjet printing. Inkjet technology, around the turn of the new millennium, was revolutionizing the way all kinds of products were being decorated. With quality prints, more customization options and lower costs per print combined with a significantly more accessible equipment price point, the garment market wanted in.
Many of the first DTG machines were remanufactured from existing inkjet printers in order to print on T-shirts like the T-jet that was introduced at the 2004 SGIA in Minneapolis — a retrofitted Epson photo printer using Dupont inks. Several other manufacturers introduced DTG printers around that time, many with the ability to only print on light-colored garments.
While the new technology was exciting, the arrival of DTG wasn't without its setbacks. Printing on dark garments, in particular, proved difficult and required significant attention to both the equipment and process. On top of that, early DTG printers had difficulty producing consistently or reliably, which caused the reputation of the technology to take a hit.
Needless to say, DTG technology wasn't 100% there — yet.
Evolving Digital Technology
Like with many new technologies, figuring out the kinks was the first step toward developing an efficient, working product. These initial forays into on-demand and customized garments had only begun to whet the appetite of the market.
With printer manufacturers realizing their challenges early — limitations on dark garments, low production reliability and the market demands — figuring out a solution was only a matter of time.
DTG engineering has continued its trend out of basements, garages and backrooms and into the hands of the big names in the printing industry, like Epson, Kornit, Brother and others. These manufacturers have developed full lines of DTG printers, complete with dedicated research-and-development teams and engineers, as well as the resources and tools necessary to help this printing method evolve to its full potential.
The DTG Niche
Although DTG printing is still in its early years compared to screen printing, the technology has progressed light years beyond where it started. And DTG printing may have evolved at just the right time. The popularity of ordering small batches of garments online has increased tremendously in the last few years, and traditional printing methods aren't able to satisfy the demand for these orders. Purchasing one or two customized shirts or dozens of multi-color prints is now the ideal workflow for DTG printers and they can knock them out in no time.
DTG printing also offers other benefits, including:
• Low set-up costs
• Instant turnaround times
• No screens, films or separations required
• Minimal space required
• Less mess from handling inks
• High-quality, vibrantly colored work
• Short-run friendly
• Completely digital process
• Simple and infinite customization possibilities
These benefits keep pricing competitive for products, which also is helping the industry thrive.
It seems that we've gotten over the bumps and hurdles with DTG printing equipment, and now the quality is better and more durable than ever before. The early years of DTG may not have been up to the task, but thanks to big-name manufacturing and engineering, and a continued demand in the industry, this printing method is now the go-to for on-demand, short-run and full-color prints.
As ITNH's Business Development Manager, Tim Dinneen specializes in direct-to-garment and UV inkjet printing. He's passionate about tackling new projects and printing applications to help customers find solutions that work best for their business. Having started out in ITNH's consumables department, Tim has been with the company for nearly a decade and in the printing/advertising industry for 14 years.
---
The past few years have brought changes to almost every industry, and decorated garment production is no exception.
FULL STORY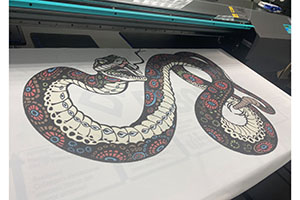 New Jersey-based Breakthrough Custom Clothing created "Warrior Princess" from scratch by digitally hand drawing the entire piece.
FULL STORY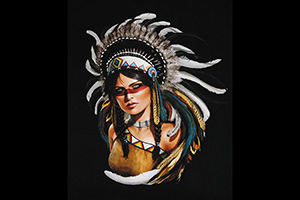 Onsite printing at events by screen printers, heat press decorators and direct-to-garment (DTG) companies was gaining momentum but with the pandemic, they came to an absolute stop.
FULL STORY