The Future of DTG Printing
Here's how direct-to-garment printing is evolving when it comes to speed, efficiency, color, consistency and more.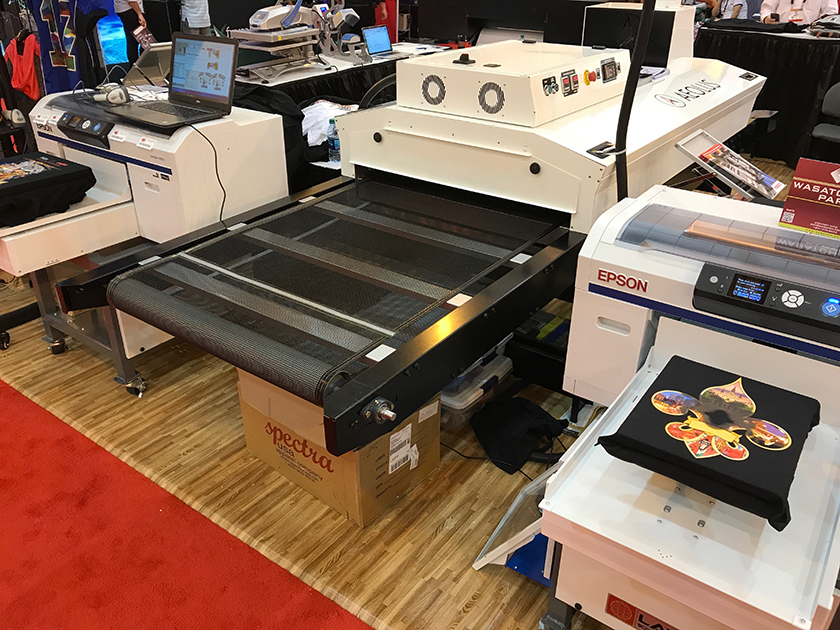 Arranging a group of printers around a single conveyor dryer can exponentially increase production speed.
---
Imagine a scenario where you turn your direct-to-garment (DTG) printer on in the morning, print shirts all day, make handfuls of cash, then turn it off and sleep well knowing it will work just as well tomorrow.
A few years ago, such a scenario was difficult to imagine; now, with new technology and a commitment from manufacturers, truly realistic options exist. The first step in viable production technology is reliable equipment. Now that we've surmounted the reliability hurdle — for the most part — what advancements are next? The answer lies in the other DTG-production inhibitors. We need to print faster and more efficiently, with more color options and consistency.
Let's use screen printing as the common denominator and compare DTG advancements and future technologies to those that make screen printing a viable production option. First of all, DTG printing meets needs that screen printing cannot, including quick turns, low-volume production and full customization. Screen printing simply is too cumbersome to fill such needs; however, large-volume output and speed still are screen printing's strongest assets.
Production Speed & Efficiency
When can we expect DTG printing to "keep up" with screen printing? In many cases, the argument can be made that DTG production already can match screen-printing speeds. With reliable single-platen printers, this is accomplished with DTG printers set up in a "pod." Arranging a group of printers around a single conveyor dryer can exponentially increase production speed. This process significantly reduces bottlenecks by allowing an operator to produce shirts non-stop.
Pod production currently is a viable solution, but what about a single printer that can keep up? There are several multiplaten DTG printers from manufacturers such as Kornit Digital, OmniPrint Intl., Aeoon, and M&R that are extremely fast — with some even advertising models that produce garments "as fast as screen printing." There are hybrid technologies from M&R that incorporate screen-printing presses and a digital printer. These systems are fast and make a lot of sense in theory, but often fall back on the issue of reliability. In some cases, multiple units are required to keep production flowing while repairs are underway with other printers in the fleet.
Manufacturers constantly are developing new technology to increase DTG-printing speed. In the future, expect speeds in conjunction with reliability to be more commonplace. In fact, a new printer from Epson is coming this summer that will address that demand exactly.
With speed issues compared to screen printing being addressed, what about production efficiency? In my old shop, delays in this area were extremely cost prohibitive. Because productivity leads to profits, what can be done fill the DTG bottlenecks that reduce it?
Let's start with pretreatment, a necessary process in DTG printing. Kornit Digital has addressed this by building a pretreatment function into the unit, something it has been doing for many years with many of its DTG machines with great success for operators. Wet-on-wet printing requires a long dwell time in a big conveyor dryer; if space is a concern, these big printers and dryers can be a setback.
For DTG printers that don't have built-in pretreatment functions, there are several equipment manufacturers working on pretreatment automation — a standalone unit that pretreats, cures and presses a shirt so that it's ready for DTG decoration. Currently, pretreatment automation also commands a lot of space and investment; for most small to mid-tier operators, this may not be a viable option.
If your shop can't automate pretreatment, consider a reliable, fast, standalone machine to perform this function. This may seem counterintuitive, but with proper production techniques, it can be extremely efficient. For example, on any DTG printer except Kornit, pretreatment solution must be dry before printing. However, in many cases, there are few rules on how drying should be done. A pretreatment machine set up next to a forced-air conveyor dryer can produce more than 120 cured shirts per hour, even without the need for a heat press. It's all in your technique.
Color & Consistency
Color gamut and special effects are another area where screen printing has the upper hand, but this is an issue that also is being addressed by industry manufacturers. Companies like Kornit Digital are increasing their color gamut to include more fluorescent and brighter colors. Epson's CMYK printer has a vibrant color range and M&R is adding colors and special-effects options. Manufacturers know decorators want all the bells, whistles and color options. The future will allow for easier application of foils, metallic and other special-effects inks.
Consistency is essential for productivity, and this is where DTG advancements likely will outperform screen printing, which has several variables that can throw off continuous, consistent production. Running out of ink, broken screens, inaccurate registration, ink buildup on the bottom of screens, shirt shift and stretching, flash-unit issues, etc., are all problems that hamper consistency.
Screen printing can be a sensitive process. Digital printing, however, can significantly reduce a lot of those manual issues via automation and technology. We already are seeing developments with bulk-ink systems, sensors that adjust platen height, internal cleaning automation and more. With these advancements, DTG decorators are nearing 100% confidence that the shirt they load will be perfectly printed and ready for sale. Confidence in perfect production is the consistency that is needed, and digital decorating promises to continue to deliver on that need.
The rapid advancement of DTG printers is quickly demonstrating how technology will only continue to allow us to deliver exactly what customers wants in a reliable, efficient, and more consistent and profitable way.
John LeDrew is the DTG director for Melco Intl. He has worked professionally in garment decoration since 2006, managing accounts and overseeing production for some of the world's largest brands and retailers. For more information or to comment on this article, contact John via LinkedIn.
The Curing Question
Another DTG-printing bottleneck involves curing a wet, printed shirt. Many operators think a heat press is required, which is false. Part of the reason screen printing is so efficient — once it is set up — is because the embellished shirt gets pulled off the press and dumped on a conveyor belt to cure. Wet DTG prints also can be cured in the same manner.
Historically, the drawback of curing DTG prints with a conveyor dryer has been the size requirements for a functional forced-air dryer, which is required for properly curing water-based DTG ink. Until recently, dryers were a minimum of 36″ x 12′. New technology has condensed these dimensions dramatically. For example, BBC Industries Inc. has released a 24″ x 8′ forced-air dryer that cures wet pretreated and printed shirts in about two minutes.
---
The past few years have brought changes to almost every industry, and decorated garment production is no exception.
FULL STORY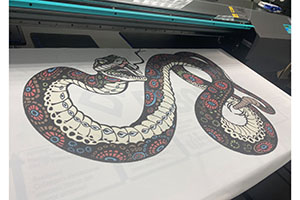 New Jersey-based Breakthrough Custom Clothing created "Warrior Princess" from scratch by digitally hand drawing the entire piece.
FULL STORY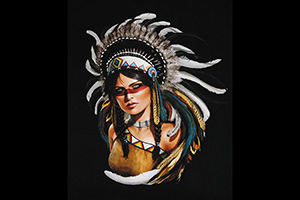 Onsite printing at events by screen printers, heat press decorators and direct-to-garment (DTG) companies was gaining momentum but with the pandemic, they came to an absolute stop.
FULL STORY