Workflow: DTG Printing's Future
Using these best practices along with an enterprise resource planning solution can help spur your shop's growth.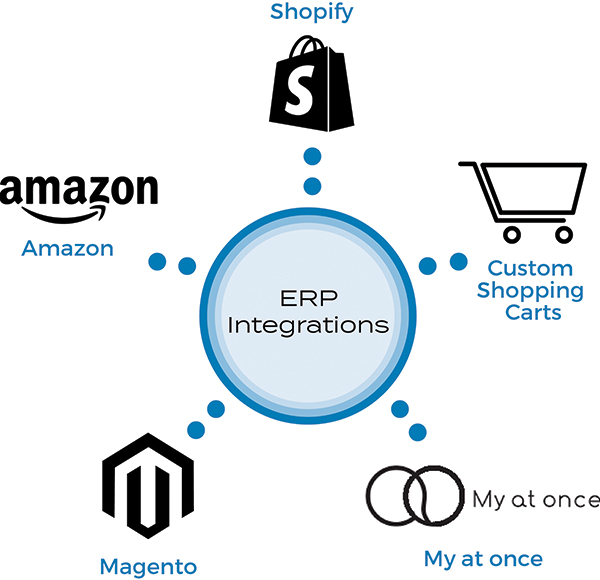 Sharing data seamlessly between e-commerce sites, such as Amazon and Shopify, and your ERP solution streamlines and simplifies the order-entry process, making manual order entry obsolete.
---
The apparel-decorating industry has evolved from what it used to be: screen printers producing large batches of garments and requiring a great deal of labor, setup and time to complete jobs in an industry with increasing pressures to quickly deliver products.
As equipment and technology have evolved and become more affordable, direct-to-garment (DTG) printing has emerged with the ability to print large orders, while also handling small jobs efficiently. Faster turnaround times driven by market demand and more choices available on e-commerce platforms have created further challenges, requiring decorators to seek technology solutions that help businesses provide a competitive edge and remain profitable.
Using ERP Solutions
As a company committed to DTG printing, you should ensure that maintaining efficiency, profitability and quality are at the forefront of every step in your business processes. This may feel like a daunting undertaking; implementing strategic growth initiatives is not an easy task.
No matter the order origin, it's important to have automated integrations and workflows that effectively use business-
management solutions — enterprise resource planning (ERP) software — to meet customers' on-demand printing needs. As you embark on this automation journey, the following eight DTG workflow best practices for automation illustrate how an ERP solution helps your business get the most out of each step to instill success in your fulfillment processes and help you usher in an organized future.
1. Integrate with multiple e-commerce sources to automate and streamline order entry. With the proliferation of customer stores, shopping-cart sites and platforms such as Amazon, Etsy, eBay, Overstock.com, Shopify and Walmart as potential order sources, it's important to have an automated order-import process. Sharing data seamlessly between these e-commerce sites and your ERP solution streamlines and simplifies the order-entry process, making manual order entry obsolete.
Having the flexibility to accommodate multiple marketplaces with high-volume capacity is vital. More integrations are better, since access to highly trafficked companies means potentially greater exposure to your company's products and, in turn, more orders. With a universal adaptor to e-commerce sites available in an ERP solution, accessing customers' order information is an easy process.
2. Secure product with real-time inventory allocation and visibility to eliminate delays. An ERP solution provides visibility into on-hand inventory, allowing for quick turnaround for printing jobs. Communication between the ERP and e-commerce stores provides information regarding available inventory levels, with a built-in buffer to protect stock levels and allocated quantities.
In effective on-demand printing operations, customers expect orders to be printed the same day and shipped immediately. With DTG products' quick completion time, inventory updates seamlessly occur in the system and are pushed to the marketplaces in real time so that accurate inventory information is visible to customers, products are not oversold and items available for purchase automatically are removed when they no longer are in stock — thus eliminating the hassles of backorders.
An ERP solution's comprehensive analytics and reporting capabilities interpret sales history to more effectively forecast future and seasonal demands.
3. Automate production steps. With orders created electronically and queued for production, each job is set up through an automated process. This enables jobs to get started as soon as the machine is available and at a lower cost with reduced manual steps and employee handling. Streamlining orders in this way throughout the entire order process enables a better understanding of machine capacity to allow jobs to shift at times of higher demand.
If there is enough sales volume from a specific e-commerce source, automatically sending jobs to DTG printers that are dedicated to each particular marketplace may be advantageous for processing orders more efficiently. An ERP makes these workflow automations possible and identifies cost and time savings.
4. Use barcodes to track garments. To effectively track orders, a barcode label is produced and placed on each garment when the item is picked. For each operational step of the process, the item is scanned to provide access to all production and order information — referencing job details and artwork. Integrated data from your ERP allows for barcode scanning with handheld scanners, providing real-time access to order information, permitting completion of operational updates in the order process and identifying employees with user-based permissions to specific order steps.
5. Stage for production when the order is received. After picking the garment, the production team scans the barcode to determine an item's readiness to be prepped and staged for production using a warehouse-management system (WMS) and a mobile production application inherent in the ERP solution. Order information appears on a screen in the production area to provide specific job details, including the graphic, for the printer to start the printing process.
This is an efficient way to communicate job specs to production runners. Barcode data provides integrated information that is sent from the ERP solution to the DTG printer, which automatically adds the job to the queue. Each machine's capacity is evaluated to balance orders across equipment lines to ensure efficiency.
Using a mobile WMS enables quick turnaround times for staging and completing jobs in production.
6. Locate the correct artwork with production technology tools and spool to the DTG printer. As a garment makes its way to the printer, scanning the barcode confirms the specific artwork, placement and other job details required for printing. The integrated ERP system maintains and locates the approved artwork, keeping records of historical order and artwork updates — as well as client approval — to reduce manual steps and limit mistakes in the final product.
7. Complete the appropriate finishing steps prior to shipping. Before shipping, complete the required finishing steps detailed in the order instructions that indicate what happens after printing. Does the garment need to be folded or wrapped, or are there other requirements? The customer provides this information during the ordering process.
For this to be a viable option, the ability to add instructions must be available during the order process on the e-commerce site, maintained within the ERP solution and communicated throughout the workflow processes to ensure correct fulfillment.
8. Use shipping integrations to update marketplaces and streamline order fulfillment. Details regarding the shipping instructions for the final product is one of the last steps in the order-fulfillment process. This includes when and how the item will ship. With shipping integrations to the ERP solution, addresses can be verified, shipping labels produced and tracking information sent seamlessly to the marketplace and customer. The solution identifies when consolidating items or jobs based on "ship-to" location is available and should be used when possible to reduce shipping costs.
As a DTG-printing business seeking profitability in a competitive marketplace, embracing automated integrations and workflows with an ERP solution will help you meet customers' on-demand printing needs. The time and resources required to reorganize business processes, implement a business management solution and achieve automation can be daunting. The appeal of competitive advantages, organizational structure, capitalizing on new markets and technology, and overall company growth are drawing increased attention to automation workflow recommendations and solutions.
These DTG workflow best practices can help synchronize your order processes with your initiatives for growth, allowing you get the most out of your company and meet the industry's challenges.
Adam Brister is the director of Impress and FlexPack. He has been with OSAS for more than 11 years and oversees the Impress division by focusing on ensuring technology solutions meet current and future market demands. For more information or to comment on this article, email Adam at Adam.Brister@osas.com.
---
The past few years have brought changes to almost every industry, and decorated garment production is no exception.
FULL STORY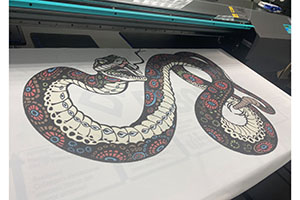 New Jersey-based Breakthrough Custom Clothing created "Warrior Princess" from scratch by digitally hand drawing the entire piece.
FULL STORY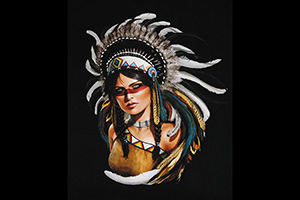 Onsite printing at events by screen printers, heat press decorators and direct-to-garment (DTG) companies was gaining momentum but with the pandemic, they came to an absolute stop.
FULL STORY