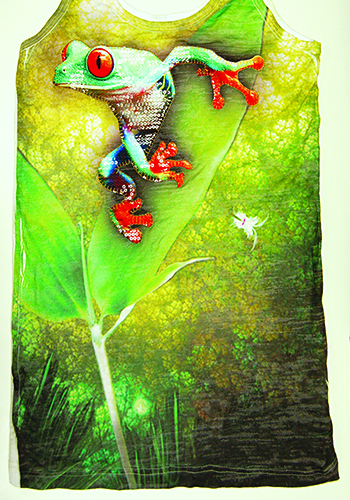 ---
The secret to making money with multi-media starts with a great design concept and artwork. Then, to make it profitable and production friendly, you need to purchase the right "toys" so the process flows smoothly and is not so time consuming.
I have built my company's reputation on offering unique, one-of-a-kind, innovative designs, so purchasing the right toys has been a worthwhile investment. I love experimenting and trying to come up with new looks and techniques.
While it's common to use the term "think outside the box," I've never started in the box when undertaking a new project or job. This perspective is vital if you want to be successful at multimedia. It also requires that someone in the company have the time and resources to do research and development.
About 35% of my company's overall business comes from multimedia pieces, such as this exclusive frog design. This is a testament to the fact that multimedia can be profitable, while also giving you a huge edge on the competition. Why? Because so few companies want to take the risk and invest the time in creating unique pieces.
EQUIPMENT & ARTWORK
The equipment used to create this multimedia piece include an embroidery machine, standalone 50-watt laser cutter, sequin motif machine, 64-inch sublimation printer and large-format 44″ x 64″ heat press.
The artwork for the background and the frog both came from online photos I purchased. Photos must be 300 dpi or higher resolution, and ideally as big — or larger — as the print's actual size. You always can shrink a photo that is too big, but anytime you try to blow up a smaller photo, you will lose sharpness and clarity.
Sometimes you can find free photos, but a high-resolution photo usually will cost money — though not much. I can find good photos that meet my purposes for as little as $30.
When working with a photo or graphic for a shirt, it makes things easier to create a template that replicates the dimensions of the shirt. Whether it's a T-shirt, tank top or another style, an Adobe Photoshop template can come in handy when sizing and positioning your artwork. This provides a better visual representation of what the final design will look like.
I chose the frog because it is colorful, and I knew it would really pop off the shirt. The green leafy background was a separate photo.
APPAREL
I deliberately chose to print the sublimation transfer, which I created from the background photo, on a 50% cotton/50% polyester shirt. Sublimation prints best (brightest and with the highest opacity) on 100% polyester. In this situation, using a fabric that was half cotton created the muted effect I wanted.
You may notice that the background print has wrinkles in it. While the goal is to get the shirt to lay as flat and smooth as possible on the heat press, some imperfections are inevitable. It is part of the look and acceptable to most consumers.
The frog was printed on a 100% polyester fabric I buy on a bolt that is specifically designed for sublimation printing. This made the frog print bold and vibrant against the muted background, which was the goal.
THE BLING FACTOR
I added bling to just the frog using my spangle motif machine. This helped make it more three-dimensional, as well as adding texture and sparkle to the focal point of the design. With the machine, I create spangle material on a roll of specialty fabric.
The spangles come on a spool and the machine lays them down in rows to create a solid block. I can choose from a variety of spangle sizes and colors. Once I've created the spangle material, I cut it into sheets. For this piece, I laser cut the frog shape from a sheet.
Once cut, the spangled shape is laid over the design and heat sealed. If you do not want to invest in a spangle-making machine, you can buy premade sheets of spangle material.
For this piece, I used a 3mm spangle in a white clear color that added sparkle while allowing the design's colors to show through.

Greg Gaardbo is president of Shockwaves Promotional Apparel in Arlington Heights, Ill. He has won more than 35 Impressions Awards. His company, which offers screen printing, embroidery, rhinestones, sequins, and embroidery laser appliqué and engraving, specializes in creative, innovative techniques and special effects. For more information or to comment on this article, email Greg at greg@shockwavesapparel.com or visit shockwavesapparel.com.
---
My career started in the imprinted sportswear industry selling both screen-print and heat-transfer equipment for embellishing caps.
FULL STORY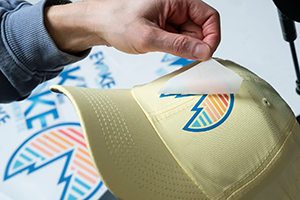 The end of the year is a great time for garment decorating. Halloween, Thanksgiving, Christmas–all are the perfect reason for creating fun, festive designs for printing, and with dye sublimation, in particular, sales opportunities abound.
FULL STORY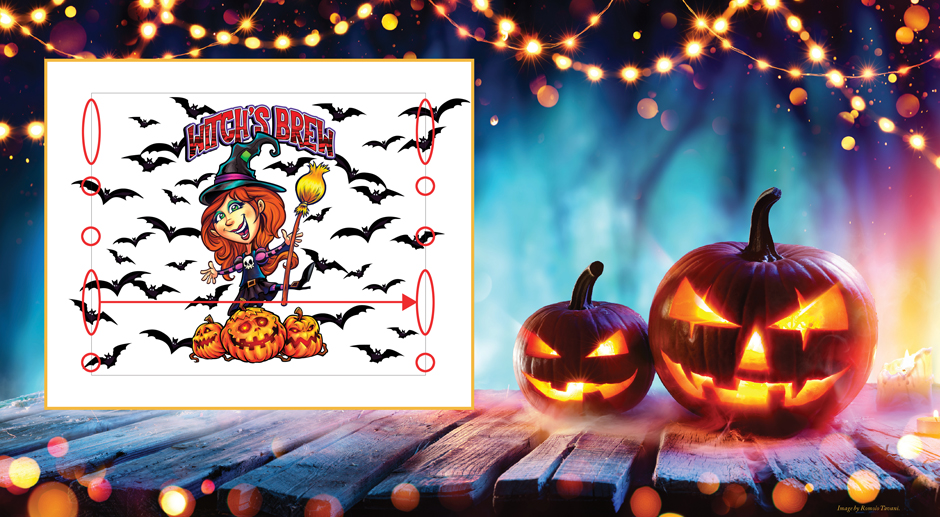 Direct-to-film (DTF) transfers provide a new, fast-growing garment-decoration method that's ideal for designing layouts for sports apparel. From team and practice uniforms to fan wear, DTF transfers allow you to easily and inexpensively incorporate full color into layouts.
FULL STORY