What's in a logo? That depends upon whom you ask. An apparel decorator, trained in a specific process, sees a logo through production process lenses. A vinyl cutter operator sees details and layers. A screen printer sees screen count and set up. An embroiderer sees stitches and machine time. A digital printer sees color. If we approach a logo through the point of view of a brand, we see identity. Specifically, connecting the members of a team together toward a common goal or the company vision.
What do you stand for? Or better yet, how can you best help a brand communicate what it stands for through the means of digital decoration.
Digital is defined as any production process in the identity world where a print head is used in the creation of a graphic. Ink, whether direct-to-garment, solvent, latex or sublimation, fires through the print head to breathe life and create digital decoration.
All digital decoration processes are not created equal and it's certainly not a one-size-fits-all system. To best assume the role of a logo consultant, it's important to understand each process for what it is. Let's get started.
Solvent or Eco-Solvent Print/Cut
The print/cut production process is perfectly suited to high-resolution reproduction. It's been widely documented that this process is highly durable, versatile and can be used on any fabric or color. What's new in print/cut specifically for logo reproduction is low-temperature adhesives. As the market for performance textiles inclusive of trends such as "athleisure" surge in the workplace, heat sensitivity is a reality.
While adhesives of years past will stick and stay on these fabrics, they often produce an undesirable scorch mark and have the potential to bleed. The combination of low-temperature, short-dwell, dye-inhibiting adhesives help to expand the gamut of applicable textiles while increasing sales opportunities for corporate wear, even at small quantities for businesses with few employees. White stays white and the colors of the brand are well protected even on the worst quality dyed polyester.
Also new in print/cut are additional special effects treatments such as colored and color-shifting metallic. These products are capable of producing pearlescent finishes. They ideally are suited as an option for brands willing to express creativity with their logo. Gold and silver present some niche opportunities for anniversaries or special events. Print/cut also is unique in that it presents potential for add-on elements, increasing your average sale and the customer's recognition. As cost already is sunk in the set up of the apparel graphic, decals, posters and window clings make for low-cost branding opportunities for the supplier and customer.
Direct-to-Garment Printing
Direct-to-garment printing (DTG) has been the buzz and the hope of the industry for some time. Early indications were that DTG had a chance to unseat digital technologies, but the reality is that it has settled into an important role for an apparel decorator, not a one-technology-fits-all decoration method.
Largely successful on natural fabrics (those with high cotton content), DTG is the best way to replicate a customer's logo at small quantities in large designs. Heralded for its detail capability and soft-to-the-hand touch, DTG simply is a better choice than print/cut graphics for free-floating detail and large coverage images. The caveat is that DTG largely falls short in the complex synthetic marketplace. Pretreatment helps to expand the fabrics debatably, but in context it's not a solution beyond T-shirts, sweat shirts, canvas products and the like. Having said this, America (even corporate America) is still in love with the T-shirt. There are plenty of opportunities to return an investment on DTG printers with a solid strategy.
Sublimation
Sublimation is another surging technology. Having been around for many years, sublimation is experiencing new fast growth primarily due to blank apparel progression. Whether offshore or re-shired, cut-and-sew factories are paving the way for sublimation to be fashion forward in athletics and street culture. Depending on the brand, cut-and-sew sublimation may be a viable choice, but more often than not a typical desktop sublimation application will suffice (13˝ x 19˝ prints and smaller).
Specifically for high-polyester content textiles and polymer-coated hard goods, sublimation excels on white and very light colors in order to maintain the integrity of the logo colors. The good news is that apparel manufacturers offer a wide range of sublimation-ready soft goods that can withstand the high heat required and produce results. Sublimation on apparel literally has no feel and the chemistry allows the ink to become one with the fiber, making it scratch resistant and highly durable.
When hard goods are explored, sales opportunities increase. Promotional products, awards, recognition and corporate gifts all are possible. The short list of sublimation-ready products include phone cases, plaques, mugs, mousepads, tiles, ornaments, wall hangings, cutting boards, guitar picks, aluminum license plates, travel cups, water bottles and more.
Sublimated Appliqué
Sublimation doesn't stop at its direct application to a garment or hard goods. Its application to appliqué-like products makes it completely unique. Sublimated twill- and polyester-based fabrics coated with adhesive present unique logo reproduction opportunities, and blending two technologies together helps to deliver the best of both worlds. A higher perceived value in a sewn appliqué as well as the execution of a higher color count logo with minimal embroidery machine time. Digital appliqué transfers also recently have begun to permeate glitter. If a brand is looking for an extra pop or bling factor in its logo application, consider sublimating white glitter heat-transfer film.
Digital Transfers
As a decorator explores the possibilities presented by digital transfer techniques, another technology sits on the docket. Hybrid transfers help to combine a digital print face with the benefits found in screen-printed transfers. While the technology is brand new, the promise of high-color count with economies of scale resulting in a cost reduction at increased quantities is encouraging.
With a proper understanding of capabilities, we can begin to explore the universe of logos.
Style
As logos come in and out of the door of our shops they effectively can be categorized into four primary design styles: letter marks, which feature a prominent letter based logo; word marks, which feature a text based logo; brand marks, which rely on an icon; and combination marks that combine a word mark with a brand mark. From an art reproduction standpoint, DTG printing and traditional sublimation accept raster art and no vector cut lines are required. For this reason, a logo can be looked at independent of its complexity and style. Simply put, if it is quality art, it can be reproduced onto the compatible substrate.
In the case of print/cut, a vector cut line is required around the outside dimensions of the design and excess vinyl must be removed from around the logo in order to prepare it for application. For this reason, a combination of factors will need to be considered when accepting and reproducing art. Specifically, can the material handle this logo at the size it is being requested and if not, can art modifications be made to allow for a bleed around the logo? There are unique processing tricks to achieve finer detail with print/cut images, but you'll need to analyze the logo to execute them as needed.
Color
When we consider the color of the logo, we must consider whether or not it is a fit for digital. When looking at the world's top 100 brands, 50% have single-color logos, 25% have two-color and 25% have three or more colors (including full color, an emerging trend in logo design). While digital typically is envisioned for high-color count, it also can be employed as a decorating process for small- to mid-sized quantities of single-color images where a color match is needed. Logo colors such as black and white easily are matched in single-color heat transfer film, but what about Coca-Cola red or Facebook blue? As you strive to maintain the integrity of a client's logo, consider that a shade or two off compromises its brand.
Sales
A company invests time and money in its logo as an important piece of its overall brand, so much so that the finished product becomes an extension of who it is. For this reason alone, viewing yourself as a logo consultant rather than another T-shirt shop will separate your bid as you embark on logo customization.
During the sales process, consider questions about what the goals are for a project. A simple T-shirt sale easily could turn into a much larger opportunity when you understand what the company is looking to accomplish. Also, understanding its goals will help you determine whether or not a unique placement, finish or treatment is possible.
As trends in logo design push toward more color, the world of digital for decorators will continue to explode. Go beyond text-based graphics and explore the benefits of making logos a strategic part of what you do.
Josh Ellsworth is general manager for Stahls' CADCUTdirect.com, a direct-from-manufacturer source for heat-applied films. For more information or to comment on this article, email Josh at josh@cadcutdirect.com or visit his website at joshellsworth.com.
---
My career started in the imprinted sportswear industry selling both screen-print and heat-transfer equipment for embellishing caps.
FULL STORY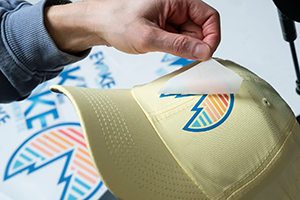 The end of the year is a great time for garment decorating. Halloween, Thanksgiving, Christmas–all are the perfect reason for creating fun, festive designs for printing, and with dye sublimation, in particular, sales opportunities abound.
FULL STORY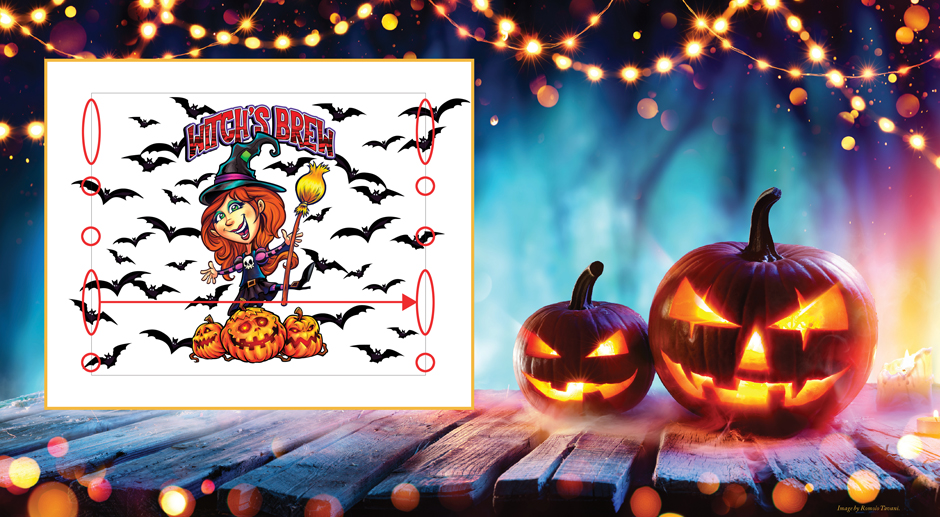 Direct-to-film (DTF) transfers provide a new, fast-growing garment-decoration method that's ideal for designing layouts for sports apparel. From team and practice uniforms to fan wear, DTF transfers allow you to easily and inexpensively incorporate full color into layouts.
FULL STORY