The New Digital Apparel Decorating Era: Direct-to-Film Printing
Though direct-to-garment (DTG) printing continues to see innovation, direct-to-film (DTF) printing is also still making a splash in the industry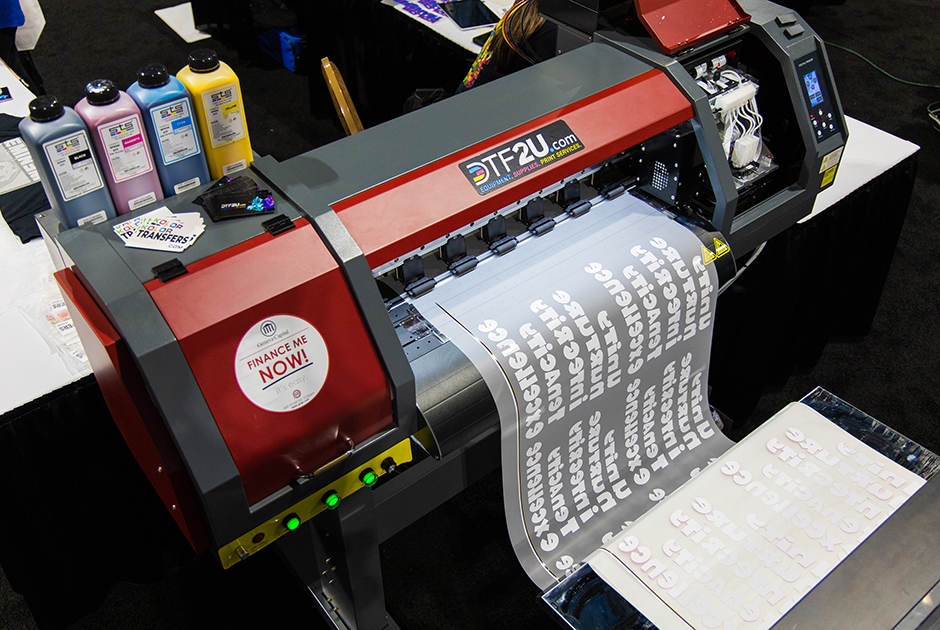 In the direct-to-film (DTF) process, CMYK plus white colors are printed with an inkjet printer on a clear release film.
---
To understand why direct-to-film (DTF) printing matters so much, ask yourself two questions? Why has the plastisol transfer had such enormous success for decades? Why does it still have loyal customers today?
The answer is that it's a viable decoration method that solves inventory problems for garment decorators. It also disconnects the printing (via the transfer paper) from the application process, and pretreatment isn't needed. As a result, transfers enable high throughput per hour with only a desktop heat press.
This technology dominated the 1970s, 1980s and mid-1990s. The latter timeframe saw that an ecosystem of mass customization was assembling, driven by the Internet. More people learned how to use design software and, as a result, innovation occurred. Customization was in demand and the equipment market came up with a revolutionary answer.
The Dawn of (Direct-to-Garment) DTG Decoration
In August 2000, the United States Patent and Trademark Office issued its first patent for a direct-to-garment (DTG) printer. The Revolution printer was the first to make it to market. In 2005, Brother launched the GT-541 and the DTG market exploded, with companies like Epson, Sawgrass, and Ricoh now being major players as well.
The market has since expanded exponentially, with units ranging in price but chasing the most efficient and flexible way to implement mass-customized apparel on all fabrics and colors. In May 2019, the DTG market was estimated at $2.5 billion with a compound annual growth rate of 10.5 percent through 2021, according to multiple industry studies.
Though DTG printing is a game-changing technology and has carried the innovation flag for 20 years, it still presents workflow challenges. While today's machines are far more dynamic than the original models, the options still suffer from one issue: Placing the print directly onto the garment still is a bottleneck that's connected to an expensive ink-delivery system. Each shirt needs to be under the print head, and the resulting print must be heat-set via a heat press or dryer. Transfers, on the other hand, can be printed and placed on a shelf.
Another fundamental challenge with DTG printing is that the print environment isn't "clean" vs. that of a digital print room. Processes that occur on a shop's production floor will be subject to more environmental changes.
Direct-to-Film Flexibility and Speed
DTF is much more similar to dye sublimation in that the printing process doesn't occur directly on the fabric. Sublimation has the ability to harness a clean printing environment compared to DTG printing.
However, DTF printing offers more flexibility than dye sublimation because the film transfers are stable and can be stored for extended periods of time without dye migration or moisture impacting the transfer during storage. This is another unique factor that gives the DTF concept long-term appeal for retailers seeking smaller inventory and greater flexibility.
DTG platforms have been addressing speed for some time and it is now one of the major factors affecting the platform in which decorators choose to invest. However, regardless of speed, DTG printing still puts the output at or near the end of the production process.
This is where DTG printing and DTF printing will be contrasted most often going forward. DTF printing is essentially a print-on-demand application for which the market will determine the right product mix. It offers the optimal attributes of the plastisol-transfer world combined with the dynamic customization that DTG technology has build its marketplace around.
DTF technology allows decorators to produce transfers that can be applied to almost any untreated substrate under the sun. This is possible because of mechanical powder adhesives. These powders block migrating sublimation gases, provide an extremely smooth hand and allow the transfer to stretch beyond the ability of any other digital-decorating technology. There are more than 300 types of powder adhesives — including the low-temperature variety that can be used at temperatures as low as 225˚F — that are used in a broad range of applications.
Other powders melt and transfer at higher temperatures and provide better washability, making them ideal for the uniform industry and its elevated wash standards. Powders for leather, polyester, nylon and more also are available on the market.
Innovation will continue to grow when it comes to DTF technology. Think different film textures, "hands" and looks that can be compatible with different powders.
IP and Industry Players
Where DTG printing and dye sublimation had patents or other intellectual property (IP) and associated price structures in place, DTF printing looks different. The lack of specific United States-based IP means this platform will develop in a much different way.
Innovation will come from all sides, meaning one patent owner won't be at the center of the pricing matrix. This may get decorators excited, but remember to tread with more caution than normal. Research the reputation of the many companies that will continue to bring DTF platforms to market. Focus diligently on getting things in writing, including scheduled delivery times, consumables costs, consumables usage estimates and the like.
This year, digital decorators will have many options on the table when it comes to decorating technologies. Expect the market to be a bit disorganized in the beginning. By the second half of 2022, however, we should see several large players enter this market and bring reliability and structure to the DTF product category.
Christopher Bernat has more than 20 years of expertise in digital printing and apparel. He co-founded and recently exited Vapor Apparel, a supplier of sublimation apparel blanks. Prior to starting Vapor Apparel, he was director of sales at Sawgrass Technologies. Bernat has published dozens of articles on the subject of digital printing, sublimation, startup businesses and apparel decorating.
DTF (Direct-to-Film) Apparel Decoration, Step by Step
Here's how the DTF process works:
1. Prepare artwork at 300 dpi and on a transparent background. Next, a channel must be created for the white layer.
2. Send the artwork through the RIP software. There are several RIP software options beyond those that come with the DTF machines, including — but not limited to — Cadlink, Wasatch and Flexi.
3. The artwork is printed with an inkjet printer using pigment-based inks CMYK+W onto a clear PET release film.
4. After printing, the film travels over a heated platen on its way to an adhesive powder bath. The powder only sticks to the wet ink.
5. Any powder left in the non-image area is then shaken off by the shaker on the way to the tunnel oven.
6. The tunnel cures the ink and melts the adhesive powder, leaving an "orange-peel" appearance when properly cured.
7. The film travels past cooling fans on its way to be wound.
8. The printed transfers can be applied at 275˚F-295˚F for 10-15 seconds.
9. Depending on the film used, the transfer can be peeled hot or cold. A hot peel produces a matte finish, whereas a cold peel produces a glossier finish.
---
My career started in the imprinted sportswear industry selling both screen-print and heat-transfer equipment for embellishing caps.
FULL STORY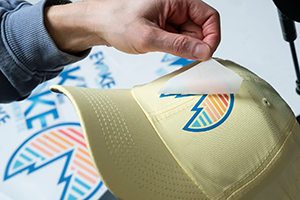 The end of the year is a great time for garment decorating. Halloween, Thanksgiving, Christmas–all are the perfect reason for creating fun, festive designs for printing, and with dye sublimation, in particular, sales opportunities abound.
FULL STORY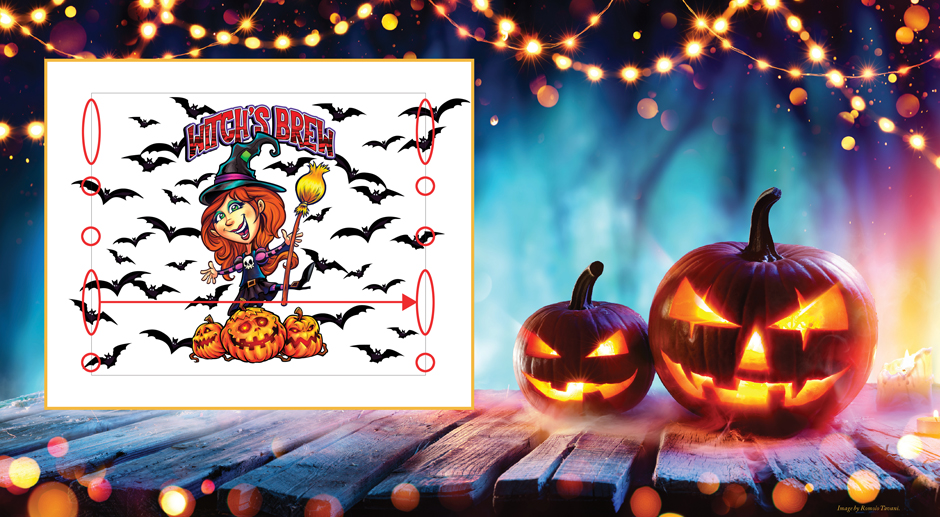 Direct-to-film (DTF) transfers provide a new, fast-growing garment-decoration method that's ideal for designing layouts for sports apparel. From team and practice uniforms to fan wear, DTF transfers allow you to easily and inexpensively incorporate full color into layouts.
FULL STORY