Spooktacular Stitches
The 40th Impressions Awards' winning design offers a ghoulish adventure via intricate embroidery detail.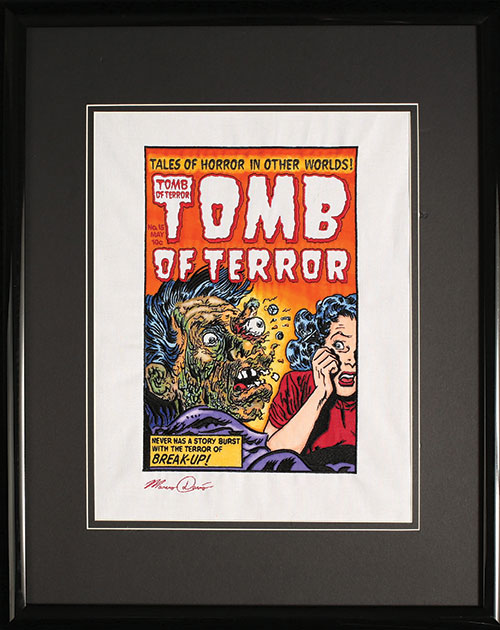 ---
DOWNLOAD: The 40th Impressions Awards Winners
Impressions gives apparel decorators from around the world the opportunity to submit their most impressive work, compete alongside their peers and show off their talents to the industry in its annual Impressions Awards decorating competition. Entries for the 40th-annual contest showcased detailed embroidery pieces, life-like screen-printed designs and spirited digitally decorated submissions from decorators of all experience levels.
Allabout Digitizing & Design, Pfafftown, North Carolina, submitted a particularly unconventional, yet captivating entry, which stood out among the other submissions hung on the show floor at the Imprinted Sportswear Shows (ISS) event in Fort Worth, Texas, which was held this past Sept. 27-29.
Titled "Tomb of Terror #15," the submission featured realistic, detailed embroidery, which brought the classic theme of horror to life. It was not only named this year's overall Grand Champion, but also received Grand Champion of Embroidery honors. The judging panel, which included embroidery, digital-decorating and screen-printing experts, collectively thought the design was a creatively unique representation of the industry's finest work.
Although Tomb of Terror #15 snagged the Grand Champion award, there were many other notable entries from all categories that impressed the judges. Impressions was thrilled with all of the contemporary and original artwork featuring such exuberant embellishment techniques.
All of the Impressions Awards winners are featured in this issue, but they will continue to be showcased throughout the year. They will be displayed at every ISS event held across the country this year, as well as online in the Impressions Awards and Design Galleries. Additionally, each contest entry will be featured online so that decorators whose designs did not make the winners' list will get much-deserved recognition for hard work and excellent design execution.
We already are eagerly awaiting this year's 41st-annual competition. The official entry form will be available on the Impressions website, impressionsmag.com, this spring. If you are interested in entering early, please contact Managing Editor Dustin Shrader at dustin.shrader@emeraldexpo.com for more information.
Congratulations to the winners, and thanks to all participants and judges. We're honored to showcase the talent and creativity this innovative industry has to offer.
Grand Champion;
Grand Champion of Embroidery;
First Place: Multimedia
Inspired by the 1950s horror comic book genre, Allabout Digitizing & Design's Marcus Davis brought gruesomeness to life with his winning design, "Tomb of Terror #15." Struck by the shocking imagery of classic graphic novels, Davis thought this particular cover would be the perfect test of his talents.
"This came from a personal desire to see how far I could push my creativity in combining different mediums mixed with embroidery," Davis says. "I wanted to explore combinations of things with embroidery, like appliqué, sublimation, laser etching and painting. I discovered that I really liked the combination of embroidery and painting, and decided to expand on this."
Davis came across several challenges while crafting the design, such as staying true to the artist's line weight and textures, while keeping the fine-line detail in the image's foreground through tight registration.
"The biggest challenge, however, was in coloring the piece," he says. "I started with water colors since I wanted to keep the image soft, and water colors have a transparency that allows them to blend well. I was having a difficult time in controlling dye migration into areas that needed to remain clean. I would finish painting an area and come back to find that my colors had continued to bleed outside the borders. From this, I discovered Copic brand markers, which are alcohol-based, not water-based. They dry very quickly and blend just as well as any watercolor paints I've tried."
Truly a hand-crafted piece due to the painting, "Tomb of Terror" is not easily recognized as being embroidered until closer inspection.
"Once you take some time to study it, you begin to see that it has some true dimension and depth due to the embroidery thread that's combined with the painting," Davis says. "What I really love about working with embroidery is that it's the original form of 3-D printing. You can truly get some high surfaces and textures that are difficult, if not impossible, to achieve with many other apparel-decoration methods."
Impressions Awards judge Scott Stengel described the design as "creepy great" due to its crisp registration for the paint and embroidery combination. Judge Charlie Taublieb agrees.
"When judging the awards, I look at every part of the image, from content to registration to the degree of difficulty. Tomb of Terror fit all of those criteria," he says. "It's a wonderful piece."