Kornit Digital Acquires Voxel8
Kornit Digital, Rosh Ha'ayn, Israel, has announced the acquisition of all associated assets of Somerville, Massachusetts-based Voxel8.
"Voxel8's innovative technologies and talent will help us accelerate the execution of our 4.0 strategy to digitize sustainable, on-demand textile production," says Ronen Samuel, Kornit Digital CEO. "With this advanced and proven 3D technology, we will disrupt the business of fashion, empowering completely new creative decorative concepts and never-before-seen functional textile applications, while exploring new lucrative opportunities in the functional apparel and footwear markets."
Voxel8's advanced additive manufacturing technology for textiles allows for digital fabrication of functional features with zonal control of material properties, in addition to utilizing high-performance elastomers adhering to inkjet technology, according to the company.
"Voxel8's innovative and sustainable technology—tested by some of the world's leading global fashion and footwear brands, such as Hush Puppies, which is part of Wolverine Worldwide, enables the digital creation of unique decorative and functional applications, while eliminating time and waste from the manufacturing process," says Fred von Gottberg, Voxel8's president and CEO. "Voxel8 shares Kornit's vision of transforming the textile industry and couldn't be more excited to be part of the journey to build the operating system of sustainable fashion on demand. We look forward to working together to embed Voxel8's technology into Kornit's customer offerings, which will collectively provide endless possibilities of enhanced applications and solutions." — D.S.
---
Vancouver Washington: ROQ US has debuted The ROQ IMPRESS automated transfer press, a gamechanger for heat decorating.
FULL STORY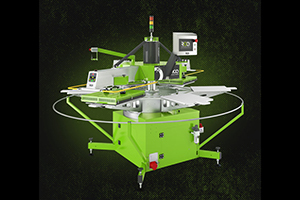 RICOH DTG, Costa Mesa, California, has not only launched one but two new DTG printing solutions with the Ri 4000 and the Ri 1000X.
FULL STORY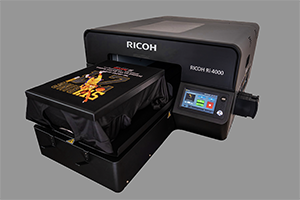 STAHLS', St. Clair, Michigan, has launched Sport-Stitch, a heat-applied solution to custom embroidery.
FULL STORY