Impressions Expo Long Beach 2022 Post-Show Review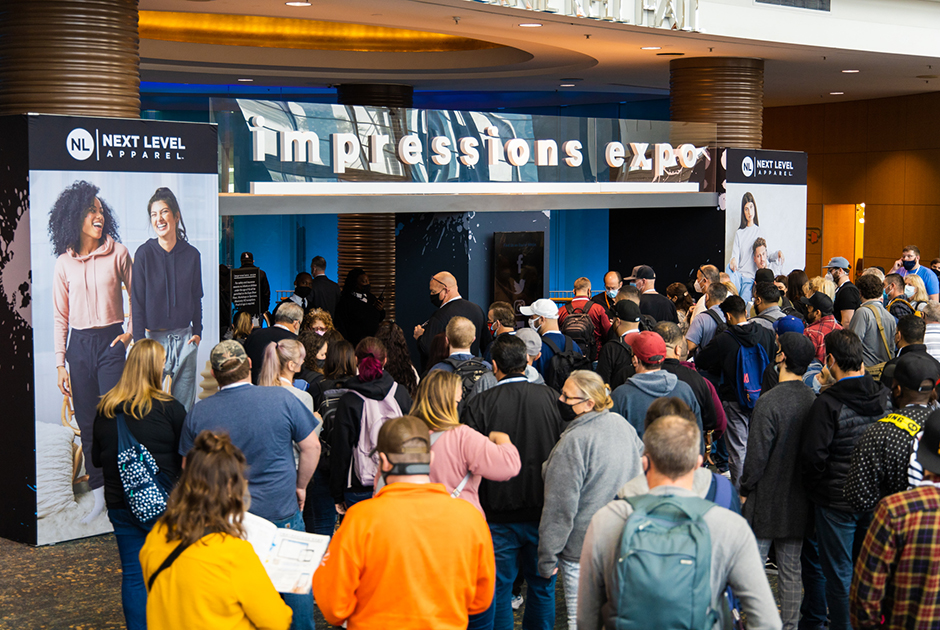 ---
Impressions Expo, Alpharetta, Ga., recently held its first face-to-face event in Long Beach, Calif., for the first time in two years. The trade show featured numerous manufacturers showcasing new products for thousands of eager attendees. It also collectively gave apparel decorators a peek into what they can expect to be front and center in 2022 in the way of new technology, trends, etc.
Didn't get to attend Impressions Expo Long Beach? Below is a summary of a few key observations from the show floor.
1. Direct-to-Film (DTF) Technology: DTF printing is the new buzz in the decorated-apparel industry, and Impressions Expo Long Beach made it clear that several manufacturers are hitching their proverbial wagons to this technology. Several exhibitors showcased DTF equipment packages, many of which included a printer, film, software and adhesive powder shaker. Companies such as All American Print Supply Co. and Printomize America showcased this technology. Garment Printer even exhibited its CobraFlex line of DTF printers that require no powder — a newer solution for PET transfer film.
NuSign Supply showcased its film-to-garment (FTG) printing solution featuring fluorescent ink. The process incorporates specialized film and an FTG fixation-fuser unit that applies powder adhesive evenly onto the printed film. The adhesive is then melted and the design is applied with a heat press. In the Innovation Zone, DTF2U.com ran demos showcasing multiple DTF printers, among other digital technologies such as sublimation and direct-to-garment (DTG) printing.
Coveme highlighted its Kemafoil KTR transfer heat-transfer release films, which are polyester based and specifically designed for screen printing, digital printing, DTF printing and casting systems. Kemafoil features special surface receptivity, transparency, humidity resistance, and antistatic and anti-blocking properties. The company also showcased green solutions, including KTR films made from recycled PET, as well as its closed-loop recycling project.
2. Apparel Trends: Apparel manufacturers gave sneak peeks at their 2022 lines, and trends seemed to go in multiple directions. Alternative's new selections emphasize its "earthleisure" philosophy, which is about casual, comfortable clothing made using eco-materials and responsible manufacturing, meaning the wearer and planet are paramount. Styles feature U.S.-grown cotton, recycled polyester and TENCEL Modal. The company also showcased its mineral-washed French terry, which contains 65% cotton/35% recycled polyester, in multiple styles.
TeeStyled showcased multiple 3-end pullover fleece hoodies in medium (8-ounce) and heavy (9.5-ounce) weights. Both styles are made of cotton/polyester blends, as well as multiple colors and sizes. BELLA + CANVAS showed multiple T-shirt styles, emphasizing Airlume cotton jersey fabric, in popular colors like orchid and solid athletic grey. Lane Seven has added new colors, including several pastels and neutrals, to its ever-growing line of popular vintage styles. The company's Urban Collection balances comfort with sophisticated details, and features five new fashion-forward colors for 2022.
Bayside put its new, premium Streetstyle Collection front and center, featuring super-heavyweight crew-neck and pullover fleece, and waffle-knit thermal and thermal-lined hoodies with contrast lining. The collection is available in various rich colors such as red, cream, navy, black, dark gray and caramel brown.
3. Ready to Reclaim: Franmar unveiled UN-Lok, a product that works to "unlock" locked emulsion on capillary film. It's an eco-friendly gel that stays wet for up to 24 hours, allowing cleaning flexibility for screen printers. It is available in quarts and gallons.
4. DTG Pretreatment Solutions: FIREBIRD Digital Inks showcased FIREBIRD Industrial Processing, an automatic pretreatment solution that features a washer-extractor and two dryers to pretreat up to 288 shirts — including 100% cotton, 50/50 blends, tri-blends and polyester — in one hour. Compatible brands include Gildan, Next Level Apparel, BELLA + CANVAS and A4. More will be added in the future. The machines feature customized programs that are optimized for the direct-to-garment application; variable extract speeds; and pretreatment recycle systems that ensure minimal waste.
Additionally Cheatertee.com debuted 100% pretreated blanks for DTG printing. Powered by FIREBIRD Pretreatment, the blanks include basic cotton and premium ring-spun styles; tri-blends; polyesters; hoodies; and long-sleeve tees. Available brands include Independent Trading Co., Gildan, Hanes, Fruit of the Loom, Next Level Apparel, Cotton Heritage, BELLA + CANVAS and more.
5. Lifetime Achievement and Community Service Awards: Impressions presented its inaugural Lifetime Achievement and Community Service Awards at the show. Longtime decorator and repeat Impressions Awards winner Andy Anderson of Anderson Studio in Nashville, Tenn., was named the winner of the Impressions Lifetime Achievement Award for his years of decorating excellence.
The winner of the Impressions Community Service Award was Donald Meeker of Summit Safety LLC dba HiVis Supply. The company give back to its local community by working primarily with two charities: AMI Kids and Operation Heart F.E.L.T. AMI Kids is a non-profit dedicated to helping youth develop into responsible and productive citizens. Operation Heart F.E.L.T. is a non-profit that provides nutritious meals to students and their siblings on weekends, holidays and extended school breaks. Summit Safety has donated about $60,000 in products, equipment, food, time and money to both organizations.
---
Roland DGA, Irvine, California, announces its partnership with Western Sensibility, Missoula, Montana, an art-driven surface design and digital printing studio.
FULL STORY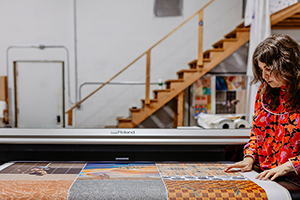 As was once the case with the craftspeople of a bygone era, many of today's screen-printers, embroiderers and heat-press and digital decorator remain close to the communities they serve.
FULL STORY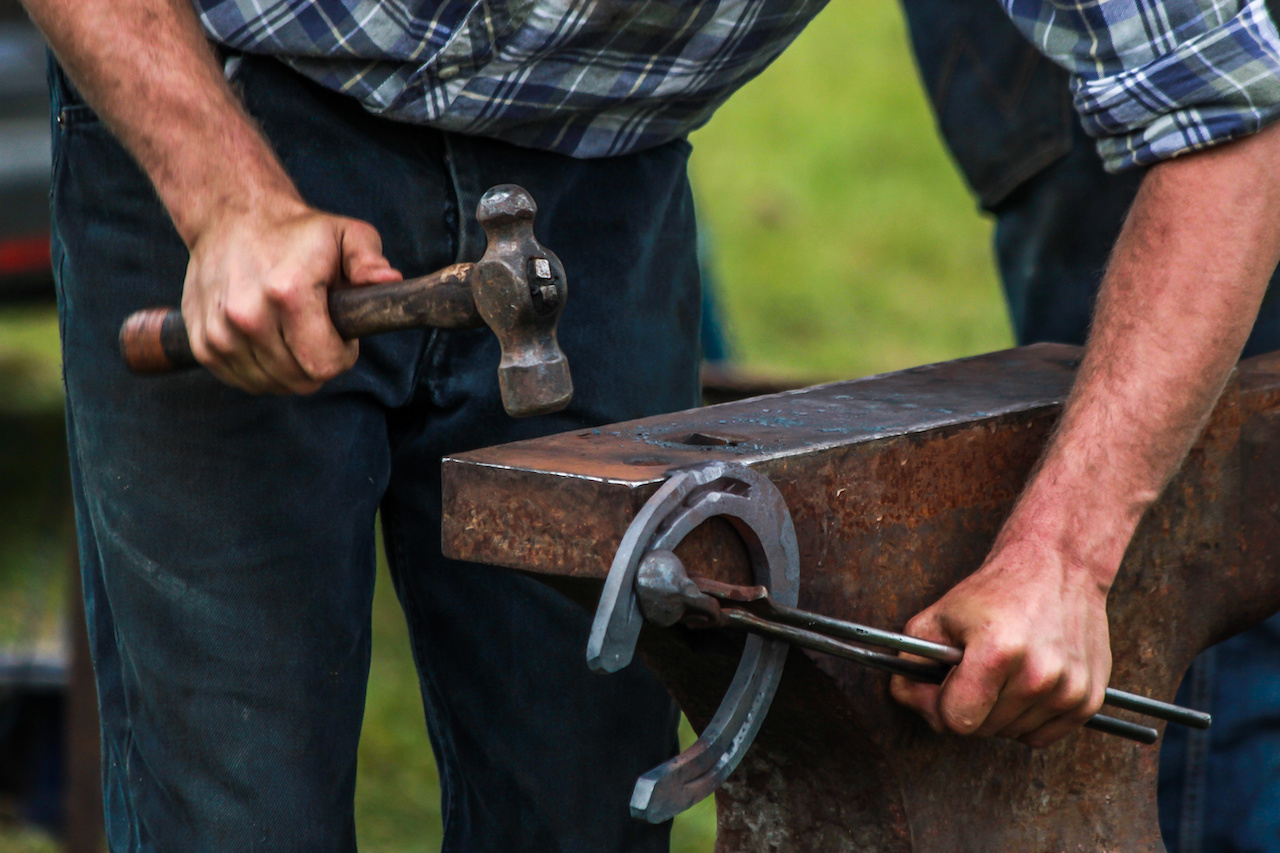 EasyCut Studio, New York, has launched a new enhancement to its popular vinyl cutting software, Easy Cut Studio, which now includes true shape nesting.
FULL STORY