The ARMOR Group Acquires IIMAK
The ARMOR Group, France, has announced the acquisition of International Imaging Materials, Inc. (ILMAK), Amherst, N.Y.
The combined Thermal Transfer activity will be called ARMOR-IIMAK with consolidated revenues of more than $400 million, firmly establishing it as the global market leader in the design and production of thermal transfer ribbons for the printing of variable traceability data on labels and flexible packaging, according to both companies.
"Convinced of its strategic importance, I have actively pursued this merger and am especially proud today to be able to announce this acquisition," says Hubert de Boisredon, chairman and CEO of the ARMOR Group. "Our main objective will be to unify our strengths in order to benefit our customers, partners and employees."
ARMOR purchased IIMAK from its controlling shareholder ACON Investments, L.L.C. (ACON). Through this merger, the new entity will reach global industrial coverage via three coating sites, one in each of its regions (Americas, Asia and Europe), and nearly twenty slitting sites.
"The paths of our two companies, both historic market leaders in thermal transfer technology, cross once again and will now be irrevocably united," says Christian Lefort, CEO of ARMOR-IIMAK. "This merger will benefit all our customers and external partners, as well as our employees. I am both delighted and honored to lead this merger with the full support of everyone at IIMAK and ARMOR."
Doug Wagner, CEO of IIMAK, has been appointed president of ARMOR-IIMAK Americas. He will play a key role in the integration process and in the realization of the synergies within the new entity, especially in the Americas, according to the company. — D.S.
---
BELLA+CANVAS, Los Angeles, has introduced the EcoMax Tee, a new garment made entirely from recycled materials.
FULL STORY
Big Frog Custom T-Shirts & More, Dunedin, Florida, and Axiom America, High Point, North Carolina, have formed a partnership to introduce Axiom's Arcus direct-to-film (DTF) printers to nearly 100 Big Frog shops.
FULL STORY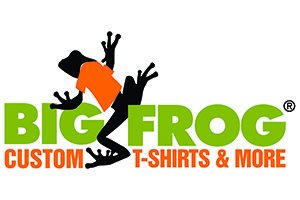 Impressions Expo and the decorated apparel business remain on a roll, with crowds and the overall feel at last week's Impressions Expo Fort Worth confirming the industry continues to sustain its post-COVID momentum.
FULL STORY